Architecture
: WORD [Warren Office for Research and Design]
Wiel Arets Architects
Emergent Tom Wiscombe, LLC 涌现组
Copyright © 1999-2012 GoDaddy.com, LLC. All rights reserved. *One FREE .COM, .CO, .NET or .ORG with purchase of a new 12-, 24- or 36-month website builder plan.
Tod Williams Billie Tsien Architects
Main : STUDIO SHIFT ARCHITECTS _ MARIO CIPRESSO AIA
Saucier + Perrotte Architectes | Design architectural
Brooks + Scarpa Architects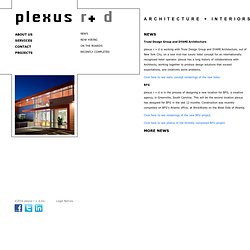 The new offices for BFG, a creative agency, are complete, at Brickworks in Midtown West. plexus r + d worked with BFG to create a work environment that represented their corporate culture, with the purpose of fostering creativity, and supporting their staff's needs for community, diversity, and expressiveness. Click here to see photos of the BFG project. plexus r + d and nVis360 recently completed a virtual walkthrough of 17th Century Rome, based on the drawings of Giovanni Battista Falda, and was exhibited at the Michael C. Carlos Museum at Emory University this Fall. The project was led by Sarah C. McPhee, the Winship Distinguished Research Professor at Emory University's Art History Department.
plexus5
TIGHE ARCHITECTURE
Patkau Architects
Oyler Wu Collaborative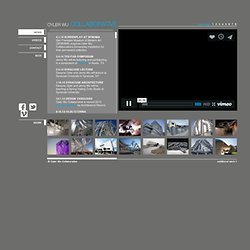 9.16.13-10.20.13 CHINA INTERNATIONAL ARCHITECTURAL BIENNALE The Cube, the winning entry for the 2013 Beijing Biennale competition, will be exhibited with 10 other pavilions at the Beijing Olympic Park. 10.18.13 LECTURE AT CAL POLY SAN LUIS OBISPO Dwayne Oyler & Jenny Wu will lecture at Cal Poly San Luis Obispo as part of the Hearst Lecture Series. 9.28.13 AIACC MONTEREY DESIGN CONFERENCE Oyler Wu Collaborative was selected as one of the AIACC emerging talents to lecture at the Monterey Design Conference.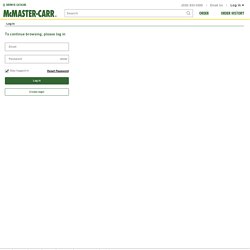 Carr
Please create a password to access your information. Click on the Create Password button below and we will send an e-mail to the address we have on file for you. An e-mail has been sent to you.
LTL Architects | Home
LEBBEUS WOODS
jones, partners: architecture
diller scofidio + renfro
Dezeen architecture and design magazine
Death by Architecture
Home Competitions Articles
david guthrie_fluidg
Carpe Diem Store - Art,Architecture,Hobby Supply
Architecture Competitions, Events & News
The Architect's Newspaper
Archinect - Making Architecture More Connected (since 1997)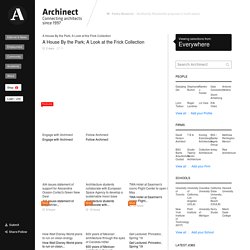 Screen/Print #11: OASE's "Building Atmosphere" 7 days 2 "Building Tomorrow" Exhibit 5 mins The Architectural League NY - First Friday... 10 mins
ACSA 3.0: COMPETITIONS
Updates 14.01.13 OMS Stage is published in Materials for Design 2 and The Avenue is an Architectural Record 2013 Editors' Pick for "Most Confounding Canadian Facade." 13.11.06 Three new projects have been added to the website: 0308 | HEDGE 0289 | Table for Twelve 0274 | Kee Condos 13.07.16 5468796 is selected by the Canada Council for the Arts as the 2013 recipient of the Professional Prix de Rome in Architecture with Table for Twelve.
5468796 architecture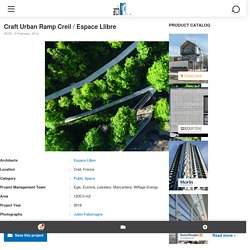 This article by Marc Kristal from Metropolis Magazine, originally titled "Digital Details," looks at the work of NRI, a New York company that is leading the way when it comes to 3D Printing (or rather, additive manufacturing) – finding that there is a craft in these machine-produced models after all. First things first: The term "3-D printing" is a misnomer according to Arthur Young-Spivey, the digital fabrication specialist at NRI—a 116-year-old, New York–headquartered supplier of reprographic services to architects and their tradespeople. "The correct term is 'additive manufacturing,'" he explains. "People call it 3-D printing because it enables you to wrap your head around it, but in some ways it's confusing." Young-Spivey has a point, as the process by which a digital file is converted into an object isn't "printing" in the commonly understood sense of applying pigment on a substrate.
ArchDaily | Broadcasting Architecture Worldwide
Architects
Resources | Dm2digitalmedia's Blog
OMA - Homepage
Morphopedia - The Online Encyclopedia of Morphosis