Wow!
The Announcer's Test This is called the announcer's test. It originated at Radio Central New York in the early 1940's as a cold reading test given to prospective radio talent to demonstrate their speaking ability. Del Moore, a long time friend of Jerry's, took this test at Radio Central New York in 1941, and passed it on to him.
The Official Jerry Lewis Comedy Museum and Store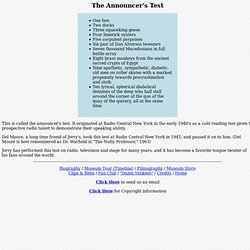 Getting drunk tonight?
An Indonesian woman has drowned her nine-year-old son in the bath, claiming she was worried that his "small penis" would affect his prospects for the future, police say. The 38-year-old woman from Jakarta told police her son had had a small penis prior to being circumcised, but that it appeared to shrink further after the operation, police spokesman Rikwanto told AFP. "She told police investigators that she killed him as he would have a bleak future with his small penis," Rikwanto said. "She drowned her son in a bathtub filled with water. She then dressed him and laid him on a bed. After that, she went to a nearby police office to report her crime."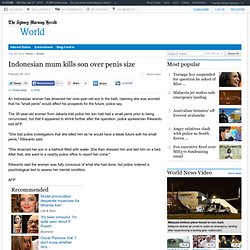 Indonesian mum kills son over penis size
What makes a hero? - Matthew Winkler
The Hero Archetype in Literature, Religion, and Popular Culture: http://tatsbox.com/hero/ (along with a useful PowerPoint presentation teachers can download at this URL: http://tatsbox.com/hero/powerpnt.htm ) Maricopa Center for Learning and Instruction (users embark on their own hero's journey): http://www.mcli.dist.maricopa.edu/smc/journey/ An American Masters Lesson from PBS for Teachers on George Lucas, the Power of Myth, and the Hero's Journey: http://www.pbs.org/wnet/americanmasters/lessons/george-lucas-and-the-power-of-myth/lesson-overview/1292/ And an interactive approach to the Hero's Journey: http://www.readwritethink.org/files/resources/interactives/herosjourney/ And of course, information about Joseph Campbell's works on the subject, on the Joseph Campbell Foundation site: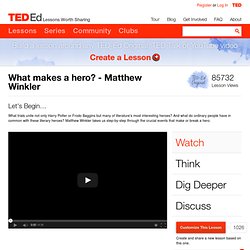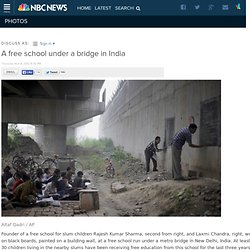 A free school under a bridge in India
Altaf Qadri / AP Founder of a free school for slum children Rajesh Kumar Sharma, second from right, and Laxmi Chandra, right, write on black boards, painted on a building wall, at a free school run under a metro bridge in New Delhi, India. At least 30 children living in the nearby slums have been receiving free education from this school for the last three years. Related content:
- StumbleUpon
Far from The Tree: Parents, Children and the Search for Identity by Andrew Solomon
Blog Archive & Expectations vs Reality: Part 12
A Huge List of Cool Stuff
Ink Calendar by Oscar Diaz
Funny Seems Legit Pictures (12 Pics) | Vitamin-Ha
How to Whiten Your Teeth at Home Cheap | The Pick-Up Diary
Marching band forms giant football player
The Shake Weight Prank: Pretending to Masturbate in Public Is Funnier Than Actually Masturbating in Public
STRANDBEEST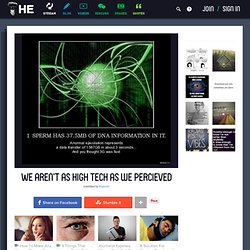 We aren't as high tech as we percieved
Again though…this site even says what I mean above.. "Following this idea even further, while 13500 Tbytes are transferred, only one sperm cell will fuse with an egg, using only 750 Mbytes of data, combining it with another 750 Mbytes of data from the egg. Thus, essentially 99.9999…% of the data transferred during sexual reproduction is lost in the pipeline …" Essentially, each sperm is a copy of the same data. Only 1 sperm actually mates.
Expérience psychologie mouton de Panurge
xion protective gear - stuntpadding, extreme protective, blunt trauma body protection demo
Probably one of the best ventriloquist performances ever: Nina Conti
The Bureau of Communication - Fill-in-the-blank Correspondence
Anything fun?
19 Aug 2010 The illustrations of TokyoGenso (a.k.a. Tokyo Fantasy) depict a post-apocalyptic Tokyo devoid of people and overtaken by nature. Shinjuku skyline [+] Tokyo Big Sight [+]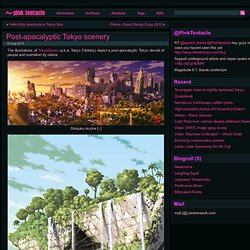 Post-apocalyptic Tokyo scenery ~ Pink Tentacle
Search for Music Using Your Voice by Singing or Humming, View Music Videos, Join Fan Clubs, Share with Friends, Be Discovered and Much More For Free! - midomi.com
polarbears | Flickr - Photo Sharing!
Create a State of Chaos - StumbleUpon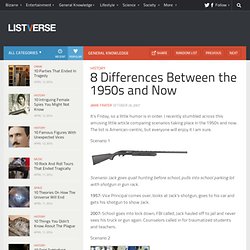 8 Differences Between the 1950s and Now
History It's Friday, so a little humor is in order. I recently stumbled across this amusing little article comparing scenarios taking place in the 1950s and now.