Gestão e Negócios
Calculador.com.br - Home
Blog Gestão Empresarial e Familiar - Revide Vip
Ninguém gosta de ter seus defeitos apontados. Por mais que uma crítica seja realista, pontual e útil, muitas vezes, provoca desgosto, decepção e revolta. Para algumas pessoas, o efeito é tão devastador que, em vez de a qualidade do trabalho melhorar, acaba ficando ainda mais comprometida. No entanto, segundo o site UOL, quem busca encarar a crítica positivamente ou como um desafio a ser superado tem mais chances de evoluir profissionalmente. A resistência em enfrentar uma crítica, segundo a psicóloga organizacional Izabel Failde, está ligada à dificuldade de constatar que não somos "deuses". "É sinal de que mesmo os profissionais mais perfeccionistas, equilibrados e controlados cometem falhas e demonstram fragilidades", explica.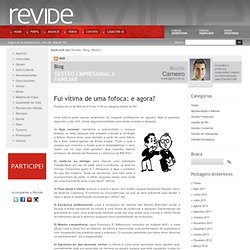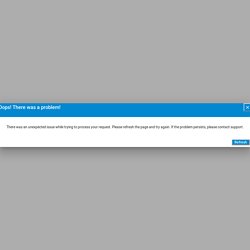 CrunchBase is the free database of technology companies, people, and investors that anyone can edit. Our mission is to make information about the startup world available to everyone and maintainable by anyone. Here, you can learn and edit everything about companies like Square, Dropbox, Yahoo!, and Amazon, products like the iPhone and Google Chromebook, and people like Mark Zuckerberg and Steve Jobs. VCs Investing To Heal U.S.
* Este texto pode ser livremente citado e distribuído desde que identificada a fonte e autoria. Fernando C Barbi, PMP fernando@gestaodeprojeto.info O conjunto dos interessados (stakeholders) de um projeto engloba todas as pessoas que de alguma forma podem influir no sucesso do projeto. Assim considera-se interessado desde o patrocinador, os fornecedores, os membros da equipe de projeto, os membros da diretoria da empresa e o público externo (usuários e vizinhos) que seja afetado pelo projeto.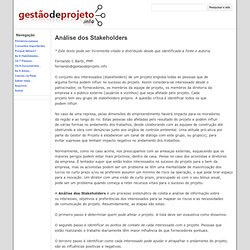 Análise dos Stakeholders - Gestão de Projeto
QueridoCarro.com - O Maior historico de veiculos do Brasil - Consulte o historico do seu carro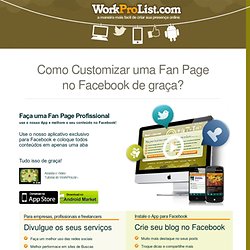 unnamed pearl
Faça uma Fan Page Profissional use o nosso App e melhore o seu conteúdo no Facebook! Use o nosso aplicativo exclusivo para Facebook e coloque todos conteúdos em apenas uma aba Tudo isso de graça!
Today, the website of a company has usurped the front office as the place where first impressions are gleaned. Where it used to take a meeting or a few product samples for a customer to form an opinion about your business, now it's only a matter of a simple Google search – which means you need to make sure that query result is a memorable one. "Small businesses should be looking to have a personal presence on the Web – something that would back up a sales call or brochure," says Tim Zack, a marketing executive at Red Clay Interactive, an Atlanta-based Web development firm. "It definitely shouldn't be an afterthought – this is a capital investment in the success of your company." The following guide will teach you the basics on how to start your website, as well as provide tips on designing and marketing the site to help drive business. How to Start a Website: What Do You Want to Accomplish?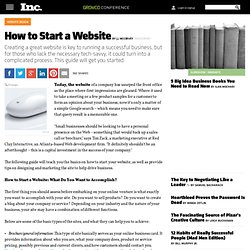 How to Start a Website
You might think that creatives as diverse as Internet entrepreneur Jack Dorsey, industrial design firm Studio 7.5, and bestselling Japanese novelist Haruki Murakami would have little in common. In fact, the tenets that guide how they – and exceptionally productive creatives across the board – make ideas happen are incredibly similar. Here are 10 laws of productivity we've consistently observed among serial idea executors: 1.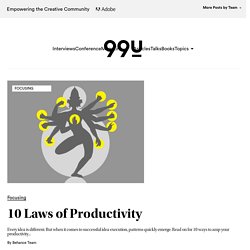 Efetividade.net - Produtividade pessoal, lifehacking, GTD e dicas espertas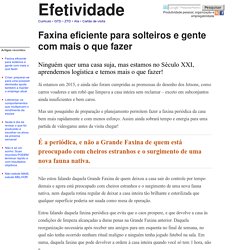 Depois de o Wunderlist ter me deixado na mão, tive que escolher seu sucessor para gerenciar minhas tarefas e pendências, mas antes parei para pensar nos critérios de seleção que poderiam reduzir o número de opções a considerar – e agora os compartilho. No início de julho o app Wunderlist perdeu uma parte dos meus dados e basicamente me mandou um "te vira" por e-mail, para o caso de eu ter uma cópia local dos dados e querer recadastrá-los no sistema deles. Não, obrigado. No artigo "Tchau, Wunderlist: perder meus dados (e nem saber dizer quais) é abuso demais" eu contei essa história, na qual o servidor deles perdeu o sincronismo com o app dos computadores dos usuários afetados e a consequência foi que eles deixaram como válido o que o servidor tinha, e não o que o app dos usuários tinha, e avisaram pros usuários afetados se virarem.