Steve Jobs
Quand Steve Wozniak parle de Steve Jobs. Ce n'est un secret pour personne que Steve Jobs avait la réputation d'être un personnage difficile à vivre.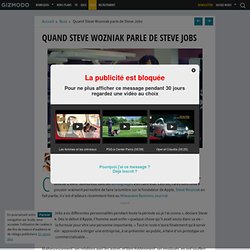 Nombreux sont les témoignages à en faire état. Ceci dit, rares sont ceux à pouvoir vraiment permettre de faire la lumière sur le fondateur de Apple.
Movies & parodies (about Steves Jobs)
Critics. Stories. Steve Jobs on Failure. Steve Jobs' Vision of the World. Heath. Steves Jobs Tribunes. Last American Who Knew What The Fuck He Was Doing Dies. CUPERTINO, CA—Steve Jobs, the visionary co-founder of Apple Computers and the only American in the country who had any clue what the fuck he was doing, died Wednesday at the age of 56.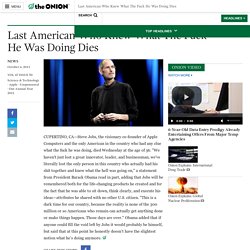 "We haven't just lost a great innovator, leader, and businessman, we've literally lost the only person in this country who actually had his shit together and knew what the hell was going on," a statement from President Barack Obama read in part, adding that Jobs will be remembered both for the life-changing products he created and for the fact that he was able to sit down, think clearly, and execute his ideas—attributes he shared with no other U.S. citizen.
"This is a dark time for our country, because the reality is none of the 300 million or so Americans who remain can actually get anything done or make things happen. Those days are over. " Moses%2C+meet+Steve%2C+he%27s+gonna+upgrade+your+tablets....jpg (460×397) La planète bleue 708. > Edito La disparition de Steve Jobs, co-fondateur d'Apple, a généré une déferlante d'hommages.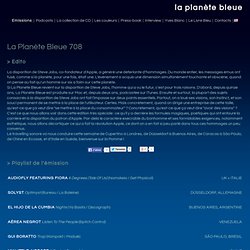 Du monde entier, les messages émus ont fusé, comme si la planète, pour une fois, était une. L'événement a acquis une dimension simultanément touchante et obscène, quand on pense au fait qu'un homme sur six a faim sur cette planète. (mp3) la-planete-bleue_20111016_full_la-planete-bleue_6cb5b0ae-ca25-4018-8e14-f2af90715a39. Steve Jobs par Stéphane De Groodt. Steve Jobs: Before the Turtleneck.
Steve Jobs: We don't ship junk.
Apple Without Steve J. ?
Steve's Final "One More Thing…" Steve Jobs was the ultimate showman.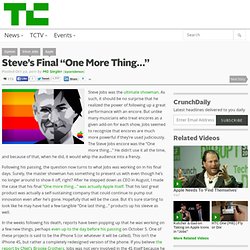 As such, it should be no surprise that he realized the power of following up a great performance with an encore. But unlike many musicians who treat encores as a given add-on for each show, Jobs seemed to recognize that encores are much more powerful if they're used judiciously. Steve Jobs: "I Admire Mark Zuckerberg For Not Selling Out" The 60 Minutes interview with Steve Jobs biographer Walter Isaacson is up on the web, but one of the most interesting parts is an outtake that didn't make it into the televised segment.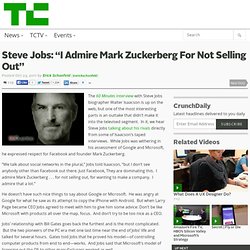 In it, we hear Steve Jobs talking about his rivals directly from some of Isaacson's taped interviews. While Jobs was withering in his assessment of Google and Microsoft, he expressed respect for Facebook and founder Mark Zuckerberg.
---