Photoshop
Photoshop Help | Drawing shapes
Photoshop Help | Drawing shapes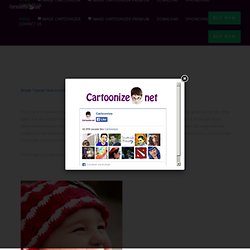 For a cartoon drawing one can get loads of tools that available online. Some are considered to be good but on the other hand rest are considered not up to the mark to satisfy your needs. However you need to put some of the variations when the picture and the situations are demanding.
Tutorial about How to turning photo into cartoon effect with Photoshop
This is a form of editing referred to as "Rotoscoping."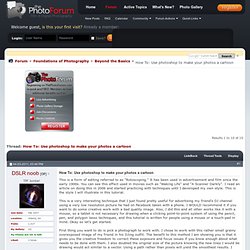 How To: Use photoshop to make your photos a cartoon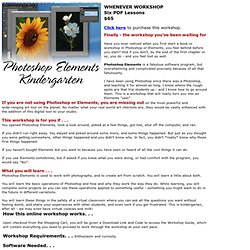 If you are not using Photoshop or Elements, you are missing out on the most powerful and wide-ranging art tool on the planet.
Photoshop Elements Kindergarten
Realistic chalk font text | Text Effects
There are fonts out there that pretend to look like chalkboard writing, but when it comes down to it, they just don't. In this Photoshop tutorial you'll learn how to create a realistic looking chalkboard text effect that's simple to do. Off we go...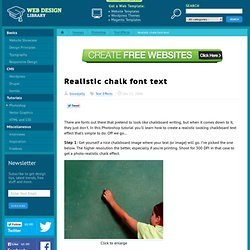 Master Photoshops Selection Tools in Under 30 Minutes
The Selection Tools In Photoshop In this article I'll explain some of the different and powerful selection tools that are available in Photoshop. This guide is aimed at beginners, but can hopefully provide a few extra pointers for more advanced users. Personally I find it very easy to get stuck using only one selection tool, when it can be beneficial to experiment with several in your work. The Marquee Tools: The Marquee Tools consist of the Rectangle, Elliptical, Single Row and Single Column selection tools.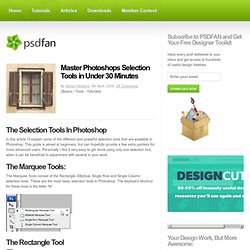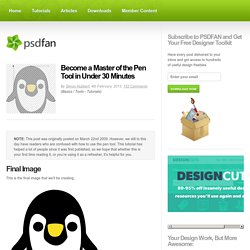 Become a Master of the Pen Tool in Under 30 Minutes
NOTE: This post was originally posted on March 22nd 2009. However, we still to this day have readers who are confused with how to use the pen tool. This tutorial has helped a lot of people since it was first pubilshed, so we hope that whether this is your first time reading it, or you're using it as a refresher, it's helpful for you. Final Image This is the final image that we'll be creating. Step 1
Adobe Photoshop CS4 Keyboard Shortcuts
How to Move a Path in Photoshop How to Copy a Path in Photoshop. How to Attach Text to Path in Photoshop CS3.
How to Copy a Path in Photoshop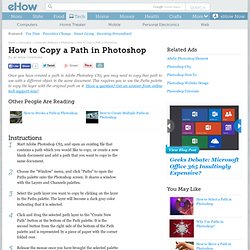 Sometimes you'll want to make your text look like it was written with a marker on real paper (or some other surface), and the fonts that look like handwriting are not accurate enough for you. Fortunately, Photoshop has a few tools that will help give your text a nice, somewhat distressed inky effect for a realistic 'marker' effect.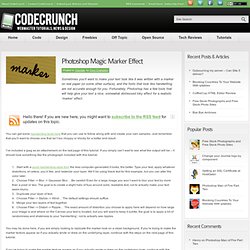 Photoshop Magic Marker Effect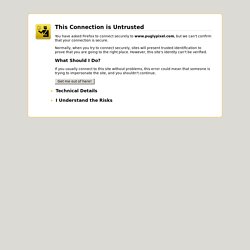 photoshop ♥ Pugly Pixel
Bad Girls Throughout History Postcards by Ann Shen As I mentioned in my previous geo post, I'm going to show you how I create my Photoshop geo shapes. Photoshop shapes are versatile because they can be scaled to any size without becoming pixelated. And besides, Photoshop shapes can become part of your Custom Shapes library. [...]
Dynamos are digital dynamite!
Happy to Create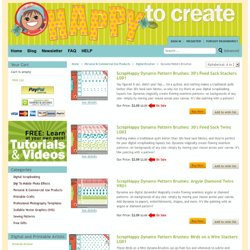 I'm going to start you out nice and easy. In fact, it's SO easy, you're gonna LOVE this tutorial. Welcome to the Dark Side of Shadowing. *insert evil laugh here* Let's take Morgan here (I love this picture … she looks so innocent. Looks can be VERY deceiving. heh):
Realistic Shadows in Digital Scrapbooking — Studio Matters
Buttons | PSDHOME
Today we will learn how to realize a folded paper text effect from scratch in Photoshop. We will firstly create the background using a couple of patterns, then we will work on the type treatment with the help of the pen tool, layer masks and other useful techniques related to dodge,burn and the transform tool. This tutorial is very simple to follow, so I suggest to everyone to give a try.
Polaroid Generator V3 by ~rawimage
This time we are bringing you a lot of Photoshop tutorials on all sorts of topics. It's meant to be a good collection for those who aren't quite pro yet, but want to be. From making amazing business cards to bringing a stone statue to life, these take us through hours and hours of practicing those skills. These tutorials are some of the best and varied out there. If you learn to master some of the techniques and tricks from these, you will be sure to land on your feet looking like a pro!
400+ useful Keyboard Shortcuts for Photoshop CS4.
It is proven that by using software shortcuts can boost up productivity. Here are 30 secret Photoshop shortcuts that I've learned from years of experience. Well, what I mean by "secret" is that these shortcuts are not documented in the menus. Keep reading and you will find how these shortcuts can speed up your productivity. I bet you don't know all of them. Note: this article is written in Mac Photoshop format.
Swirls and Seeds Photoshop Brushes
Close You have permission to view, download, edit and remix the contents of this file for personal and commercial purposes. You shall provide a link back to www.brusheezy.com (where applicable) or provide a credit to the Brusheezy contributor and to Brusheezy.com in connection with the commercial use of any of the contents in this file. Such credit shall be in the following form: "Contributor's Username/brusheezy.com." In the event that the contents of this file is used in connection with an art print work or product print work, you shall use reasonable efforts to credit the Brusheezy contributor and Brusheezy.com website as provided above. Except as expressly permitted by the author in writing, YOU MAY NOT REDISTRIBUTE, TRANSMIT, OR SELL THE CONTENTS OF THIS FILE IN WHOLE in any form. All rights not expressly granted by Brusheezy are reserved.
Installing And Managing Brushes And Other Presets | Tips & Tricks
Fractalius: Photoshop plug-in for eccentric graphic effects
Free Photoshop Brushes from BrushPortfolio.com - Original High Resolution Photoshop Brushes
Photoshop Metal Text Effect Tutorial
Photoshop Basics - Moving Photos Between Documents Tutorial
Photoshop Watercolor Painting Effect Tutorial
18 Exceptionally Useful Photoshop Shortcuts
Free Photoshop Actions | MCP Actions
Photoshop Brushes
Photoshop training, tutorials and learning resources | PhotoshopCAFE
Gradients2
Swirl Parts Photoshop Brushes - Free Photoshop Brushes | Brush King
Types Of Extraction
Photoshop Question: Watercolor Images | TutCast.com