jQuery
jQuery.my plugin. Gridster.js. Zepto.js: the aerogel-weight jQuery-compatible JavaScript library. Zgrossbart/jslim. Starter | Jumpstart Your jQuery Plugin Development. jQuery Cheatsheet. Selectors Basics Hierarchy Basic Filters.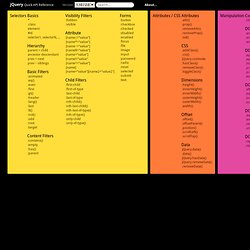 tQuery API - extensions for three.js. ZinoUI - jQuery UI components library, HTML5 framework. 1.3.16 demo - jQuery. Window 1 I am plumbed with a Bezier connector to Window 2 and a label, with Blank endpoints.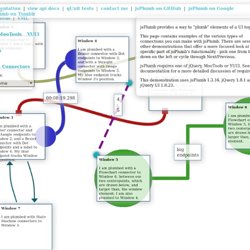 Window 2. Lake.js. What is it?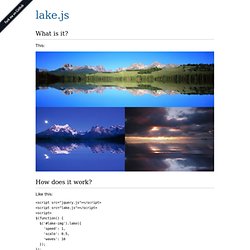 This: How does it work? Like this: Lake.js takes an img element and inserts a canvas element displaying the image and its flipped reflection directly after the img element. jPanelMenu | A jQuery Plugin. Cytoscape.js. This is how easy it is to get started with Cytoscape.js (this code creates the instance you see on the bottom-right: About Cytoscape.js is an open-source graph theory library written in JavaScript.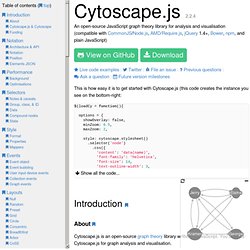 MiniJs - jQuery Plugins made easy. MiniBoilerplate. jQuery Infinite Drag. How to Use It Include necessary javascript library files.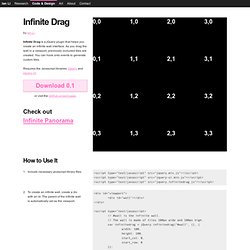 To create an infinite wall, create a div with an id. Dropdown.dot.js by rogerdudler. Basic Example Switzerland↓ Switzerland Germany United States Sweden France Australia Advanced Example with custom data.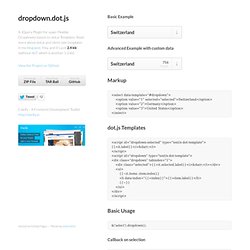 Sly - jQuery plugin. Introduction Sly is a JavaScript library for advanced one-directional scrolling with item based navigation support.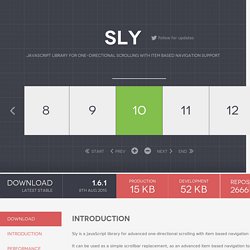 It can be used as a simple scrollbar replacement, as an advanced item based navigation tool, or as a great navigation and animation interface for parallax websites. Motio - jQuery plugin. Introduction Motio is a small JavaScript library for simple but powerful sprite based animations and panning.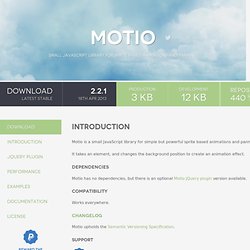 It takes an element, and changes the background position to create an animation effect. Lenticular.js - tilt-controlled images. Real Shadow: jQuery Plugin that casts photorealistic shadows. jWysiwyg. Orbital-dial by gregstewart. NoUiSlider - jQuery Range Slider | Refreshless.com. jQuery File Tree · A Beautiful Blog. Overview jQuery File Tree is a configurable, AJAX file browser plugin for jQuery.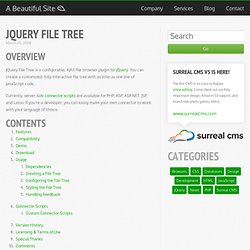 You can create a customized, fully-interactive file tree with as little as one line of JavaScript code. Currently, server-side connector scripts are available for PHP, ASP, ASP.NET, JSP, and Lasso. Jquer.in » Collection of jquery plugins and javascript libraries. jQuery Knob demo. Shiny Knob Control with jQuery and CSS3. Martin Angelov In this tutorial we will be writing a jQuery plugin for creating a shiny knob control.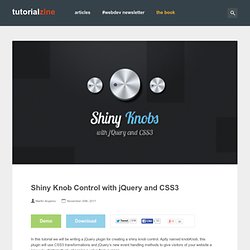 Aptly named knobKnob, this plugin will use CSS3 transformations and jQuery's new event handling methods to give visitors of your website a new way of interactively choosing a value from a range. KnobKnob is also on Github. Update: Thanks to ranyefet the plugin now works on mobile devices [changes]. The HTML. Old School Cassette Player with HTML5 Audio. Vintage format meets modern web tech: an HTML5 audio player with realistic controls.
Today we want to share an audio player with you that looks like an old school music cassette. View demo Download source If you don't know what a cassette is, you were probably born in the digital high-tech era, an era that is undoubtedly exciting and innovative. On the other hand, if you know what an audio cassette is, you belong to the older generation, the analog dinosaurs that know the painful connection between a pen and a cassette tape. jPlayer : HTML5 Audio & Video for jQuery. jQuery Transit - CSS3 animations for jQuery. What about older browsers? Transit degrades older browsers by simply not doing the transformations (rotate, scale, etc) while still doing standard CSS (opacity, marginLeft, etc) without any animation.
Delays and durations will be ignored. // Delegate .transition() calls to .animate()// if the browser can't do CSS transitions.if (! Morris.js. Getting started Add morris.js and its dependencies (jQuery & Raphaël) to your page. 1 <link rel="stylesheet" href=" <script src="//ajax.googleapis.com/ajax/libs/jquery/1.9.0/jquery.min.js"></script>3 <script src="//cdnjs.cloudflare.com/ajax/libs/raphael/2.1.0/raphael-min.js"></script>4 <script src=" If you don't want to use the CDN-hosted assets, then you can extract them from the zip bundle and upload them to your own site.
Ninja UI. DropKick - a jQuery plugin for beautiful dropdowns. Tweet! Put Twitter on your site with this simple, unobtrusive jQuery widget. jQuery Quicksand plugin. jQuery Masonry. Lettering.js - A jQuery plugin for radical web typography. Hammer.js — A javascript library for multi touch gestures. Lateral On-Scroll Sliding with jQuery. Textualizer. jQuery News Ticker. SlabText – a jQuery plugin for creating big, bold & responsive headlines. jQuery Geo. Isotope. jQuery Scroll Path. jQuery TOOLS - The missing UI library for the Web. UI for the Web powered by HTML5, jQuery & CSS3.
---