jQuery
jQuery.my plugin
Validation. It's comprehensive and not only accepts regexps as mask, but also strings, arrays and functions. Speed. Any option you change or any character you type forces immidiate revalidation and recalc. Conditional formatting. Form can change its appearance according to the values entered.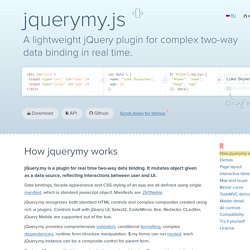 gridster.js
A gridster configuration object. Define which elements are the widgets. Can be a CSS Selector string or a jQuery collection of HTMLElements. Horizontal and vertical margins respectively for widgets. Base widget dimensions in pixels. The first index is the width, the second is the height.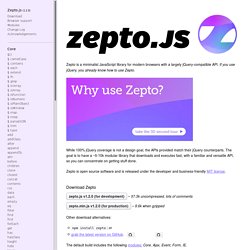 Zepto.js: the aerogel-weight jQuery-compatible JavaScript library
The default build includes the following modules: Core, Ajax, Event, Form, IE. Zepto v1.0 used to bundle Effects, iOS3, and Detect modules in the default build. See below for optional modules. Zepto will only set the $ global to itself if it is not yet defined. There is no Zepto.noConflict method.
README.md JSlim is a JavaScript optimizer based on the Google Closure Compiler, but instead of optimizing your code it removes unused code. Some people call this type of application a tree shaker because it shakes unused code out of your tree. Most websites use JavaScript libraries like JQuery or Prototype, but they don't use the whole library.
zgrossbart/jslim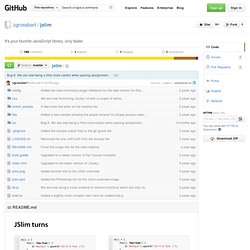 Starter | Jumpstart Your jQuery Plugin Development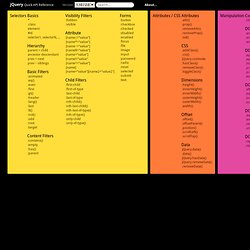 jQuery Cheatsheet
Selectors Basics Hierarchy Basic Filters
tQuery API - extensions for three.js
ZinoUI - jQuery UI components library, HTML5 framework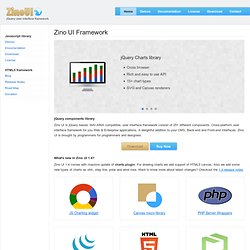 jQuery Charts library Cross browser Rich and easy to use API 15+ chart types SVG and Canvas renderers HTML5 Canvas library Cross browser Rich and easy to use API Large set of examples All basic shapes Library agnostic
1.3.16 demo - jQuery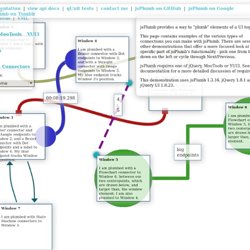 Window 1 I am plumbed with a Bezier connector to Window 2 and a label, with Blank endpoints. Window 2
What is it? This: How does it work? Like this: Lake.js takes an img element and inserts a canvas element displaying the image and its flipped reflection directly after the img element.
lake.js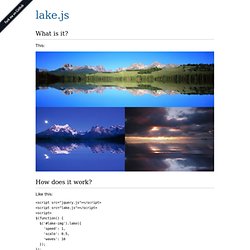 Version 1.3.0 jPanelMenu is a jQuery plugin that creates a paneled-style menu (like the type seen in the mobile versions of Facebook and Google, as well as in many native iPhone applications). Just click on the menu button (the top left of this page) to see it in action.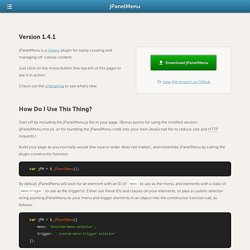 jPanelMenu | A jQuery Plugin
This is how easy it is to get started with Cytoscape.js (this code creates the instance you see on the bottom-right: About Cytoscape.js is an open-source graph theory library written in JavaScript.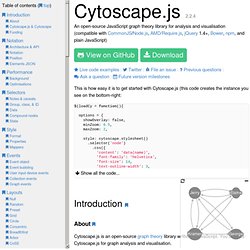 Cytoscape.js
MiniJs - jQuery Plugins made easy
MiniBoilerplate
How to Use It Include necessary javascript library files. To create an infinite wall, create a div with an id.
jQuery Infinite Drag
Basic Example Switzerland↓ Switzerland Germany United States Sweden France Australia Advanced Example with custom data
dropdown.dot.js by rogerdudler
Introduction Sly is a JavaScript library for advanced one-directional scrolling with item based navigation support. It can be used as a simple scrollbar replacement, as an advanced item based navigation tool, or as a great navigation and animation interface for parallax websites.
Sly - jQuery plugin
Introduction Motio is a small JavaScript library for simple but powerful sprite based animations and panning. It takes an element, and changes the background position to create an animation effect.
Motio - jQuery plugin
lenticular.js - tilt-controlled images
Real Shadow: jQuery Plugin that casts photorealistic shadows
jWysiwyg
Orbital-dial by gregstewart
noUiSlider - jQuery Range Slider | Refreshless.com
jQuery File Tree · A Beautiful Blog
jquer.in » Collection of jquery plugins and javascript libraries.
jQuery Knob demo
Shiny Knob Control with jQuery and CSS3
Old School Cassette Player with HTML5 Audio
jPlayer : HTML5 Audio & Video for jQuery
jQuery Transit - CSS3 animations for jQuery
Morris.js
Ninja UI
DropKick - a jQuery plugin for beautiful dropdowns
Tweet! Put Twitter on your site with this simple, unobtrusive jQuery widget
jQuery Quicksand plugin
jQuery Masonry
Lettering.js - A jQuery plugin for radical web typography.
Hammer.js — A javascript library for multi touch gestures
Lateral On-Scroll Sliding with jQuery
Textualizer
jQuery News Ticker
slabText – a jQuery plugin for creating big, bold & responsive headlines
jQuery Geo
Isotope
jQuery Scroll Path
jQuery TOOLS - The missing UI library for the Web
UI for the Web powered by HTML5, jQuery & CSS3
Zoomooz.js