jQuery
jQuery.my plugin
gridster.js
Zepto.js: the aerogel-weight jQuery-compatible JavaScript library
zgrossbart/jslim
Starter | Jumpstart Your jQuery Plugin Development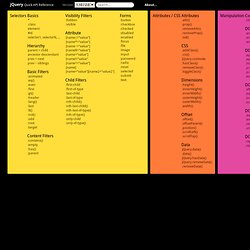 jQuery Cheatsheet
Selectors
tQuery API - extensions for three.js
ZinoUI - jQuery UI components library, HTML5 framework
1.3.16 demo - jQuery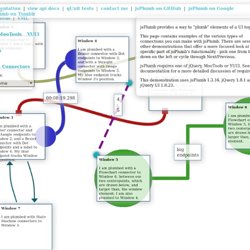 Window 1 I am plumbed with a Bezier connector to Window 2 and a label, with Blank endpoints. Window 2
What is it? This: How does it work? Like this: Lake.js takes an img element and inserts a canvas element displaying the image and its flipped reflection directly after the img element.
lake.js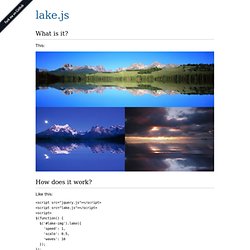 jPanelMenu | A jQuery Plugin
This is how easy it is to get started with Cytoscape.js (this code creates the instance you see on the bottom-right: About Cytoscape.js is an open-source graph library written in JavaScript.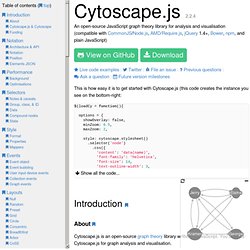 Cytoscape.js
MiniJs - jQuery Plugins made easy
MiniBoilerplate
How to Use It Include necessary javascript library files. To create an infinite wall, create a div with an id.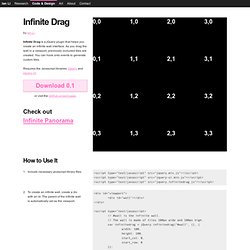 jQuery Infinite Drag
Basic Example Switzerland↓ Switzerland Germany United States Sweden France Australia Advanced Example with custom data
dropdown.dot.js by rogerdudler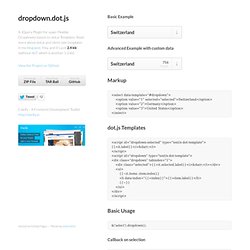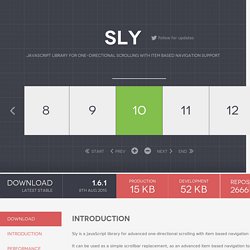 Introduction Sly is a JavaScript library for advanced one-directional scrolling with item based navigation support. It can be used as a simple scrollbar replacement, as an advanced item based navigation tool, or as a great navigation and animation interface for parallax websites.
Sly - jQuery plugin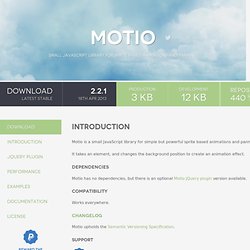 Introduction Motio is a small JavaScript library for simple but powerful sprite based animations and panning. It takes an element, and changes the background position to create an animation effect.
Motio - jQuery plugin
lenticular.js - tilt-controlled images
Real Shadow: jQuery Plugin that casts photorealistic shadows
jWysiwyg
Orbital-dial by gregstewart
noUiSlider - jQuery Range Slider | Refreshless.com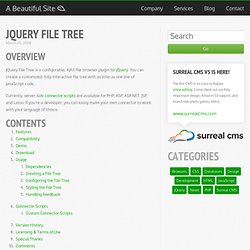 Overview
jQuery File Tree · A Beautiful Blog
jquer.in » Collection of jquery plugins and javascript libraries.
jQuery Knob demo
Martin Angelov In this tutorial we will be writing a jQuery plugin for creating a shiny knob control.
Shiny Knob Control with jQuery and CSS3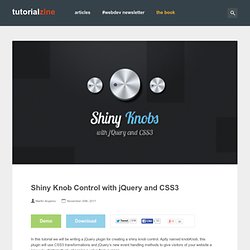 Old School Cassette Player with HTML5 Audio
Vintage format meets modern web tech: an HTML5 audio player with realistic controls.
jPlayer : HTML5 Audio & Video for jQuery
jQuery Transit - CSS3 animations for jQuery
What about older browsers?
Getting started Add morris.js and its dependencies (jQuery & Raphaël) to your page. 1 <link rel="stylesheet" href="http://cdn.oesmith.co.uk/morris-0.4.3.min.css">2 <script src="//ajax.googleapis.com/ajax/libs/jquery/1.9.0/jquery.min.js"></script>3 <script src="//cdnjs.cloudflare.com/ajax/libs/raphael/2.1.0/raphael-min.js"></script>4 <script src="http://cdn.oesmith.co.uk/morris-0.4.3.min.js"></script> If you don't want to use the CDN-hosted assets, then you can extract them from the zip bundle and upload them to your own site.
Morris.js
Ninja UI
DropKick - a jQuery plugin for beautiful dropdowns
Tweet! Put Twitter on your site with this simple, unobtrusive jQuery widget
jQuery Quicksand plugin
jQuery Masonry
Lettering.js - A jQuery plugin for radical web typography.
Hammer.js — A javascript library for multi touch gestures
Lateral On-Scroll Sliding with jQuery
Textualizer
jQuery News Ticker
slabText – a jQuery plugin for creating big, bold & responsive headlines
jQuery Geo
Isotope
jQuery Scroll Path
jQuery TOOLS - The missing UI library for the Web
UI for the Web powered by HTML5, jQuery & CSS3
Zoomooz.js