Preparedness
20DollarBandit. Bug Out Bag Contents at a Glance. My first attempt at a 72 hour survival pack. Last-Ditch Survival Kit: Could You Survive With Just These Items?
Permaculture
Food. How To Build a Homemade Compost Tumbler. Food is Free Project: How to Build a Raised Wicking Bed! Uncrate Lists 'Bug-Out Bag' With Everything Needed for Apocalypse Survival 'Stuffed Into One Bag' Bug-Out Bag.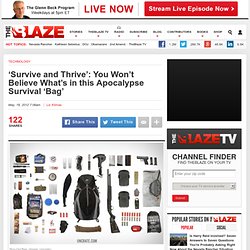 (Image: Uncrate) Uncrate, a magazine "for guys who love stuff," has quite the all-in-one survival kit that it says has everything you may need to not only "survive" but "thrive." But is it really the motherload of survival kits? Some have thoughts for modifying it.
Water Collection. What's New Cage: (4QK35) Preppers & EDC Gear. Updated 4/4/2014 Please check your address before ordering.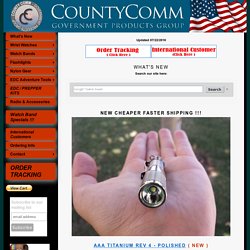 No PO, APO, FPO, or AE Addresses International Customers Click Here What's New Search our site here: Emergency Preparedness. Alex Jones' Infowars: There's a war on for your mind! Ultimate 550 Paracord Survival Gear and more... Here you will find one of a kind Hidden Handcuff Key Buckles and accessories.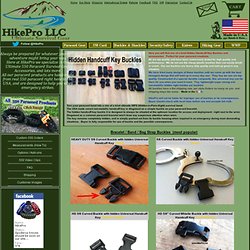 Perfect for your paracord creations.All are top quality and have been numerously tested for high quality and performance. We do not use the cheap plastic buckles than can easily break or crack. Our our buckles are heavy duty quality and hold up great in any situation.We have tried many designs of these buckles until we came up with the best strongest design that will hold up in every day use. Conservative news, politics, opinion, breaking news analysis, political cartoons and commentary – Townhall. Prepared Christian Being Prudent In Today's World.
Firearms
Survival. $3 Emergency Solar-Powered Radio Made With an Altoids Tin. Joshua Zimmerman has a great project up on Instructables for turning an Altoids tin into a compact solar radio.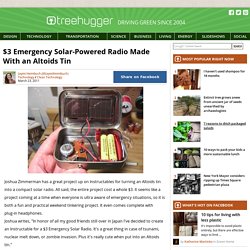 All said, the entire project cost a whole $3. It seems like a project coming at a time when everyone is ultra aware of emergency situations, so it is both a fun and practical weekend tinkering project. It even comes complete with plug-in headphones. Joshua writes, "In honor of all my good friends still over in Japan I've decided to create an Instructable for a $3 Emergency Solar Radio. It's a great thing in case of tsunami, nuclear melt down, or zombie invasion. Your Patriot Owned Survival Store & Home of the Genesis Garden Survival Seed Bank. Camping/Survivalist. First Aid Kits - Items in a First Aid Kit - First Aid Kit Items.
Every first aid kit evolves to meet the needs of the person or family who created it.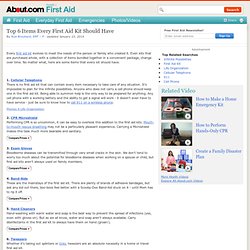 Even kits that are purchased whole, with a collection of items bundled together in a convenient package, change over time. No matter what, here are some items that every kit should have. 1. Cellular Telephone There is no first aid kit that can contain every item necessary to take care of any situation. About First Aid Kits. The American Red Cross suggests that all homes, cars and businesses be stocked with a first aid kit containing a basic first aid guide, adhesive bandages, gauze, hand sanitizer, scissors, gloves, antibacterial or antibiotic ointment, tweezers, CPR shield, pain relievers, anti-diarrhea medicine, antacids, syrup of ipecac and activated charcoal.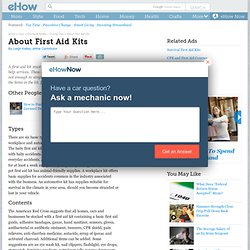 Additional items can be added. Some suggestions are an eye wash kit, nail clippers, flashlight, eye drops, stopwatch, feminine products, petroleum jelly, tongue depressors, antihistamine medications, portable defibrillator, splints and baby wipes or moist towelettes. First Aid Kit - How to Make a First Aid Kit. Having a first aid kit is an important part of emergency preparedness .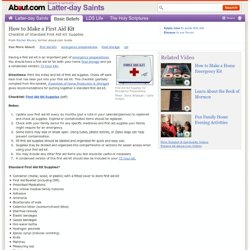 You should have a first aid kit for both your home food storage and (as a condensed version) 72 hour kits . Directions: Print the notes and list of first aid supplies. Homesteading. Homesteading Medicine & Health. Preparedness Nuggets Index. The original index page for these Preparedness Nuggets, online since 1999, practically a geezer as webpages go, was recently corrupted.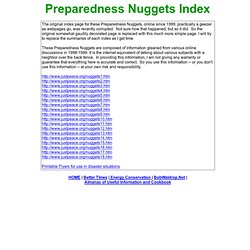 Not sure how that happened, but so it did. So the original somewhat gaudily decorated page is replaced with this much more simple page. I will try to replace the summaries of each index as I get time. These Preparedness Nuggets are composed of information gleaned from various online discussions in 1998-1999. 10 Skills Every Survivalist Should Learn. S Homemade Soap Recipe by Robert Wayne Atkins. Grandpappy's Homemade Soap Recipe Copyright © 2007,2008 by Robert Wayne Atkins, P.E.
All rights reserved and all rights protected under international copyright law. Click Here for a Microsoft WORD printer friendly copy of this article. Introduction During hard times sooner or later everyone runs out of soap. Long-Term Food Storage. Survivalbiz.com. Step 7.
Take the bottom piece of the can and start to ruffle the perimeter of the can with your thumb. (Figure 10.) You don't want creases, just ruffles. Survival Kits | Emergency Kits | Emergency Food | Emergency Bag.
Getting started
Survival Tools. Information is Key. Prepare. Preparation. Survial.
---