Ipad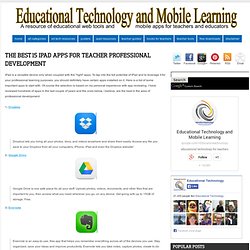 iPad is a versatile device only when coupled with the "right" apps.
The Best 15 iPad Apps for Teacher Professional Development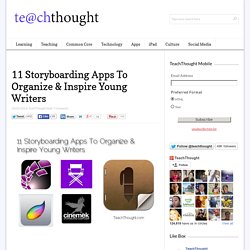 11 Storyboarding Apps To Organize & Inspire Young Writers For students who dread writing class, a blank page can look a lot like a ten-foot monolith; an imposing, empty slate towering over their homework list. Visual storytelling is one way to break students out of writer's block, and storyboarding apps are a pre-packaged strategy you can use to bring images to the narrative. Whether your students are afraid of writing or you're simply looking for a way to break up a brainstorming session, these 10 storyboarding apps for iOS and Android devices can help inspire–and organize–students of any age.
11 Storyboarding Apps To Organize & Inspire Young Writers
Using an iPad is simple due to its intuitive interface, elegant touch interface, and user-friendly operating system. Below we've listed 23 different tasks a teacher should be able to perform with their iPad. We've tried to focus on the basics, along with some typical tasks a teacher may be required to complete.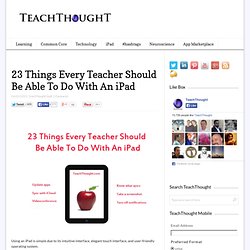 An iPad and Apple TV can combine to provide an advantageous alternative to more expensive, traditional interactive white boards. Guest writer and High School Principal Da vi d M aha ley is using this approach and offers his insights, and observations from educators in his school. With the integration of the iPad into the instructional environment, teachers and students have discovered many new ways in which the device can expand and enhance the learning environment. With the iPad, the Apple TV can offer a flexible, complete, and cost efficient alternative to the traditional interactive boards populating our classrooms. Image by K.Walsh, Apple TV logo source: www.apple.com/appletv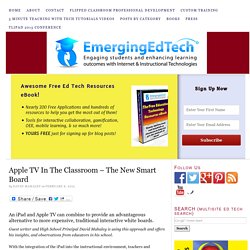 Don't forget to pack some apps with that lunch box when the kids go back to school. Source: Herald Sun THE start of the new school year is a little over a week away, but before you fill those school bags, lunch boxes and pencil cases, fill up your smartphone or tablet with some great educational apps and get a head start on study.
BACK TO SCHOOL: Top 50 learning apps for students | News.com.au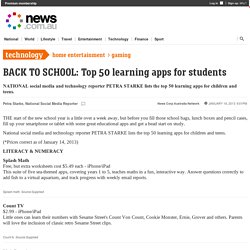 unnamed pearl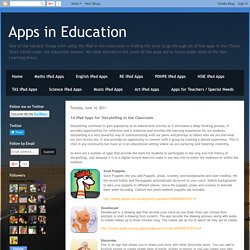 Storytelling continues to gain popularity as an educational activity as it stimulates a deep thinking process, it provides opportunities for reflection and it enhances and enriches the learning experience for our students. Storytelling is a very powerful way of communicating with our peers and portrays to others who we are and what our own stories are. It also provides an opportunity to connect with a group by creating a shared experience. This is vital in any community but more so in an educational setting where we are nurturing and fostering creativity.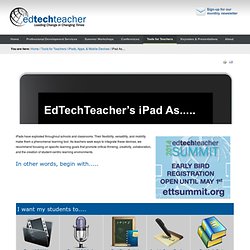 iPads have exploded throughout schools and classrooms. Their flexibility, versatility, and mobility make them a phenomenal learning tool. As teachers seek ways to integrate these devices, we recommend focusing on specific learning goals that promote critical-thinking, creativity, collaboration, and the creation of student-centric learning environments. Below, you will find a list of objectives, each one connecting to recommended apps and tools. I want my students to...
Staffroom HQ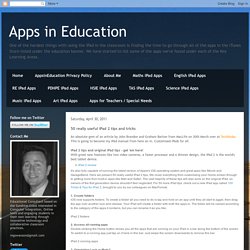 An absolute gem of an article by John Brandon and Graham Barlow from MacLife on 30th March over at TechRadar . This is going to become my iPad manual from here on in. Customised iPads for all iPad 2 tips and original iPad tips - get 'em here! With great new features like two video cameras, a faster processor and a thinner design, the iPad 2 is the world's best tablet device.
Interactive and collaborative - Whiteboards are a great way for teachers to explain concepts to their students. With the ability of some iPad apps to record, you ensure that students who did not develop understanding of the concept the first time have the opportunity to watch and listen again and again. Working in small groups or brainstorming as a class, collaborative whiteboards are a great way to share ideas. Work in the same room, on the same network or even from different parts of the country. No matter what you are working on these interactive whiteboards are a great way to document or record your thinking process. Educreations: FREE Educreations turns your iPad into a recordable whiteboard.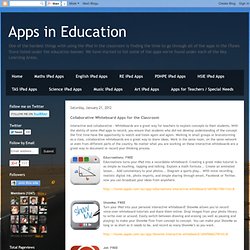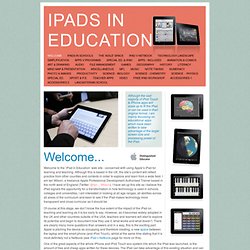 Welcome to the 'iPad in Education' web site - concerned with using Apple's iPad for learning and teaching. Although this is based in the UK, the site's content will reflect practice from other counties and contexts in order to explore and learn from a wide field. I am Ian Wilson, a freelance Apple Professional Development Authorised Trainer based in the north west of England (Twitter: @Ian__Wilson ).
iPad for Teaching & Learning
Most of what we do is for the students. The focus of this and many other blogs and websites is about learning, and rightly so, but there are also apps that will make our jobs easier too. I am talking about that catergory of apps that are designed specifically for the classroom teacher.
A better app may be Edmodo, it combines all of these tools into an easy to use site students enjoy going to. by janelschafer Nov 21
It's time for holiday road trips and you know what that means: driving, flying, cranky kids, and… teaching opportunities! What's that, you say? Well, there is so much downtime during the holidays where kids and adults spend hours just passing the time… why not try out some new apps on your phone? Many of these apps were found by The Teaching Palette , be sure to check out their fantastic site for more helpful resources!
16 iOS Apps for Schools
I often receive emails from developers of education apps, so I thought that it might be useful to share some of the fantastic applications that are being created to support learning: 1) Happi Spells - "Happi Spells" is a crossword spelling game where children can practice spelling by dragging letter tiles on to 48 different mini crossword puzzles. Compete for "snails" and try to improve your own high score! 2) I Learn With – Languages! - A fun educational game to help children aged from 3 to 7 years old to learn their first words and short sentences in a foreign language. Find out more in the video below:
If you've got yourself a new iPad 4 or iPad mini , you'll want to start downloading the best iPad apps straight away. And if you already have an iPad 3 or older iPad, you might want to update it with some new apps. It's the apps that really set iOS apart from other platforms - there are far more apps available on the App Store for the iPad than any other tablet. So which which ones are worth your cash? And which are the best free apps? 5 FREE ISSUES of our new technology magazine for the iPad.