Ipad
iPad Lessons on Pinterest. The Student Assessment Tools Collection by Rick Thomas. Edshelf Student Assessment Tools Curated by Rick Thomas Share: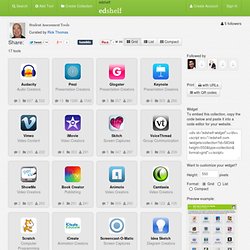 "50 Best iPad Apps for Reading Disabilities" "50 Best iPad Apps for Reading Disabilities" Guest Blog by Rosa Ray Whether you're the parent of a child with a reading disability or an educator that works with learning disabled students on a daily basis, you're undoubtedly always looking for new tools to help these bright young kids meet their potential and work through their disability.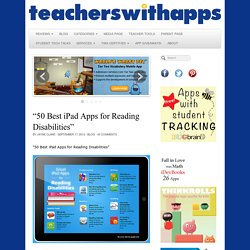 While there are numerous technologies out there that can help, perhaps one of the richest is the iPad, which offers dozens of applications designed to meet the needs of learning disabled kids and beginning readers alike. Here, we highlight just a few of the amazing apps out there that can help students with a reading disability improve their skills not only in reading, writing, and spelling, but also get a boost in confidence and learn to see school as a fun, engaging activity, not a struggle. iLearn on Pinterest. Learning and Teaching with iPads. A day of learning with i pads. Making Thinking Visible. 10 Apps for Math Fluency.
There are so many ways to use mobile devices with students.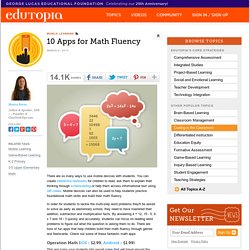 You can create interactive textbooks for children to read, ask them to explain their thinking through screencasting or help them access informational text using QR codes. Mobile devices can also be used to help students practice foundational math skills and build their math fluency. Super Readers - Bridge Point Elementary Educational Technology Department. Best iPad apps for education. Purely Paperless: Reading and Writing Conferences Made Easy with Confer. App: Confer Cost: $14.99 Subject: Management Why Buy?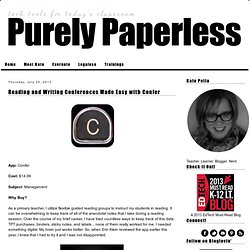 As a primary teacher, I utilize flexible guided reading groups to instruct my students in reading. The Best 15 iPad Apps for Teacher Professional Development. iPad is a versatile device only when coupled with the "right" apps.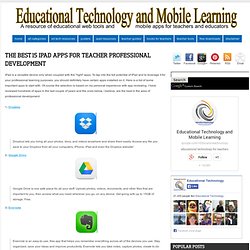 To tap into the full potential of iPad and to leverage it for your professional learning purposes, you should definitely have certain apps installed on it. Here is a list of some important apps to start with. Of course the selection is based on my personal experience with app reviewing. 11 Storyboarding Apps To Organize & Inspire Young Writers. 11 Storyboarding Apps To Organize & Inspire Young Writers For students who dread writing class, a blank page can look a lot like a ten-foot monolith; an imposing, empty slate towering over their homework list.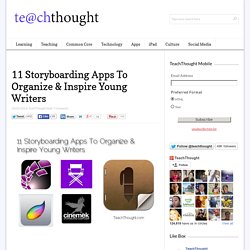 Visual storytelling is one way to break students out of writer's block, and storyboarding apps are a pre-packaged strategy you can use to bring images to the narrative. Whether your students are afraid of writing or you're simply looking for a way to break up a brainstorming session, these 10 storyboarding apps for iOS and Android devices can help inspire–and organize–students of any age.
23 Things Every Teacher Should Be Able To Do With An iPad. Using an iPad is simple due to its intuitive interface, elegant touch interface, and user-friendly operating system.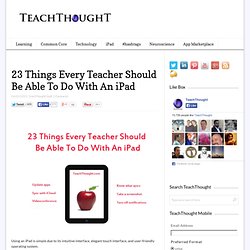 Below we've listed 23 different tasks a teacher should be able to perform with their iPad. We've tried to focus on the basics, along with some typical tasks a teacher may be required to complete. Apple TV In The Classroom – The New Smart Board. An iPad and Apple TV can combine to provide an advantageous alternative to more expensive, traditional interactive white boards.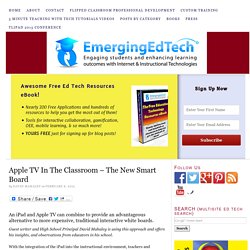 Guest writer and High School Principal David Mahaley is using this approach and offers his insights, and observations from educators in his school. With the integration of the iPad into the instructional environment, teachers and students have discovered many new ways in which the device can expand and enhance the learning environment. With the iPad, the Apple TV can offer a flexible, complete, and cost efficient alternative to the traditional interactive boards populating our classrooms. As a school administrator and teacher, I have explored the Apple TV and its offerings as an alternative to one of the many types of interactive whiteboards currently available to instructors. BACK TO SCHOOL: Top 50 learning apps for students.
Don't forget to pack some apps with that lunch box when the kids go back to school.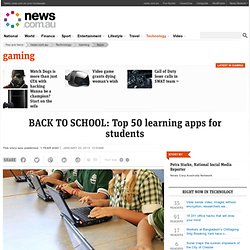 Source: Herald Sun THE start of the new school year is a little over a week away, but before you fill those school bags, lunch boxes and pencil cases, fill up your smartphone or tablet with some great educational apps and get a head start on study. National social media and technology reporter PETRA STARKE lists the top 50 learning apps for children and teens. (*Prices correct as of January 14, 2013) Splash MathFree, but extra worksheets cost $5.49 each - iPhone/iPadThis suite of five sea-themed apps, covering years 1 to 5, teaches maths in a fun, interactive way. iPads in Schools.
Untitled. 14 iPad Apps for Storytelling in the Classroom. Storytelling continues to gain popularity as an educational activity as it stimulates a deep thinking process, it provides opportunities for reflection and it enhances and enriches the learning experience for our students.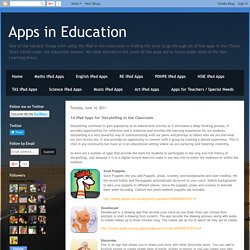 Storytelling is a very powerful way of communicating with our peers and portrays to others who we are and what our own stories are. It also provides an opportunity to connect with a group by creating a shared experience. This is vital in any community but more so in an educational setting where we are nurturing and fostering creativity. iPad As.... Staffroom HQ. 50 really useful iPad 2 tips and tricks. An absolute gem of an article by John Brandon and Graham Barlow from MacLife on 30th March over at TechRadar. This is going to become my iPad manual from here on in. Customised iPads for all iPad 2 tips and original iPad tips - get 'em here!
With great new features like two video cameras, a faster processor and a thinner design, the iPad 2 is the world's best tablet device. Collaborative Whiteboard Apps for the Classroom. Interactive and collaborative - Whiteboards are a great way for teachers to explain concepts to their students. With the ability of some iPad apps to record, you ensure that students who did not develop understanding of the concept the first time have the opportunity to watch and listen again and again.
Working in small groups or brainstorming as a class, collaborative whiteboards are a great way to share ideas. Work in the same room, on the same network or even from different parts of the country. No matter what you are working on these interactive whiteboards are a great way to document or record your thinking process. Educreations: FREE Educreations turns your iPad into a recordable whiteboard. iPads in Education. 47 Interesting Ways* to use an iPad in the Classroom. iPods. iPad for Teaching & Learning. 10 Best Apps 4 Teachers. Most of what we do is for the students. The focus of this and many other blogs and websites is about learning, and rightly so, but there are also apps that will make our jobs easier too.
I am talking about that catergory of apps that are designed specifically for the classroom teacher. 50 Must-Have Educational Apps. 16 iOS Apps for Schools. Top 50 Free Education Apps | iPad, iPhone and iPod Touch App Store App Reviews. Top 200 best iPad apps 2011.
---