MObile | Redes Sociais | Social Media
Lumata. The latest news from the mobile content industry | Mobile Entertainment. Chinês salvo pela dupla iPhone + Google Translate. Gizmodo, the Gadget Guide. Modelos Celulares Nokia Motorola Samsung Sony LG Vivo Oi Tim Claro Nextel - Pergunte e Responda! Virtualmagazine™ | the 3D digital publishing system.
Ringtone Partner – Global Mobile Content Affiliate Program. iPhone Development | Android Development | iPad Development | Web Development. Plancast. Free People Search | People Search | Search For People At PeekYou. Cratyle. CrunchBase, The Free Tech Company Database. Formspring. Be yourself.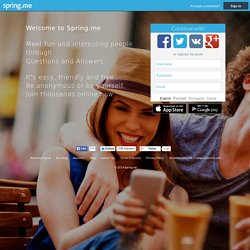 Be anonymous. Be anyone. Quora. Picplz mobile photo sharing for iPhone and Android. No Contract Phones & Prepaid Unlimited Plans | Boost Mobile. Tudo Sobre Redes Sociais. Web and Mobile Messenger for MSN, Yahoo, ICQ, AIM, Google Talk, Facebook | eBuddy. Read It Later: Save Your One Read Wonders.
Social media. Photovine - Plant a photo, watch it grow. BR New Tech (São Paulo. The Archivist By Mix Online. Sobees. Search the recent messages posted on Twitter and be the first one informed if anything that matters to you happens.Get the best Facebook integration to access your profile, home, inbox and friends.Connect all your Twitter accounts and enjoy the most powerful Twitter client on Windows.Update your status on multiple services in one go.Customize your application (language, color scheme, etc).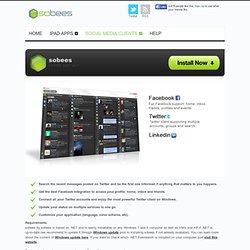 Requirements: sobees by sobees is based on .NET and is easily installable on any Windows 7 and 8 computer as well as Vista and XP if .NET is up-to-date (we recommend to update it through Windows update prior to installing sobees if not already available). You can learn more about the content of Windows update here. If you want to check which .NET Framework is installed on your computer, just visit this website. By downloading sobees you accept our software license agreement. Silvio Braz - E-mail, Endereço, Número de telefone, tudo! Social booshit. Social Mention. Yoono. FollowAs- See Twitter through their eyes. Buffer is a smarter way to Tweet.
Social media news and business strategies blog | Socialmedia.biz. Sharedcount.com. Meu orkut. Digg - All Topics - The Latest News Headlines, Videos and Images. Postling. Facebook (2) Twitter / Home. Scribd. MOBILE. Bem-vindo, silvio!
---