Management
7 Qualities Of A Truly Loyal Employee
10 Things Extraordinary Bosses Give Employees
8 Things Productive People Do During the Workday
Entrepreneurs and Business Growth
The Power of Simplicity
10 Things Really Amazing Bosses Do | Inc. 5000
It's 7:54 on a frigid January morning in San Francisco. You're waiting outside the Moscone Center, in a queue of several thousand people, many of whom have been camping out in the cold for over 12 hours. The security detail for this event rivals the Democratic National Convention.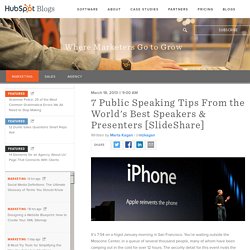 Three deadly career traps, and how to avoid them
8 Things Productive People Do During the Workday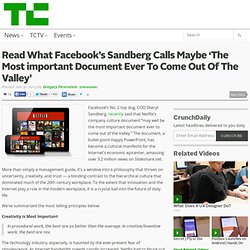 Read What Facebook's Sandberg Calls Maybe 'The Most important Document Ever To Come Out Of The Valley'
Facebook's No. 2 top dog, COO Sheryl Sandberg, recently said that Netflix's company culture document "may well be the most important document ever to come out of the Valley." The document, a bullet-point-happy PowerPoint, has become a cultural manifesto for the Internet's economic epicenter, amassing over 3.2 million views on Slideshare.net. More than simply a management guide, it's a window into a philosophy that thrives on uncertainty, creativity, and trust — a blinding contrast to the hierarchical culture that dominated much of the 20th century workplace.
If you want people to act, do these four things
The VC Firm That Funded Facebook Explains How To Hire
Ask yourself: If you could interview like Walter Cronkite, would you get more value from your meetings? Would your mentors become more valuable? Would your chance encounters with executives in elevators and thought leaders in conferences yield action items and relationships? The answer is yes. "As someone who had little to no experience in business--outside of running my own one-man freelancing operation--all that's really saved me (so far) from madness are the skills I used as a journalist," says Evan Ratliff, who wrote for magazines like The New Yorker before founding his startup, The Atavist.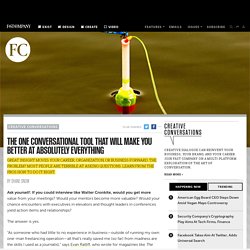 New Years Resolutions For Business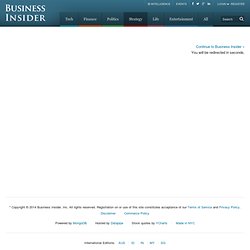 The New Year is a propitious time for businesses to re-prioritize their objectives and start afresh with renewed vigor and a clear mission. Setting – and following through on – thoughtful and apposite resolutions is an effective way to maximize results and impact for your company. In my estimation 2013 will be a year marked by continued economic volatility (through headline risk, inflationary monetary policy, and an ambivalent unemployment rate), the emergence of the micropreneur, increased attention on ROI (return on investment) in social media, and philanthropy as a potent form of marketing. The businesses that win in the New Year will be those that iterate incessantly to define their own innovation curve, that establish strong and unambiguous company cultures, and those that use their data points effectively to minimize wasteful spending and increase their ROIC (return on invested capital.)
Hi 1) @LoneTruth look for 1) 2) @tearsana look for 2) 3) @TheRab and @Truefire guess (did you not see ChillyPepperz reply?) (Ex 1: please see further below. Q: Time to stand up?)
The One Conversational Tool That Will Make You Better at Absolutely Everything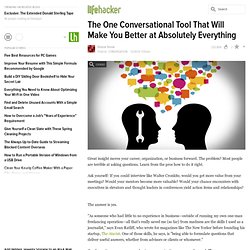 Why corporate strategy needs to change with the cloud — Cloud Computing News
Big Idea 2013: Stop Worrying About Efficiency
Big Idea 2013: A New Social Contract between Employer and Employees
Big Idea 2013: Get All of Your Employees on Social Media
Distill Your Message to as Few Words as Possible
What Great Leaders Have That Good Leaders Don't
Intuit's Scott Cook on Failed Global Expansion
What employees really need at work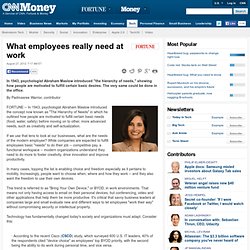 By Padmasree Warrior, contributor FORTUNE -- In 1943, psychologist Abraham Maslow introduced the concept now known as "The Hierarchy of Needs" in which he outlined how people are motivated to fulfill certain basic needs (food, water, safety) before moving on to other, more advanced needs, such as creativity and self-actualization. If we use that lens to look at our businesses, what are the needs of the modern employee? While companies are expected to fulfill employees basic "needs" to do their job -- competitive pay, a functional workspace -- modern organizations understand they need to do more to foster creativity, drive innovation and improve productivity. In many cases, topping the list is enabling choice and freedom especially as it pertains to mobility.
The 5 Traits of High-Potential Employees
Welcome to the Bossless Company
Career Advice: Keep the Boss Happy
Several years ago I was in the Thomson Building in Toronto. I went down the hall to the small kitchen to get myself a cup of coffee. Ken Thomson was there, making himself some instant soup. At the time, he was the ninth-richest man in the world, worth approximately $19.6 billion.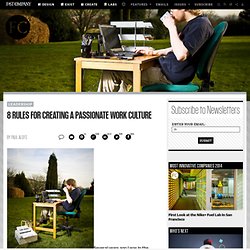 Emotions Can Get the Better of You at Work
The 6 Habits of Strategic Thinkers
The 5 Qualities of Remarkable Bosses
Eight Qualities of Remarkable Employees
Why Flexible Hours Inspire Performance
Why Flexible Hours Inspire Performance
8 Things Your Employees Need Most
8 Things Your Employees Need Most
8 Key Elements Make Your Business Transformative
Why Being a Nicer Boss is a Smart Business Move
Culture Eats Strategy For Lunch