Entrepreneurial ★
FastCompany.com - Where ideas and people meet. Sparxoo Why Should Entrepreneurs Start a Social Mission? By Ethan Lyon, Senior Writer It's a simple question many entrepreneurs are asking themselves.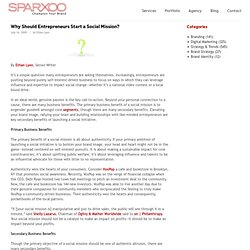 Increasingly, entrepreneurs are pushing beyond purely self-interest-driven business to focus on ways in which they can leverage influence and expertise to impact social change—whether it's a national video contest or a local blood drive. In an ideal world, genuine passion is the key call-to-action. Beyond your personal connection to a cause, there are many business benefits.
Young Entrepreneur – Small Business & Entrepreneur Community. 45 Kick-Ass Resources for Online Entrepreneurs | Productive Entrepreneur. Few people talk about this great productivity tip… You will reach your goals faster and easier if you're willing to learn from others.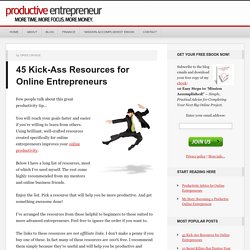 Using brilliant, well-crafted resources created specifically for online entrepreneurs improves your online productivity. Below I have a long list of resources, most of which I've used myself. The 4 M's of Attracting Investors to Your Startup. Mark Suster is one of those unique venture capitalists in that he has experience as an entrepreneur prior to joining the VC world (or the "dark side" as he calls it).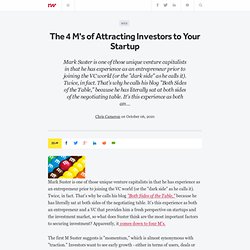 Twice, in fact. That's why he calls his blog "Both Sides of the Table," because he has literally sat at both sides of the negotiating table. It's this experience as both an entrepreneur and a VC that provides him a fresh perspective on startups and the investment market, so what does Suster think are the most important factors to securing investment?
TechStars Outshines Y-Combinator As The Top Startup Accelerator Program In The US. When you mention startups, funding, mentoring and networking are the most essential ingredients needed by each aspiring founder.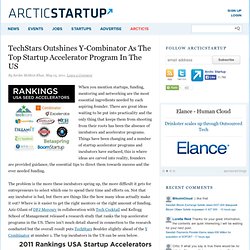 There are great ideas waiting to be put into practicality and the only thing that keeps them from shooting from their roots has been the absence of incubators and accelerator programs. Things have been changing and a number of startup accelerator programs and incubators have surfaced, this is where ideas are carved into reality, founders are provided guidance, the essential tips to direct them towards success and the ever needed funding. Startup Advice: How Entrepeneurs Gain Credibility.
While talking with young founders in Europe and the US over the last couple months, I have been asked the same question repeatedly -- how can an entrepreneur just starting out gain the necessary credibility to attract capital?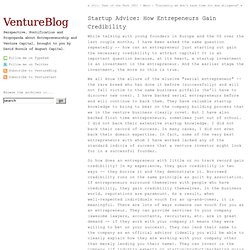 It is an important question because, at its heart, a startup investment is an investment in the entrepreneur. And the earlier stage the investment, the more so this is true. We all know the allure of the elusive "serial entrepreneur" -- the rare breed who has done it before (successfully) and will not fall victim to the same business pitfalls (he'll have to discover new ones). Entrepreneur Magazine: Advice on Entrepreneurship for Starting and Growing a Business. Blowing up Startups Since 2010. Excelerate Labs | Make The Leap. Kicklabs: San Francisco's home to the best and brightest startups in the business.
Startup Weekend Set for Rapid Growth with Kauffman Foundation Grant. Startup Weekend, an organization dedicated to the worldwide education and proliferation of entrepreneurship, has made a name for itself over the last few years with its unique weekend-long events.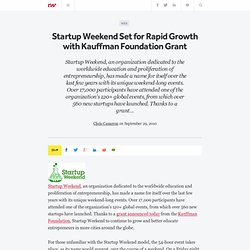 Over 17,000 participants have attended one of the organization's 120+ global events, from which over 560 new startups have launched. Thanks to a grant announced today from the Kauffman Foundation, Startup Weekend to continue to grow and better educate entrepreneurs in more cities around the globe. For those unfamiliar with the Startup Weekend model, the 54-hour event takes place, as its name would suggest, over the course of a weekend. On a Friday night, attendees meet up for the first time and pitch their ideas for startups, eventually breaking into groups.
For the remainder of the weekend, the groups work to bring their idea to life, wrapping up with a pitch contest at the end of night on Sunday. Please, please, please stop asking how to find a technical co-founder. Listen guys, I'm sorry.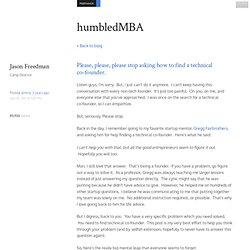 But, I just can't do it anymore. I can't keep having this conversation with every non-tech founder. It's just too painful. On you, on me, and everyone else that you've approached. Surprising truths and misconceptions about entrepreneurship. Is Starting A Business Safer Than Your Job? [Infographic] Share: With a slow economy, many people have turned to entrepreneurship as a means to pay the bills.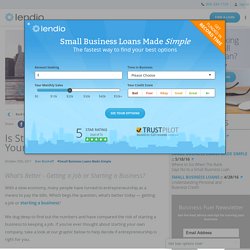 Which begs the question, what's better today — getting a job or starting a business? Entrepreneur Magazine: Advice on Entrepreneurship for Starting and Growing a Business. Business & Small Business. What is Lean about the Lean Startup? The first step in a lean transformation is learning to tell the difference between value-added activities and waste.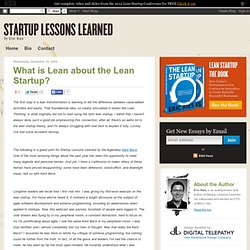 That foundational idea, so clearly articulated in books like Lean Thinking, is what originally led me to start using the term lean startup. I admit that I haven't always done such a good job emphasizing this connection; after all, there's an awful lot to the lean startup theory, and I'm always struggling with how best to explain it fully. Luckily, I've had some excellent backup. The following is a guest post for Startup Lessons Learned by the legendary Kent Beck . 9 Best Podcasts For Entrepreneurs & Startups | Web Resource, Tech Tips and Softwares - Enfew.
1.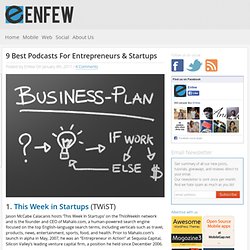 This Week in Startups (TWiST) Jason McCabe Calacanis hosts 'This Week In Startups' on the ThisWeekIn network and is the founder and CEO of Mahalo.com, a human-powered search engine focused on the top English-language search terms, including verticals such as travel, products, news, entertainment, sports, food, and health. Prior to Mahalo.com's launch in alpha in May, 2007, he was an "Entrepreneur in Action" at Sequoia Capital, Silicon Valley's leading venture capital firm, a position he held since December 2006. Eight Questions To Ask Before You Start A Business. Are you thinking of starting a web business? Starting a PPC Management agency? Setting up your own site and selling things, or building a web publishing empire? Before you start, ask yourself the following eight questions. The advantage of this Q&A is that you can quickly see if the idea you're going to throw your money and soul into is likely to work.
10 Biggest Entrepreneurs of 2011. Embed this infographic on your site! <a href=" src=" alt="10 Biggest Entrepreneurs of 2011" width="500" border="0" /></a><br />From: <a href=" Do a quick search for important entrepreneurs. Do you see any wrinkles on those faces? Y Combinator. Le Camping | Kick-off for Start-ups.
---