Dinner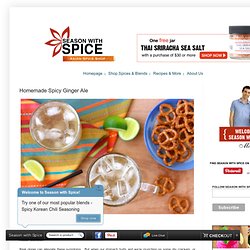 Is there real ginger in Ginger Ale? If Ginger Ale did not include real ginger – with all its innumerable health benefits – why would our parents ask us to drink it when we have an upset stomach? Why would the canned drink be so popular on airplanes where many of us are prone to motion sickness? Real ginger can alleviate these symptoms. But when our stomach hurts and we're munching on some dry crackers, or when the airline stewardess hands us that small bag of pretzels and asks us what we want to drink, we don't think why we crave a can of Ginger Ale, we just order one.
Season with Spice - Features: Homemade Spicy Ginger Ale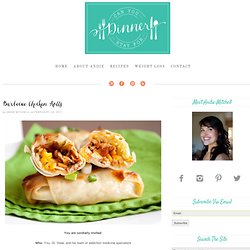 Barbecue Chicken Rolls « Can You Stay for Dinner?
You are cordially invited: Who: You, Dr. Drew, and his team of addiction medicine specialists What: An intervention for Miss Andie Mitchell, a dangerously addicted egg roll wrap pusher When: Immediately Where: Andie's home, Seattle, WA
Cooking Healthy For Me: Loaded Mashed Sweet Potatoes
Chicken and White Bean Chili
Chicken and White Bean Chili Remember back when I told you about our chili cook-off at work and I shared my friend's amazing white chicken chili that won the whole thing? Well good news – today I'm sharing the second place winner!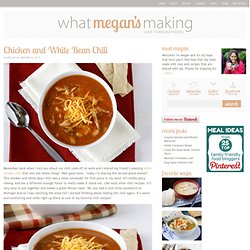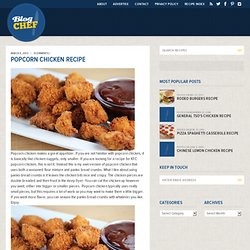 Popcorn chicken makes a great appetizer. If you are not familiar with popcorn chicken, it is basically like chicken nuggets, only smaller. If you are looking for a recipe for KFC popcorn chicken, this is not it. Instead this is my own version of popcorn chicken that uses both a seasoned flour mixture and panko bread crumbs. What I like about using panko bread crumbs is it leaves the chicken bits nice and crispy.
Popcorn Chicken Recipe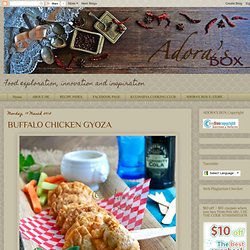 All food with the words buffalo and chicken will be eaten straight away. That's a fact. So I convert everything to Buffalo chicken or some semblance of it if I want them to be eaten. I have already told you about the breast of the rotisserie chicken that's always left uneaten.
BUFFALO CHICKEN GYOZA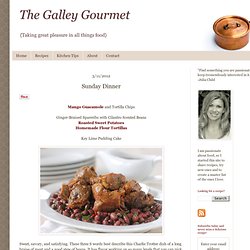 Ginger-Braised Spareribs with Cilantro Scented Beans Key Lime Pudding Cake Sweet, savory, and satisfying. These three S words best describe this Charlie Trotter dish of a long braise of meat and a good stew of beans. It has flavor working on so many levels that you can pick out a different one to focus on even after several delicious bites.
Sunday Dinner
Capuns | Island Vittles
How's your winter garden doing? If you live in one of the more temperate zones in the northern hemisphere, you may still have some chard left — or even better, you may have some spring chard just starting to make an appearance. And if your herb garden is also showing signs of rejuvenation, then stop there for some chives and such on your way back inside. Otherwise, just go to the store and get some, ok? You probably haven't heard of Capuns before, unless you've spent a lot of time in eastern Switzerland. Capuns are a regional dish that I was recently introduced to online by a friend who shares my obsession with the Outlander series by Diana Gabaldon.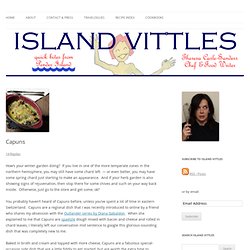 Generation Y Foodie: Lemon Parmesan Crusted Tilapia
Everyone knows they should eat more fish. However, it can be so difficult to find and get fresh, healthy and environmentally conscious fish. I am lucky enough to live in a place where fish is affordable and easy to come by, but for many that's not the case. This is one of the many reasons I love tilapia. It's plentiful, low in mercury, safely farmed and relatively easy to find, especially frozen. It's also generally cheaper than other types of fish (salmon, swordfish) and can be quickly and easily turned into a delicious dinner.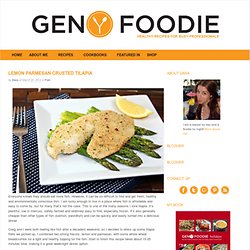 It's Meatless Monday time, and do I have an amazing recipe for you! I've been thinking about doing a Mexican-style stuffed pepper for a while, and finally came up with the perfect combination. Believe me, dear reader, this is something you'll want to try. If you're new to quinoa, this is a great way to try it. These were SO full of flavor and were absolutely delicious.
mexican stuffed peppers with quinoa & black beans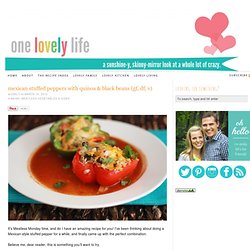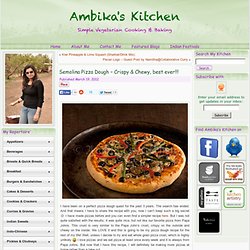 I have been on a perfect pizza dough quest for the past 3 years. The search has ended. And that means I have to share the recipe with you, now I can't keep such a big secret :D I have made pizzas before and you can even find a simpler recipe here. But I was not quite satisfied with the results; it was quite nice, but not like our favorite pizza from Papa Johns. This crust is very similar to the Papa John's crust, crispy on the outside and chewy on the inside.
Semolina Pizza Dough – Crispy & Chewy, best ever!!! | Ambika's Kitchen
Pepper Lynn | Sausage Stuffed Mushrooms
I hope you had a wonderful Christmas and were able to celebrate the holiday with those you love. We missed being with our extended families this year, but it was special to spend time together just the three of us, reflecting on our savior's birth and sharing in good food and gift giving. Watching Eowyn open all of her presents was just as fun as I had anticipated, and so far, she appears to be quite enthralled with the grocery cart and play food we got for her…Perhaps a foodie in the making?
Herb Crusted Pork Chops
Whoever said running was easy is a damn liar! Seriously I commend you devoted runners who are out every day running 10 plus miles like it's nothin but a thang…. Bite me. As you know I signed up for about 3 races, completely motivated and ready to get my bootay in shape, and lemme tell you….I. am. struggggggggling.I mean look, I'm not out of shape!
"In Texas you can buy happiness. People generally order it as an appetizer. It's called queso." – @TexasHumor It is supposed to be a joke, but I find that chile con queso can, in actual fact, make most people quite happy! It may just be a Texas thing, but whenever people gather to have a party – be it watching sports, celebrating a birthday, or ringing in the holidays – there will inevitably be a slow cooker filled with queso.
Creamy Chili con Queso
St Patrick's day is a few days away, and I'm sure many of you will be enjoying this classic Irish-American dish! I used frozen pearl onions and I used parsnips instead of potatoes to make this easy pea-sy and the results were great! Making it in the crock pot is the perfect solution for a busy schedule. Trim all the fat off to keep it lean. I purchased a 2 1/2 lb piece or corned beef brisket, after I trimmed all the fat off it was 2 lbs. Once cooked it shrunk to 18 oz.
Crock Pot Corned Beef and Cabbage
Asian Quesadilla with Chicken, Zucchini & Hoisin Sauce Recipe
It was a rather eventful weekend, particularly if you are a 7-year old boy (let's call him T) with leprechauns on the brain. In my last post, I mentioned that while my husband and I were busy snacking on these Asian quesadillas with hoisin sauce, chicken and zucchini, T was busy fashioning a leprechaun trap out of a cardboard box, complete with a door propped open with a toothpick. According to T, leprechauns are not very good rule-followers. In fact, they go out of their way to break the rules (as evidenced by our leprechaun visitor…more on that later). So, T used a little reverse psychology to fool any Irish green-clad little men that might happen upon his trap.
Sweet Potato Cakes with Curried Tomato Sauce and Poached Egg
Mashed sweet potatoes with goat cheese
Golden Potato Latkes |
Twice-Baked Potatoes with Irish Cheddar Recipe
Madhur Jaffrey's Shrimp Biryani
chicken hand pies. « dinnersforwinners
Cheesy Chicken Enchiladas : The Back Burner
Parmesan-Crusted Chicken Tenders Recipe
Roasted Prosciutto Wrapped Asparagus Bundles
Guinness and Cheddar Meatloaf
Almond Crusted Tilapia
Recipe: Cheesy Potato Breakfast Casserole with Cheddar & Tomatoes Recipes
Baked Honey-Mustard Corned Beef
Easy Beef Enchiladas Recipe
Three Bean and Sausage Bake
Bake at 350 goes savory: Mini Tamale Pies...and they're light, too!
Crash Hot Potatoes
Creamy Chicken Taquitos
Crockpot Chicken Adobo » Table for Two
Tennessee White Chili « Lea & Jay
Mushroom-Crusted Chicken Burgers
Coca-Cola Chicken Wings
Sticky Citrus-Ginger Honey Ribs
Piccata Chicken Recipe
Bacon Wrapped Scallops
Gluten Free Spicy Citrus Black Bean Soup Recipe | Gluten Free Recipes
Skillet Cajun Spiced Flounder with Tomatoes
Pepperoni Stuffed Chicken Breast Recipe
Spinach and Cheese Strata
Stuffed Zucchini | Simply Love Food
Ham Fried Rice
Slow Roasted Pork Carnitas
SRC Reveal - Chinese Pork Dumplings
beef empanadas
Momo: The Himalayan Dumplings
meatball sliders
sweet and smoky oven spareribs
A Beautiful and Sunny Spinach Pie
Jalapeño and beer brined pork chops
Crispy dogs with bacon-jalapeño dipping sauce
Crock Pot Corned Beef Brisket from Zestuous
Care's Kitchen: Guinness Bacon Cheeseburgers
Cheeseburger Fools » the dinnervine
Cheeseburger Stuffed Mushrooms
Triple Pepper Chorizo Meatloaf Cups ~ stuffed with Cream Cheese from Zestuous
Grilled Chorizo Stuffed Poblano Peppers
sticky, spicy and sweet
Shredded Beef Chimichangas
With beans comes rice
Baked Beans Recipe
Austin and basic black beans
Saved by red beans and rice
Beanie wienies for grown-ups
Pinto beans, three ways
Muy Bueno Cookbook » Molotes (Oaxacan Masa Empanadas)
Recipe for Slow Cooker Southwest Pork and Peppers
Buckeye Hand Pies
wild mushroom and stilton galette
Mexican hot dogs with pineapple salsa and chipotle mayonnaise