Entrees
Get flash to fully experience Pearltrees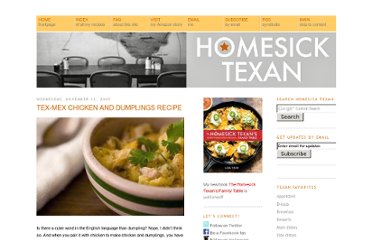 Is there a cuter word in the English language than dumpling? Nope, I didn't think so. And when you pair it with chicken to make chicken and dumplings, you have one of my favorite belly-filling, spirit-warming, cold-weather dishes. As befits a homesick Texan, I spend chunks of time thinking of places I'd like to visit when I'm at home.
Do you know what a cook lives for? The look in friends' eyes when they've bitten into something you've made, and they're deliriously happy about what they're eating. Their wide-eyed smiley faces would say, "OMG, WOW," if they weren't so busy eating, and wanting to be polite and not talk with their mouths full. That's the response I got from my friends last night when I served them tacos with this slow cooked pulled pork. A pork shoulder roast is rubbed with a spice mix of traditional Mexican spices, marinated in the rub an hour to overnight, seared, and then slow cooked until the meat is falling apart tender.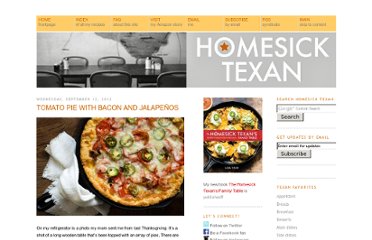 On my refrigerator is a photo my mom sent me from last Thanksgiving. It's a shot of a long wooden table that's been topped with an array of pies. There are cream pies, pecan pies, fruit pies and chess pies.
Chilaquiles. Chee-lah-KEE-less! I mentioned I wanted to make chilaquiles to a Mexican friend the other day and you should have see the smile and look of rapture that came over his face. This is true Mexican comfort food, what your mom made you for breakfast when she had some stale tortillas that needed to get used up.
"We know people will buy the book for this recipe alone," was noted on an entry for a green-chile chowder in Seasoned with Sun , the El Paso Junior League's cookbook. Despite such high praise, this green chowder recipe—Maxon's green chile chowder, to be exact—was not the reason why I had bought the book. Nope, I had purchased this cookbook to satisfy a burgeoning obsession with Junior League cookbooks, which began when I was home at Christmas. My mom had put me on kitchen duty, but in between chopping onions and rolling out biscuits, I sat at her table and thumbed through her out-of-print copy of The Star of Texas Cookbook , put out by the Houston Junior League in the early 1980's. After I finished that book, I moved on to her copy of a Colorado Junior League cookbook and one from Savannah as well.
My grandma calls me her good cook. She'll say to her friends when I visit, "I don't have to be in the kitchen because my good cook is here!" Usually, she lets me cook whatever I want. But the last time I visited she wasn't feeling well and she requested that I make her one thing—potato soup.
The other day, I was in a taqueria eating a sandwich stuffed with a spicy, saucy picadillo that was rich with tomatoes and chiles. It was delicious, but it was also a bit of a mess as the meat kept sliding out of the bun every time I took a bite. Finally, I gave up on using my hands and grabbed a knife and a fork.
"How you feel about crispy dogs?" asked a friend from San Antonio. We were discussing regional variations of hot dogs, with my favorite being the bacon-wrapped Mexican hot dogs I enjoy at the Fiesta market by my mom's house in Houston. His, however, was the aforementioned crispy dog, which is a cheese-stuffed hot dog wrapped in a corn tortilla and then fried. "That sounds like a flauta ," I said.
1 Fill a large 10-12 quart stockpot with 5 quarts of water. Set on heat to bring to a boil while you proceed with the next steps. 2 Remove and discard the stems, seeds, and large veins from the chili pods. Heat a cast iron pan on medium high and lightly roast the chili pods for a couple minutes, until they begin to soften.
It's that time of year when tomatoes are about to say farewell, and I've been eating them as often as I can. One of my favorite meals with said tomatoes is a batch of entomatadas. If you're not familiar with entomatadas, they're like enchiladas—rolled tortillas filled with cheese, chicken or beef, and covered in a savory sauce. But as the term enchiladas refers to the chile sauce that covers the tortillas in that dish, the term entomatada refers to the tomato-based sauce that covers the tortillas in this dish.
Do you love refried beans and cheese? Do you love a crusty yet soft roll? Then allow me to introduce you to a superb Mexican dish: molletes. Earlier this summer, I traveled to Mexico City. It was the rainy season, which means that every afternoon it would rain for an hour or so. By the time I landed from New York, however, that day's shower had passed, leaving the air clear and the streets clean.
When I first moved to New York, one of the dishes that was lacking was migas. That Texan breakfast staple of eggs scrambled with fried tortillas, along with a host of other good things such as cheese and chiles, was nowhere to be found. Then one day a friend called and said, "I've found migas! This Mexican restaurant is calling them chilaquiles, but if you close your eyes you won't tell the difference."
My grandma thinks I am incapable of making any recipe without chile peppers. And she finds this very amusing. Take our conversation about hominy casserole the other day. As she was telling me her recipe she paused and then said while laughing, "Say, I have an idea. Do you have any chile peppers? I bet that would make this recipe even better!"