Outer Space
'Super-Earth' with life-supporting climate discovered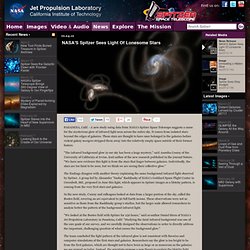 PASADENA, Calif. - A new study using data from NASA's Spitzer Space Telescope suggests a cause for the mysterious glow of infrared light seen across the entire sky.
NASA'S Spitzer Sees Light Of Lonesome Stars
NASA offers chance for Google-powered smartphones to be launched as spacecrafts
PhoneSat is designed to send cheapest and easiest-to-construct satellites into spaceSatellite could use phone's camera to take pictures of EarthNASA plans to publish blueprints to allow anyone to build their own satellite By Mark Prigg PUBLISHED: 06:25 GMT, 29 August 2012 | UPDATED: 11:08 GMT, 29 August 2012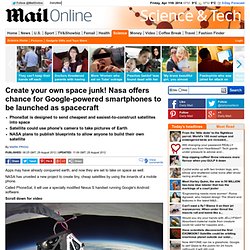 NASA: Mars Curiosity on track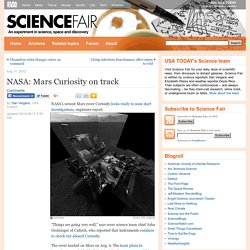 NASA's newest Mars rover Curiosity looks ready to soon start investigations , engineers report. Self-portrait of the Curiosity rover on Mars.
Sun is too round, say scientists - Science - News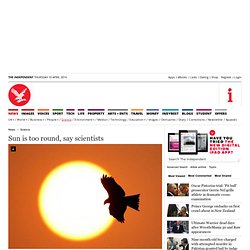 In fact the Sun turns out to be one of the roundest objects ever measured.
10451_earth.jpg (2560×1600)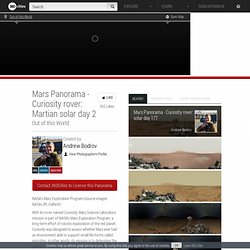 Curiosity rover: Martian solar day 2
NASA's Mars Exploration Program (source images: NASA/JPL-Caltech) With its rover named Curiosity, Mars Science Laboratory mission is part of NASA's Mars Exploration Program, a long-term effort of robotic exploration of the red planet. Curiosity was designed to assess whether Mars ever had an environment able to support small life forms called microbes. In other words, its mission is to determine the planet's "habitability."
Engineers updating the Curiosity's software to allow it to drive on Mars President Obama calls the project team to congratulate themReveals blast marks on surface caused by Curiosity's landing rocketsRover has also sent back first high resolution panorama as scientists test its instruments By James Nye and Mark Prigg and Daily Mail Reporter
Nasa's Curiosity Rover undergoes 'brain transplant' after taking stunning panorama pictures of the Red Planet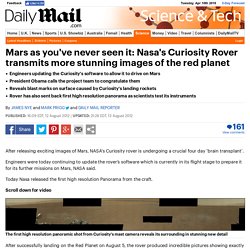 Great Big Universe / Curiosity's Seven Minutes of Terror
How white holes (might) be created
ATV-3 Approaches the Station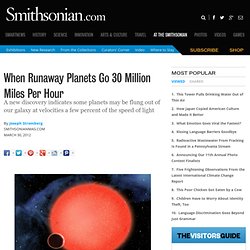 An artist's conception of a runaway hypervelocity planet. Image courtesy of David Aguilar, Harvard-Smithsonian Center for Astrophysics In 2005, Warren Brown of the Smithsonian Astrophysical Observatory noticed something rather unusual in the sky: a star traveling out of the Milky Way galaxy at roughly 1.5 million miles per hour.
When Runaway Planets Go 30 Million Miles Per Hour | Around The Mall
NASA probe offers new view of Mercury: an alien world right in our back yard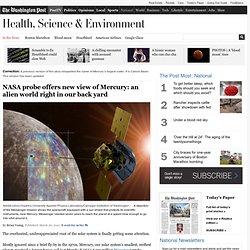 Now, after poring over 100,000 images and reams of other Messenger data, space scientists have achieved consensus: Mercury is one weird world. It is radically unlike the other rocky bodies of our solar system — Venus, Mars, Earth, the moon, and the moons of other planets. Its core is too big; its surface too scrunched.
Scientists have discovered a new type of alien planet — a steamy waterworld that is larger than Earth but smaller than Uranus. The standard-bearer for this new class of exoplanet is called GJ 1214b, which astronomers first discovered in December 2009. New observations by NASA's Hubble Space Telescope suggest that GJ 1214b is a watery world enshrouded by a thick, steamy atmosphere. "GJ 1214b is like no planet we know of," study lead author Zachory Berta of the Harvard-Smithsonian Center for Astrophysics in Cambridge, Mass., said in a statement. "A huge fraction of its mass is made up of water."
New breed of steamy alien planet found - Technology & science - Space - Space.com
Cosmologists Try to Explain a Universe Springing From Nothing
Why Does Our Universe Have Three Dimensions? | Digg Mynews
Space porn News, Videos, Reviews and Gossip - io9
WeAreStarStuff51's Channel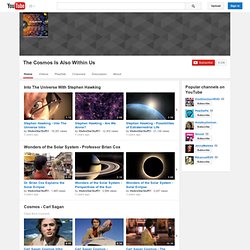 For everyone who loves the universe. More videos on the way! Subscribe, comment, and rate.
Dark energy: the universe is destined to become a very cold and lonely place
The 6 Most Mind-Blowing Things Ever Discovered in Space
It's actually really easy to think of space as boring.
NASA Announces Results of Epic Space-Time Experiment
Announces Results of Epic Space-Time Experiment
Amateur astronomer Damian Peach has become the first British entrant to win the title of Astronomy Photographer of the Year, beating hundreds of photographers from around the globe in the 2011 competition.
The 2011 Astronomy Photographer of the Year competition winners
eso1133c - The star cluster NGC 2100 in context
Electric ice a shock to the solar system « Xenophilia (True Strange Stuff)
Former Sun-like Star Is Now a Diamond Planet | 80beats
SolarBeat
The Oscar Wilde Collection
Graphene in space could hold clues to development of life on Earth
The Carl Sagan Portal
Home
Hubble's greatest hits: Hubble space telescope images
Planets
Double eclipse: Moment Moon AND International Space Station cross face of Sun
Interactive 3D model of Solar System Planets and Night Sky
8 Wonders of the Solar System, Made Interactive
Most Amazing Time Lapse Video of Milky Way Ever Made. Seriously. | ShutterSalt
Celestia: Home
Existence: Why is the universe just right for us? - space - 29 July 2011