Comics!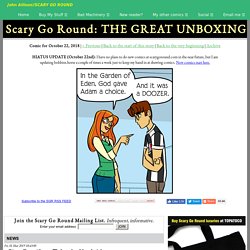 Bobbins and Bad Machinery Just a quick note to say that Bad Machinery should be back towards the end of February. I'm currently working on 22 new pages and a few art fixes for the Case Of The Simple Soul book, which somewhat limits my plotting and drawing time, so Bobbins makes an ideal fill in. But I'm eager to return to mystery, so The Case Of The Modern Men (Bad Machinery 8) will begin as soon as I can manage it. And I'll do my best to keep firing out Bobbins strips on a Friday whenever I can. Christmas and BEYOND!
Bad Machinery
Questionable Content
Girls With Slingshots
All New Issues
Diesel Sweeties
I'd Rather be Working Doot doot doot I may have brought back one of my favorite shirts and also made some messenger bags. The Winter Princess In case you were sitting around wondering how I'd write Captain America.
Cyanide & Happiness
Saturday Morning Breakfast Cereal
xkcd