Street Art
Street Art Project - Institut Culturel de Google. Partez à la découverte d'œuvres de street art autour du monde.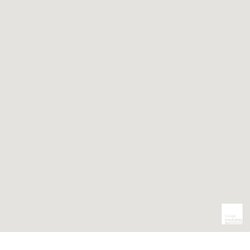 Google Maps #abcdefghijklmnopqrstuvwxyz. Graffiti & Ivresse. Mardi 18 février 2014 par Sophie Marchand A Nova, on aime le Street Art sous toutes ses formes.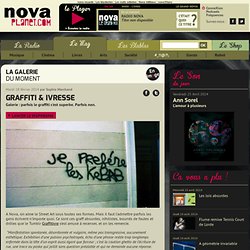 Mais il faut l'admettre parfois les gens écrivent n'importe quoi. Street art : une centaine d'artistes dans une tour de Paris. Voilà le travail | Rue89 Culture. Sur les bords de la Seine, un immeuble orange fluo scotche la rétine.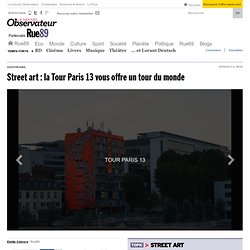 Un nouveau squat ? Non, une galerie éphémère. C'est Mehdi Ben Cheik, directeur d'Itinerrance, qui l'a imaginée il y a plus d'un an. Elle est ouverte au public pour trente jours et un site internet permet d'explorer le bâtiment de fond en comble. C'est gratuit. Tour 13, l'art hors des galeries. "Google Street View" inspire l'artiste. We declare the world as our canvasBy Sainer from Etam Crew - On Urban Forms Foundation in Lodz, Poland.
Street art : Banksy, Invader, Miss.Tic et compagnie exposés à Paris | Les plans cul[ture] de la rédac. Les trublions, provocateurs, contestataires et amateurs d'art urbain ont établi leur nouveau quartier général à l'Adresse Musée de La Poste (Paris, XVe arrondissement).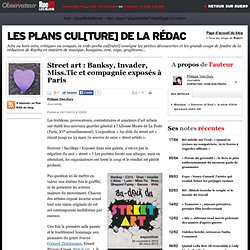 L'exposition « Au-delà du street art » réunit jusqu'au 23 mars 70 œuvres de onze « street artists ». Horreur ! Sacrilège ! Exposer dans une galerie, n'est-ce pas la négation du mot « street » ? Love on the wall. Street art aux puces de Saint-Ouen. Mercredi 24 juillet 2013 3 24 /07 /Juil /2013 09:56 On connaît les puces de Saint-Ouen, grand marché de l'art et de l'antiquité.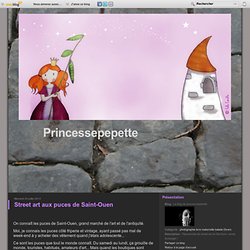 Moi, je connais les puces côté friperie et vintage, ayant passé pas mal de week-end à y acheter des vêtement quand j'étais adolescente... Derelicta. Fifty Street Artists Descend on Condemned Parisian Nightclub 'Les Bains' Seth Jeanne Susplugas Philippe Baudelocque Dem189.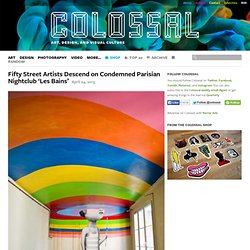 Street Art – 22 Superbes Graffitis 3D de Peeta. Street Art – 22 Superbes Graffitis 3D de Peeta Nous avions déjà parlé de l'artiste italien Manuel Di Rita, aka Peeta, à la fois peintre, designer, graffiti writer, sculpteur, et de ces incroyables sculptures reprenant les codes chers au graffiti et au street art ("Peeta – Quand le Street art 3D devient sculptures").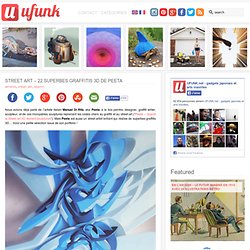 Mais Peeta est aussi un street artist brillant qui réalise de superbes graffitis 3D… Voici une petite sélection issue de son portfolio ! Images © Peeta. 13 mars 2013. 13 mars 2013 [Le Street Art dans tous ses états — Collecte de graffiti depuis quarante ans, textes & images en attendant le printemps.]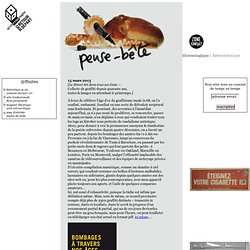 À force de célébrer l'âge d'or du graffitisme made in 68, on l'a confiné, embaumé, fossilisé en une sorte de défouloir scriptural sans lendemain. Et pourtant, des seventies à l'immédiat aujourd'hui, ça n'a pas cessé de proliférer, se renouveler, passer de main en main, n'en déplaise à ceux qui voudraient traiter tous les tags au Kärcher sous prétexte de vandalisme autistique. Graffiti & Street Art Flowchart Timeline by. Facebook. Street Art.
Graffiti Analysis. Street art geodes made of paper, by Paige Smith. (Via Colossal) | Null Entropy. X-Ray Graffiti Art by SHOK-1. Higgs Boson Mural: Artist Josef Kristofoletti. 140 ans après, la Commune de Paris version 2.0. Les créations de Raspouteam commémorant la Commune dans les rues de Paris (Photo Pascal Riché) Pour célébrer les 140 ans de la Commune de Paris, le collectif RaspouTeam a choisi de remettre la révolte parisienne de 1871 au goût du jour, affichant illustrations d'époque et mystérieux QR codes dans des lieux stratégiques de la capitale.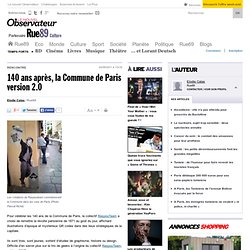 Ils sont trois, sont jeunes, sortent d'études de graphisme, histoire ou design. Difficile d'en savoir plus sur le trio de geeks à l'origine du collectif RaspouTeam, créé en 2005. Camouflés sous des capuches sur les vidéos, ils tiennent à garder secrète leur identité et rechignent à parler d'eux. VNR : un album. Street art » Le street art sur le web. Cette cartographie du web a été réalisée à partir d'une sélection de correspondant à tous les acteurs de notre controverse : … La cartographie permet de visualiser les sites les plus importants en fonction des liens entrants vers ces sites.
Les clusters sont représentés par des et mettent en évidence des de sites internet. A première vue, cette cartographie confirme ce que nous avons constaté par notre enquête : si on peut penser que le monde du street art est uni à priori, il n'est en fait pas si homogène. Le réseau sur la toile est effectivement diffus. Nous pouvons faire de cette cartographie 4 observations majeures: Le cluster le plus important se forme autour du célèbre street artist britannique .
Le meilleur du street-art en 2011. Video & Photo Blog - Zdjęcia - Odjechane - Street Art (część 3) 35 Really Amazing Street Arts. It would not be a lie to say that art is found everywhere. Street art is basically visual designs that are located in public spaces for the viewing of all those who pass by. Street art includes a wide array of artworks which include graffiti, sculpture, wheatpasting, street installation and street poster art. Street artists find their motivation from the growing field of urban art. Instead or designing on the computer or drawing on paper, street artists have literally brought art to the streets. The people in a community might not all be interested in visiting traditional art galleries and museums. 106 of the most beloved Street Art Photos – Year 2011 | STREET ART UTOPIA. More info. Let us begin with this words that come as a response to the photo above: "There´s tools and colours for all of us, to lend from nature to make the world more understandable and beautiful". 1# Click on a photo and you make it bigger and can post a comment on it. 2# Make sure that you read the story in the end!
Amazing Street Art Designs | Minimalist Modern Architecture Magazine. What is street art? It's difficult to give an exact definition of this amazing new art-form – However, please take a moment to enjoy the excitement generated from watching some of the work undertaken from these unknown artists! Enjoy. If you are really impressed, let's share this pleasure with your friends. RED BULL STREET ART VIEW. Sébastien Freudenthal - Google+ - #StreetArt. - STREET ART UTOPIA. IRAN - STREET ART UTOPIA. ROA in Gambia for Wide Open Walls | STREET ART UTOPIA.
STREET ART UTOPIA | We declare the world as our canvas. STREET ART UTOPIA | We declare the world as our canvas. STREET ART UTOPIA (2) [Must See] 3D Street Painting #LEGO. BIG ADDICT / TILT / D.L.I.D - ENDLESS OBSESSION. Teaseryan - une vidéo Art et Création. Animation 8-bit réalisée en Street art et Stop motion ! I ♥ STREET ART. Photo plongeur. Maquis-art.com. Photograffeurs de Pierres Philosophales (1) Facebook. Robo-rainbow. Rainbow « Helmut Smits. Calligraffiti – Le street art à l'eau entre calligraphie et graffiti. Banksy. Street artists.
Pearlstreet art
In Pictures: Egyptian Street Art. [Spécial art de rue] Vendredi c'est graphism S02E18! Les artistes surveillent les caméras. Street art: 85 images pour voyageurs urbains » Article » OWNI, Digital Journalism.
---