Creating Charts/Graphs/Infographics
Better World Flux
Below you can enter all the necessary information for your chart. The single items are explained and predefined, so you can simply start changing values. When you are done adding your values, simply click the send button and your chart will be generated in no time and you will receive a link which you can use to display the chart on your page. Please note, the animation effect is not included, but you can download the necessary ajax code.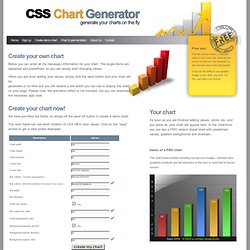 CSS Chart Generator
Google Chart Gadget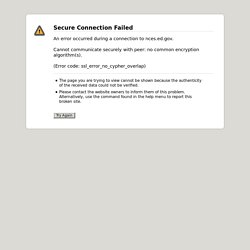 Graphs and charts are great because they communicate information visually. For this reason, graphs are often used in newspapers, magazines and businesses around the world. NCES constantly uses graphs and charts in our publications and on the web. Sometimes, complicated information is difficult to understand and needs an illustration. Graphs or charts can help impress people by getting your point across quickly and visually. Here you will find five different graphs and charts for you to consider.
Barchart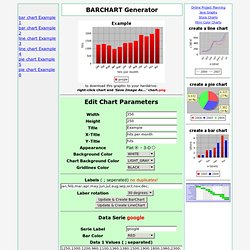 Bar Charts, like line charts, are useful for comparing classes or groups of data. A simple bar chart has one data serie, but you can add more data series. Earch data serie can be shown in a different color.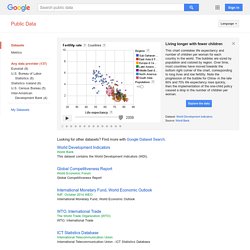 Who enjoys the fastest internet? South Koreans do, according to Ookla- the average South Korean Internet connection is more than 3x faster than the average connection in the US. Eastern European countries like Latvia and Lithuania are also at the top of the pool.
Try out the newest version of IBM Many Eyes! New site design and layout Find visualization by category and industry New visualization expertise and thought leadership section Expertise on the Expert Eyes blog Learn best practices to create beautiful, effective visualizations New, innovative visualizations from the visualizations experts of IBM Research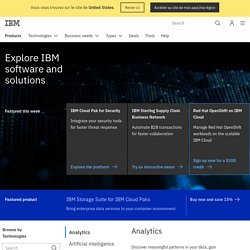 MakeSweet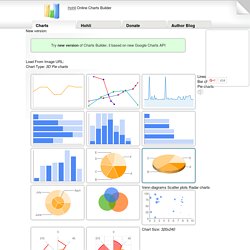 Hohli Online Charts Builder Load From Image URL:
Google Docs can be used for conducting surveys and polls. The survey can be embedded on your website or the link to the survey can be shared directly with the persons you are surveying using email, Facebook, Twitter or any other mean. There are several services that let you conduct polls, but using Google Docs for your surveying needs has certain advantages. It's free.
Create Polls Using Google Docs