Implementar
Preparing Your School for an iPad Implementation. Planning is imperative for any technology initiative - iPad or otherwise.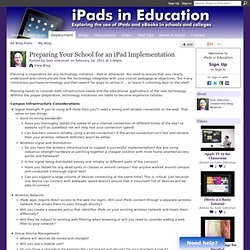 You need to ensure that you clearly understand and communicate how the technology integrates with your overall pedagogical objectives. Too many institutions purchase technology and then search for ways to utilize it ... or leave it collecting dust on the shelf. iPaddiction. ICT For Educators. Funcionalidades NetSupport School. Mantén a los estudiantes concentrados en sus tareas, fomenta la evaluación continua, incentiva el trabajo en grupo, introduce juegos y garantiza a los padres total seguridad en el aula.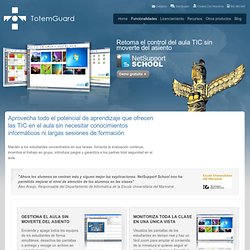 "Ahora los alumnos se centran más y siguen mejor las explicaciones. NetSupport School nos ha permitido mejorar el nivel de atención de los alumnos en las clases" Àlex Araujo, Responsable del Departamento de Informática de la Escola Universitària del Maresme. 5 Ways to View PowerPoint Presentation on iPad. Have a pile of PowerPoint presentation files and wanna view them on your new iPad?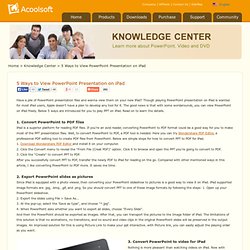 Though playing PowerPoint presentation on iPad is wanted for most iPad users, Apple doesn't have a plan to develop any tool for it. The good news is that with some wordarounds, you can view PowerPoint on iPad freely. Below 5 ways are introduced for you to play PPT on iPad. Read on to learn the details. 1. Recursos TIC para profesores.
En este vídeo aprenderás cómo realizar una videoconferencia sin necesidad de instalar ninguna aplicación ni ningún plugin en tu ordenador.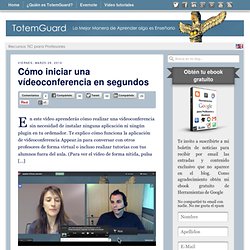 Te explico cómo funciona la aplicación de videoconferencia Appear.in para conversar con otros profesores de forma virtual o incluso realizar tutorías con tus alumnos fuera del aula. (Para ver el vídeo de forma nítida, pulsa […] Con el tiempo vas aumentando la información que guardas en servicios en la nube como Evernote y Dropbox. ¿Te genera cierta inseguridad saber que todo el material de trabajo y personal que está en una nube podría desaparecer de un momento a otro, ser robado o estar accesible por hackers por un fallo de seguridad? 1-to-1 Learning | 21 Steps to iPad Success.
---