Tuto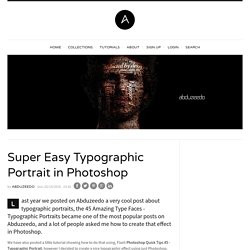 Last year we posted on Abduzeedo a very cool post about typographic portraits, the 45 Amazing Type Faces - Typographic Portraits became one of the most popular posts on Abduzeedo, and a lot of people asked me how to create that effect in Photoshop. We have also posted a little tutorial showing how to do that using, Flash Photoshop Quick Tips #5 - Typographic Portrait , however I decided to create a nice typographic effect using just Photoshop. So in this tutorial I will show you how to create a really cool and super easy typographic portrait in Photoshop. We will use the Displace filter and some Blend Modes to achieve the effect. The whole process is quite simple but it might take you some time to add the texts and elements, but once you do that the rest is very straight forward.
Published in Design , Photoshop Tutorials Photoshop gives designers the ability to create some amazing effects that can accomplish just about anything you can image. Fortunately, there are plenty of Photoshop experts who are willing to write detailed tutorials to show off the potential. Here is a look at some of the best tutorials for using various lighting and abstract effects. You may also be interested in the following collections of Photoshop tutorials: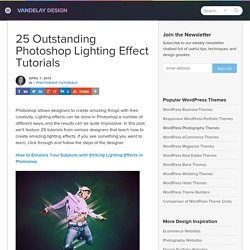 Amazing Design Freebies #3 | Abduzeedo | Graphic Design Inspiration and Photoshop Tutorials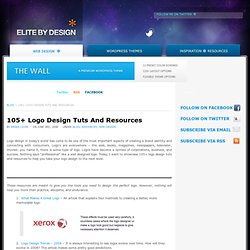 105+ Logo Design Tuts And Resources
Logo design in today's world has come to be one of the most important aspects of creating a brand identity and connecting with consumers. Logo's are everywhere – the web, books, magazines, newspapers, television, movies…you name it, there is some type of logo. Logos have become a symbol of corporations, business, and success. Nothing says "professional" like a well designed logo.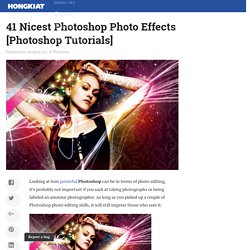 Looking at how powerful Photoshop can be in terms of photo editing, it's probably not important if you suck at taking photographs or being labeled an amateur photographer. As long as you picked up a couple of Photoshop photo editing skills, it will still impress those who sees it. So the next time you want to publish some photos online, consider editing them so they look more impressive. Here's a compilation of 41 Nicest Photoshop Photo Effects you can take into reference.
List of Photoshop Tutorial / Tip / Lecture sites. You can use in Photoshop 4.0,7.0 ~ CS,CS2,CS3. This article is 8th one of Best Sites List Series 1. Best Dual Monitor Wallpapers Sites List 2. Best Wallpapers Sites List 3. Best XP,Vista Icon Download Sites List 4.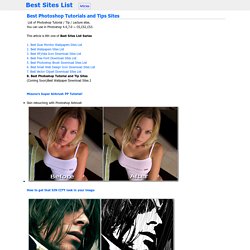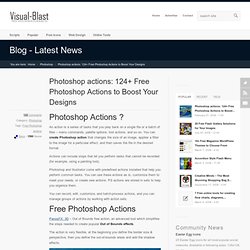 Photoshop Actions ? An action is a series of tasks that you play back on a single file or a batch of files – menu commands, palette options, tool actions, and so on. You can create Photoshop action that changes the size of an image, applies a filter to the image for a particular effect, and then saves the file in the desired format. Actions can include stops that let you perform tasks that cannot be recorded (for example, using a painting tool).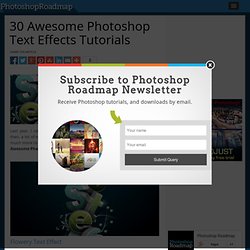 15% DISCOUNT on all Topaz Labs Photoshop Plugins! Use coupon code PSROADMAP at checkout Download 30 day demos here... Close Open
Oct 20 2008 GIMP is a freely distributed GNU Image Manipulation Program. Available for such tasks as photo retouching, image composition and image authoring. It's always fun to experiment different techniques and learn how to work with various aspects of GIMP to spice up boring pictures and make them into works of arts and masterpieces.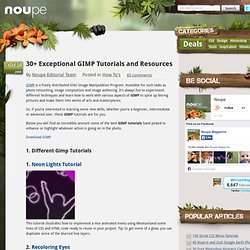 Many people can use Photoshop, but only a select few can call themselves gurus. Learn all the methods in the 20 tutorials below and you'll be well on your way to joining this elite. Rather than focus on tuts for beginners , intermediates or advanced users , we've simply chosen ones which produce jaw-dropping effects. All of them are easy to follow, although most do require at least some prior knowledge and experience. 1.