Social media wisedom
What Makes A Story Successful On Facebook? National Public Radio has been wondering: What makes a story tick on Facebook?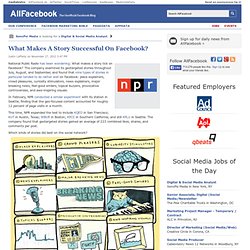 The company examined its geotargeted stories throughout July, August, and September, and found that nine types of stories in particular tended to do rather well on Facebook: place explainers, crowd pleasures, curiosity stimulators, news explainers, major breaking news, feel-good smilers, topical buzzers, provocative controversies, and awe-inspiring visuals. In February, NPR conducted a similar experiment with its station in Seattle, finding that the geo-focused content accounted for roughly 12 percent of page visits in a month. This time, NPR expanded the test to include KQED in San Francisco; KUT in Austin, Texas; WBUR in Boston; KPCC in Southern California; and still KPLU in Seattle. The company found that geotargeted stories gained an average of 223 combined likes, shares, and comments per post. Which kinds of stories did best on the social network? 7 Social Media Marketing Tips for Artists and Galleries. This post originally appeared on the American Express OPEN Forum, where Mashable regularly contributes articles about leveraging social media and technology in small business.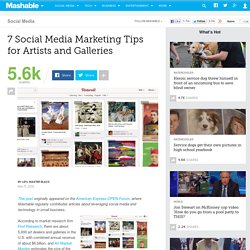 According to market research firm First Research, there are about 5,000 art dealers and galleries in the U.S. with combined annual revenue of about $6 billion, and Art Market Monitor estimates the size of the overall global art market to be around $15 billion annually. There are also more than 200,000 fine artists working in the U.S., according to recent research by the National Endowment for the Arts. But while fine art is big business, there is often a wide chasm between the creative process that makes a great artist or a sophisticated gallery owner, and the marketing process that drives branding and sales. "For the majority of artists, success will ultimately come down to their effectiveness in marketing," says Darius Himes, Assistant Director of fine art photography gallery Fraenkel Gallery in San Francisco.
Social Media for Photographers: Facebook. When it comes to being a photographer, there is no shortage of online networks waiting for you to share your images, interact with others and potentially grow your business.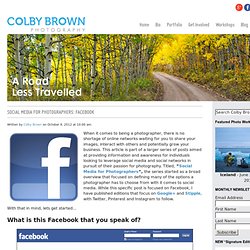 This article is part of a larger series of posts aimed at providing information and awareness for individuals looking to leverage social media and social networks in pursuit of their passion for photography. Titled, "Social Media for Photographers", the series started as a broad overview that focused on defining many of the options a photographer has to choose from with it comes to social media. While this specific post is focused on Facebook, I have published editions that focus on Google+ and Stipple, with Twitter, Pinterest and Instagram to follow.
With that in mind, lets get started… What is this Facebook that you speak of? 17 Social Media Cheat Sheets. These days, small businesses use a variety of social media sites in their marketing efforts.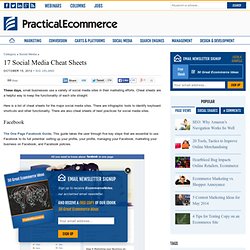 Cheat sheets are a helpful way to keep the functionality of each site straight. Here is a list of cheat sheets for the major social media sites. There are infographic tools to identify keyboard shortcuts and other functionality. There are also cheat sheets of best practices for social media sites. Buffer - A Smarter Way to Share on Social Media. Are you looking for the new App.net.
The Most Annoying Person on Facebook [COMIC] Google+ Facts and Figures [infographic] My name is Berrie Pelser, since 1999 co-owner of Ber|Art Visual Design V.O.F.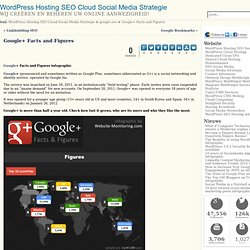 Our company is been grown to a full service bureau for complete managed business internet sites that we are hosting in our own secure and fast Cloud. We are specialized in WordPress, search engine optimization, social media integration and social media strategy. I co-founded my company, Ber|Art Visual Design, in 1999 as a web design firm.
It has since grown into a full-service agency for maintaining complete corporate websites hosted by Ber|Art in a secure and fastcloud environment. The 6 Types Of Social Media User – Which Are You? [INFOGRAPHIC] INSANE Graphic Shows How Ludicrously Complicated Social Media Marketing Is Now. 10 Best Facebook Campaigns That Won't Be Seen In America. Social media outranks TV as UK's favourite pastime. Social media has overtaken television as the favourite hobby of 16-24 year-olds, according to a new UK study by Click Consult.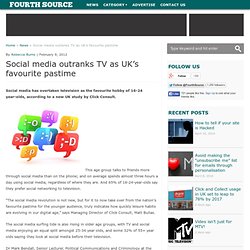 This age group talks to friends more through social media than on the phone; and on average spends almost three hours a day using social media, regardless of where they are. And 65% of 16-24-year-olds say they prefer social networking to television. "The social media revolution is not new, but for it to now take over from the nation's favourite pastime for the younger audience, truly indicates how quickly leisure habits are evolving in our digital age," says Managing Director of Click Consult, Matt Bullas. The social media surfing tide is also rising in older age groups, with TV and social media enjoying an equal split amongst 25-34 year olds, and some 32% of 55+ year olds saying they look at social media before their television. 10 Tips & Tricks For Your Business's Facebook Fan Page.
Facebook is one the fastest growing social media network and its users are increasing by thousands every day.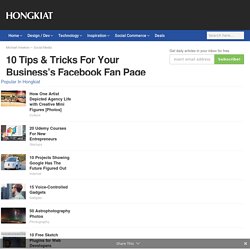 Due to its vast base of users, it takes no effort to acknowledge its influence and any company will jump on the bandwagon to utilize Facebook because it allows them to boost their brands or products also in the same time engage with possible clients. It is convenient for a company to create a Facebook page, publish their profile and products however, setting up a Facebook page that receive many "likes" and a huge fan base is never an easy task.
Use Multimedia to Tell Stories. By Sally Falkow PR Newswire recently took a look at how press releases sent on the wire perform in terms of number of views.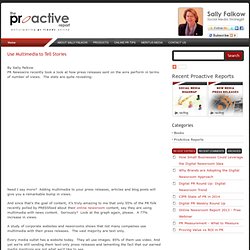 The stats are quite revealing: Need I say more? Adding multimedia to your press releases, articles and blog posts will give you a remarkable bump in views. The best free social media tracking tools you should know about. Measuring social media is one of the areas of online marketing that is still frequently discussed and we still haven't found that magic number yet!
But there are lots of free tools that can help to monitor and track your social media activity to ensure it's working for you or you're reaching your targets. The list presented below is intended as a guide, I don't recommend you use them all at once, but find the ones that fit best for you and make sure you continually measure and record results, to see how your social media activity is performing overall. Facebook Analytics Starting with my favourite free social measurement tool – Facebook Insights. Facebook provide you with a comprehensive analytics suite for pages that allows you to get a full insight into your fans and how they're interacting on the page. How Pinterest Drive More Online Sales Than Other Network [Infographic] Just a few weeks ago we were reading about how Pinterest monthly visitor growth was slowing down.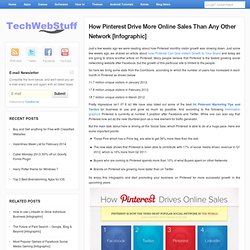 Just some few weeks ago, we shared an article about How Pinterest Can Give Instant Growth to Your Brand and today we are going to share another article on Pinterest. Many people believe that Pinterest is the fastest growing social networking website after Facebook, but the growth of this particular site is limited to the people. Facebook Subscribe Suggestions: 50 People In Media To Follow.
Our 7 Tenets of Future Storyworlds. At the European Broadcast Union (EBU) TV Summit in Copenhagen last week, Transmedia Storyteller Ltd founder and CEO, Robert Pratten, presented our vision for future storyworlds: PERVASIVE – Available on any device, anywhere and at any time. Blurs real world and fictional world.
Clothes, Books Said Most Popular US Purchases on Mobile Devices. By MarketingCharts staff 1 in 5 Shop on Overseas Sites; Security Fears Prevalent Data from WorldPay's "Global Online Shopper Report" indicates that 22% of the US respondents shop on overseas websites, although they do have concerns about doing so. Chief among these are concerns about fraud/protecting their identity (60%), the cost of shipping/delivery (58%), concerns about shipping/delivery (57%), and worries about payment security (50%). Why Facebook Social Reading Apps Don't Work. Facebook has begun showing some users a "Trending Articles" section right inside their news feeds, whether they want it or not. It's the most aggressive strategy Facebook has tried yet to push people to use Open Graph reading apps. Could it be that the most annoying feature of Facebook isn't catching on?
Gosh. Who'da thunk? How to post on Google+ & Facebook at the same time « TweaknTip. 35 Statistics That Fuel the Battle Between Pinterest and Google+ As the two newest social networks, Google+ and Pinterest have gotten a lot of attention recently. It's no surprise. Each has experienced rapid growth and adoption, leaving marketers wondering how to effectively leverage each new platform for business. The 9 Most Creative Uses Of Pinterest. INFOGRAPHIC: Social Media: The New News Source. All-In-One Business Dashboard | Real-time Monitoring | Cyfe. Blog writing wisdom.
77% Of Consumers Would Buy From Your Company If Your CEO Was Tweeting [STUDY] 100+ Professional Social Media Business Tools for Brands and Marketers. 16 Social Media Mistakes You're Making. Klout - The Standard for Influence. Mirror.me. Create Infographics | Visual.ly. The Museum of Me. A Year In The Like. It's a Small World After All: The Top Global Web Trends. 9 Powerful Free Infographic Tools To Create Your Own Infographics - DATA VISUALIZATION. Once You're In the Weird Part of YouTube, There's No Way Out. The most comprehensive twitter app list you'll ever need. Flowchart: Should Your Business Be On Pinterest?
Social vs Search: The Showdown [Infographic] The Science of Social Timing Part 2: Timing & Email Marketing. Don't be a robot!Scoop. Meet Kontest, a Cutting-Edge Enterprise Social Marketing Contest Platform. Empire Avenue | Expand, Engage, Evaluate. What About Me? A Picture of My Digital Life. Empire Avenue: The Social Stock Market. Be Discovered!Scoop. 7 Facebook Behavior Patterns That Could Never Exist Offline. Infographic Reveals The Best Times To Post To Twitter & Facebook. Daily design for everyone. Content Curation Tools For Web Surfers – Best Of. Guidelines Proposed for Content Aggregation Online. Curator's ǝpoɔ. What Makes A Great Curator Great? How To Distinguish High-Value Curation From Generic Republishing. The 50+ Best Ways to Curate and Share Your Favorite Social Media and News Content.
Should Bloggers and Link-Sharing Sites Get Credit for Discovering Content? 21 Ways to Create Compelling Content When You Don't Have a Clue. Identified.com Seeks to Make Professional Networking More Fun. Pinterest Changes Improve Storytelling. Pinterest, The Fancy and the Photo Funnel. In Age of Pinterest, Instagram, Marketers Need An Image Strategy. Visual Culture Is Taking Over and Other Insights From Media | MediaWorks. How Pinterest Can Turn Your Brand Red-Hot [INFOGRAPHIC] Why You Can't Stop Using Pinterest [Infographic] Infographic Reveals The Best Time To Publish Blog Posts. Facebook: Create A Paypal Donate Button For Your FB Page | unixbeard.me | UNIX | Linux | System Administration | Unixbeards.
Tutorial: How To Put PayPal Buttons on a Facebook Page. Adding Paypal donate button to wordpress blogger blog - Make Money Online | Make Money Fast| Making Money Online Home| Blog Tips| SEO Tips - ScopeForMoney.com. Add a PayPal button to your self-hosted WordPress blog.
---