Unsorted
3D World - The Magazine for 3D Artists. FAN-TAS-TIC! Inspiration Galleries. Creative Uncut - Video Game Art Treasury. Gamers Gallery - Main Index. 3D Software, 3D Models, and 3D Content by DAZ 3D. The Design Inspiration - Daily Logo Designs, Illustration Art, Website Showcase, Photos and Patterns. GameArtisans. Heavenly Sword Weapon, Character and Environment Concept Art. By – August 14, 2007Posted in: Heavenly Sword, PlayStation 3, Screenshots, Sony About the Author Matt Litten is a 28 year old from-the-womb gamer turned video game reviewer/blogger and current editor/owner/operator of VGBlogger.com.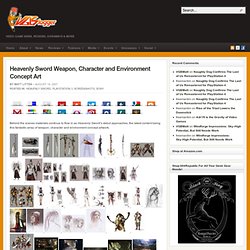 Matt got his first taste of gaming as a youngster on the NES and Atari, and the rest is history from there. In 2004, three years removed from high school and still looking for a career direction in life, Matt landed his first gig in the video game review business writing for the now-defunct website BonusStage.com. IMAGINARY FRIENDS STUDIOS. Popular Game Development Art in the last 4 weeks - 밀크나인 : 디자인의 모든 것이 있는 메타블로그. Realm Wars Dev Site. Index of /img/Wasteland.Style/Art_from_The.Computer.Graphics.Society/set1b. Elfwood - Science Fiction and Fantasy Art, FanArt & Stories. Weta Workshop. Creative Uncut - Video Game Art Treasury.
The social network for professionals in entertainment - Animation, Movies, Visual Effects, Games, Illustration, Concept Artists, and more. If you make cool stuff, join us! Concept Art | Gallery at FreakyGaming. DrawerGeeks! Social bookmarking for pictures on VisualizeUs.
---