Social Media Sites & Links
#SocialMedia #FinServ #Innovation. Learn About Financial Social Media Marketing with @BridgetFSM at #SMPRMeetup. By Rob | 16 Apr 2014, 10:30am | Category: SMPRMeetup The next #SMPRMeetup is just around the corner and next Wednesday -- April 23rd -- we have a real treat.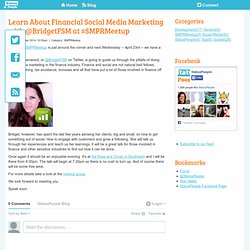 Bridget Greenwood, or @BridgetFSM on Twitter, is going to guide us through the pitfalls of doing social media marketing in the finance industry. Finance and social are not natural bed fellows. Banker bashing, tax avoidance, bonuses and all that have put a lot of those involved in finance off social. Navigating Financial Social Media Marketing With @BridgetFSM - StatusPeople Social Media Marketing & PR Meetup #SMPRMeetup (London, England. What are the key benefits of having a company social media policy? Your company's social media policy sets the tone and guidelines for social media use within your firm.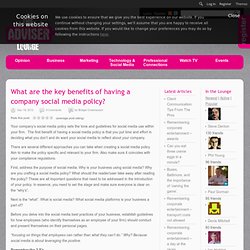 The first benefit of having a social media policy is that you put time and effort in deciding what you don't and do want your social media to reflect about your company. There are several different approaches you can take when creating a social media policy. Aim to make the policy specific and relevant to your firm. Are financial service online communities effective? Online communities are a powerful tool.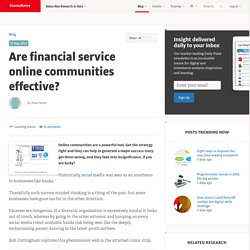 Get the strategy right and they can help to generate a major success story: get them wrong, and they fade into insignificance, if you are lucky! Historically, social media was seen as an anathema to businesses like banks. Thankfully such narrow minded thinking is a thing of the past, but some businesses have gone too far in the other direction. Web and Social Media Trends - Conversations That Matter. Dumb Marketing Question #1 - Does Social Media Work? - Sticky Marketing Club. As 'Social Media' has become too big to ignore, most companies are dabbling with it in some way.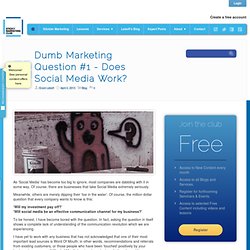 Of course, there are businesses that take Social Media extremely seriously. Meanwhile, others are merely dipping their 'toe in the water'. Of course, the million dollar question that every company wants to know is this; Simply Measured. Tweetping. MOOCs: Top 10 Sites for Free Education With Elite Universities. MOOC stands for Massive Open Online Courses.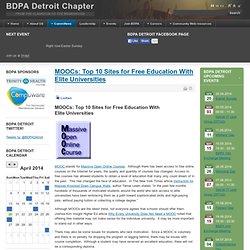 Although there has been access to free online courses on the Internet for years, the quality and quantity of courses has changed. Access to free courses has allowed students to obtain a level of education that many only could dream of in the past. Online Reputation, Personal Branding. BrandYourself: Control Your Google Results at BrandYourself.com. How to Make Sure Your Website Passes the Dreaded Blink Test. Visitors judge the value of your website in a matter of seconds.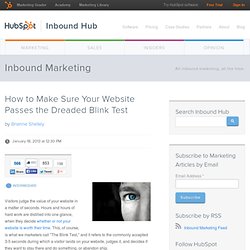 Hours and hours of hard work are distilled into one glance, when they decide whether or not your website is worth their time. This, of course, is what we marketers call "The Blink Test," and it refers to the commonly accepted 3-5 seconds during which a visitor lands on your website, judges it, and decides if they want to stay there and do something, or abandon ship. Facebook Graph Search Could Be Its Greatest Innovation. If you ever used it, you know Facebook Search barely counts as such.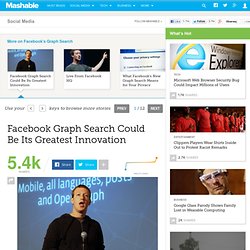 It's absolutely awful. As of Tuesday, however, it's about to go from zero to hero. To understand how fundamentally better Facebook's new Graph Search will be, just spend five minutes using the current excuse of a search engine. Yes, that's right, it stinks. Sure, there's some word-wheeling in there — where suggested results start appearing as soon as you type a few letters — but the quality of the results ain't great. it's just an endless number of Facebook pages that have little relation to your query. 20 Changes Facebook Made In 2012 That Impacted Marketers. By Ryan Cohn on Jan 08, 2013 Facebook was all about refinement in 2012.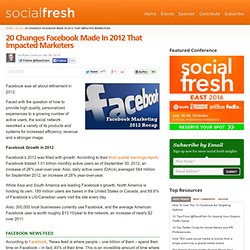 Faced with the question of how to provide high quality, personalized experiences to a growing number of active users, the social network reworked a variety of its products and systems for increased efficiency, revenue and a stronger image. Facebook Growth in 2012. How to write great headlines in 55 characters or less. This approximates the length of a 55 character headline.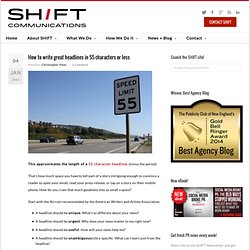 (minus the period) That's how much space you have to tell part of a story intriguing enough to convince a reader to open your email, read your press release, or tap on a story on their mobile phone. How do you cram that much goodness into so small a space? Start with the 4U rule recommended by the American Writers and Artists Association: Revolutionary study: We prove that tweets do affect rankings. Key Stats Study shows that URLs receive a significant boost in Google rankings when they are shared on TwitterThe effects of this boost seem to level out at around 50 tweets, and the subsequent benefit of gaining additional tweets is minimal until around 5,000 tweetsAfter 5,000 tweets the average ranking of URLs improves considerablyURLs receiving over 7,500 tweets almost always rank inside the top 5 resultsAverage rankings are heavily correlated to the number of tweets about each URL Impact on brands.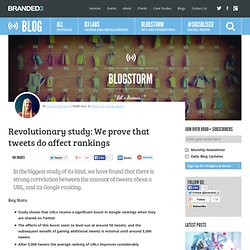 How to Convert Blog Readers Into Customers. Barometer - Financial Social Media. Sales Force Effectiveness Blog. Please complete a short survey for Jason. Piktochart. Libel Case That Snared BBC Widens to Twitter. 10 Fun Tools To Easily Make Your Own Infographics. People love to learn by examining visual representations of data. That's been proven time and time again by the popularity of both infographics and Pinterest. So what if you could make your own infographics ? What would you make it of? It's actually easier than you think… even if you have zero design skills whatsoever. The Easy Way to Run Facebook Competitions. The Ultimate Cheat Sheet for Mastering LinkedIn. With more than 259 million users, LinkedIn is the most popular social network for professionals as well as one of the top social networks overall.
Are you using it to its fullest potential? While new social networks are sprouting up constantly, LinkedIn is a powerful platform that often gets underutilized or put on the back burner. But the truth is, LinkedIn can be extremely powerful -- especially when you're aware of all the little hidden tricks that don't get nearly enough exposure as they deserve. To help you master LinkedIn, below is our ultimate list of 35 awesome tricks you may have been overlooking. We've divided these tips into three main categories -- optimizing your LinkedIn presence, using LinkedIn for professional networking, and using LinkedIn for business and marketing. Map of BridgetFSM. Socialbakers ❶ Social media (Facebook, Twitter…) marketing, statistics & monitoring - Socialbakers.
Flipboard. Three lessons social marketers can learn from email marketers | Econsultancy. Top 10 Brands With Highest Social Media Engagement This Week [INFOGRAPHIC] Get up to 1,000 twitter followers. Hello! You wouldn't be here unless you wanted to get more twitter followers. Presumably you have done the usual following to the limits, signing up for twiends to follow people for points etc. I did all that myself and managed to get to around 17,000 followers over about 8 months. Then I discovered a method that got me nearly 6,000 followers in just over a week. Have a look at and search @martincallan to see for yourself. ASMALLWORLD. Forgot Username / Password? Interested in Membership? » Presentation Software | Online Presentation Tools | Web Presentations | SlideRocket.
12SMFS_llsmc_tweets. The 10 Commandments for Giving a Perfect Presentation. 72 Fascinating Social Media Marketing Facts and Statistics for 2012.
Google Longtail Infographic: How Google Killed the Long Tail of Search Keywords. Car Dealership Challenges You to Tweet Your Way to a New Audi. 33 Things to Ask Before Hitting Publish. The Future of Streams: Twitter Looms As Biggest Obstacle. Old Friends. 13 Idea-Starters for Stuck Bloggers | Michael Hyatt. Social Plugins. Introducing the Recommendations Bar. Face blurring: when footage requires anonymity.
---