USA
François Sinzikiramuka, perpetrator (left); Christophe Karorero, survivor. Jean Pierre Karenzi, perpetrator (left); Viviane Nyiramana, survivor. Godefroid Mudaheranwa, perpetrator (left); Evasta Mukanyandwi, survivor. Juvenal Nzabamwita, perpetrator (right); Cansilde Kampundu, survivor. Deogratias Habyarimana, perpetrator (right); Cesarie Mukabutera, survivor. François Ntambara, perpetrator (left); Epiphanie Mukamusoni, survivor.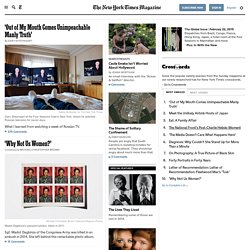 The Kid's Table A Film to Change the World Animating Owen A Tour of the Center of the World Lessons From a Master Cat PhotographerThe Scramble: A Simple Greek LunchThe Rollout: An Ikarian Greens PieFlying Through the AirAn Animated Tribute to Andre CassagnesFor SeamusThe Night WitchLorna Sass's Pressure-Cooker MeatballsSpider Drove a TaxiNaturally, J.J. CaleHoliday Feast: Crown Roast of PorkHoliday Feast: Beef Rib RoastHoliday Feast: HamHoliday Feast: TurkeyHoliday Feast: GooseCapturing America at Its PlainestThe Trials of Jacob MachA Record Store RisesMaking a Scene: 11 PerformancesThe Making of 'Making a Scene'Great Expectations for Female LawyersMarcella CooksCreating the Broccoli CrazeFrites ShowBond GirlSpeed SailingWar GamesA Right to Die, a Will to LiveThe Mermaids of Weeki Wachee SpringsAt the Guggenheim, a Vision of LightMolten Cake, 'The Big Mac of Desserts'How to Cut an ArtichokeAre You a Giver or a Taker?
The Women in the Kitchen Lupita Nyong'o: 'Imposter' to Ingénue The Read Around: Rebecca Mead Urban Grit in Philly's FishtownIn Performance: Peggy ShawWho Will Win the Foreign Language Oscar?China's Web JunkiesOatmeal Sandwich CookiesBill Cunningham | Check MatesThe Source | Tilda SwintonSnubs and Favorites of the Oscars FieldNotes on BlindnessMemorable Oscar MomentsA Culture of ViolenceThe Rollout: An Ikarian Greens PieIntersection: Style Is Art in MiamiRunning on Fumes in North DakotaIn Performance: Roger Guenveur SmithA Daunting TaskIn Performance: Eric TuckerBill Cunningham | Thrills and ChillsAnatomy of a Scene: 'Philomena'Flying Through the AirWorking Out With a SpeedskaterA New Age for African ArtistsBare Knuckles and High HeelsScienceTake: Fluorescing FishIntersection: Brooklyn Heights VintageStealing J.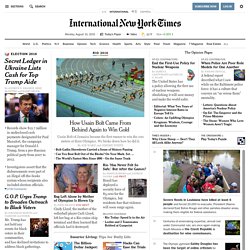 Rob Hughes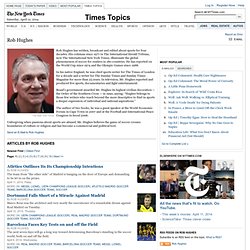 The New York Times Rob Hughes has written, broadcast and edited about sports for four decades. His columns since 1977 in The International Herald Tribune, now The International New York Times, illuminate the global phenomenon of soccer for readers in 180 countries. He has reported on the World Cup since 1974 and the Olympic Games since 1988.
National Public Radio