Tools
Manage figures and tables in MS Word. Internet Meme Database. LastPass - Password Manager, Formular Ausfüller, Password Management. Flow Chart Maker & Online Diagram Software | Lucidchart. Eine Software für Zusammenarbeit und Work Management: Mindjet. Neue Facebook-Smileys für Chats | Onsoftware. Lustige Smileys sorgen im Facebook-Chat für das Salz in der Web-Suppe.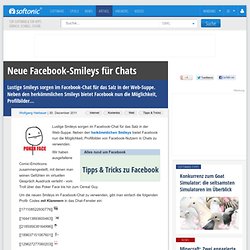 Neben den herkömmlichen Smileys bietet Facebook nun die Möglichkeit, Profilbilder von Facebook-Nutzern in Chats zu verwenden. Wir haben ausgefallene Comic-Emoticons zusammengestellt, mit denen man seinen Gefühlen im virtuellen Gespräch Ausdruck verleiht - vom Troll über das Poker Face bis hin zum Cereal Guy. Um die neuen Smileys im Facebook-Chat zu verwenden, gibt man einfach die folgenden Profil- Codes mit Klammern in das Chat-Fenster ein: Meme Generator. The Fastest Meme Generator on the Planet.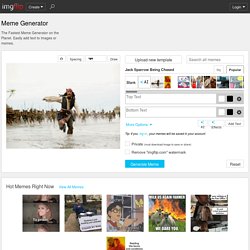 Easily add text to images or memes. erase Draw Add Image.
PDF Split and Merge. EUROPASS Mobilität - Die EUROPASS Transparenzinstrumente. Merge PDF Documents Easily and for Free Using MergePDF.net. MEME Chatbook. Facebook Chat Codes Maker | Smiley Time Cool Facebook Chat Smileys. KGM Meta - Website Information, Analysis & Research Tool. BlaBlaMeter - wie viel Bullshit steckt in Ihrem Text? Team Viewer. Remote Access and Remote Desktop Software for Your Computer. Imgriff.com.
Speedtest.net - The Global Broadband Speed Test. Socialbreak.me - and your work gets done. Time Management, Productivity, & Project Tracking Software (Mac/PC) | RescueTime. Sleepyti.me bedtime calculator. Online-Community für Reputationsbewertung | WOT Web of Trust. Beautiful Word Clouds. A world of music. SharePod 3.9.6 Englisch. Aus Angst vor unerlaubten Kopien hat Apple seinen iPods / iPhones keine Funktion integriert, mit denen sich die aufgespielten Lieder wieder zurück auf den Computer spielen lassen.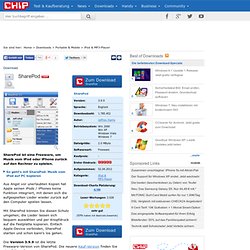 Mit SharePod können Sie diesen Schutz umgehen; die Lieder lassen sich bequem auswählen und per Knopfdruck auf die Festplatte kopieren. Einfach Apple-Device verbinden, SharePod starten und schon kann's los gehen. Die Version 3.9.9 ist die letzte Freeware-Version von SharePod. Grooveshark - Listen to Free Music Online - Internet Radio - Free MP3 Streaming. 10 Minute Mail. Prezi - The Zooming Presentation Editor.
Dropbox - Home - Online backup, file sync and sharing made easy. Bubbling. LiveBinders - Organize your resources in an online binder. What are Tab Groups? Tab Groups (also known as Panorama) are an easy way to organize a lot of tabs.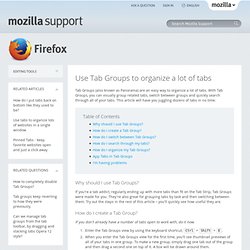 With Tab Groups, you can visually group related tabs, switch between groups and quickly search through all of your tabs. This article will have you juggling dozens of tabs in no time. Why should I use Tab Groups? If you're a tab addict, regularly ending up with more tabs than fit on the Tab Strip, Tab Groups were made for you. LastGraph: samusasam. Expat life made easy. Bibel-Online.NET. Www.sixdots.de | Foto-Mosaik-Edda | Mosaik-Bilder einfach erstel.
---