Photoshop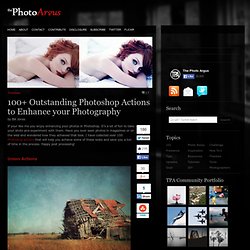 Freebies by Bill Jones If your like me you enjoy enhancing your photos in Photoshop. It's a lot of fun to take your shots and experiment with them. Have you ever seen photos in magazines or on the web and wondered how they achieved that look. I have collected over 100 Photoshop actions that will help you achieve some of these looks and save you a ton of time in the process.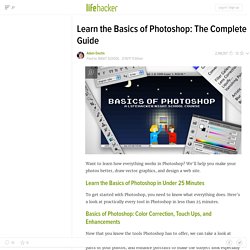 Want to learn how everything works in Photoshop? We'll help you make your photos better, draw vector graphics, and design a web site. Learn the Basics of Photoshop in Under 25 Minutes - To get started with Photoshop, you need to know what everything does. Here's a look at practically every tool in Photoshop in less than 25 minutes. Basics of Photoshop: Color Correction, Touch Ups, and Enhancements - Now that you know the tools Photoshop has to offer, we can take a look at using them to correct and alter color, retouch blemishes and other unwanted parts of your photos, and enhance portraits to make the subject look especially good. Basics of Photoshop: Basic Drawing with the Pen Tool - Photoshop isn't just for photos.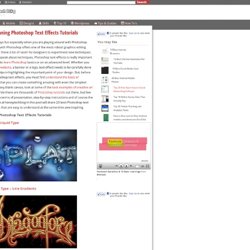 20 Stunning Photoshop Text Effects Tutorials
Learning is always fun especially when you are playing around with Photoshop. That's because with Photoshop offers one of the most robust graphics editing experience and there is lot of room for designers to experiment new techniques. Here when we speak about techniques, Photoshop text effects is really important while you want to learn Photoshop basics or on an advanced level. Whether you are designing a website , a banner or a logo, text effect needs to be carefully done because that helps in highlighting the important point of your design. But, before trying out Photoshop text effects, you must first understand the basis of Typography so that you can create something amazing with even the simplest form of text to any blank canvas, look at some of the best examples of creative art Typography . While there are thousands of Photoshop tutorials out there, but few are top-notch in terms of presentation, step-by-step instructions and of course the outcome.
88 Ultimate Round-Up of Photoshop Photo Manipulation Tutorials | Tutorials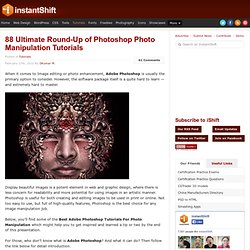 When it comes to Image editing or photo enhancement, Adobe Photoshop is usually the primary option to consider. However, the software package itself is a quite hard to learn — and extremely hard to master. Display beautiful images is a potent element in web and graphic design, where there is less concern for readability and more potential for using images in an artistic manner. Photoshop is useful for both creating and editing images to be used in print or online. Not too easy to use, but full of high-quality features, Photoshop is the best choice for any image manipulation job. Below, you'll find some of the Best Adobe Photoshop Tutorials For Photo Manipulation which might help you to get inspired and learned a tip or two by the end of this presentation.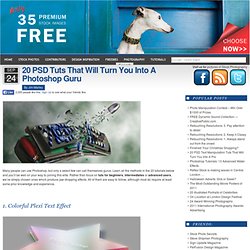 Many people can use Photoshop, but only a select few can call themselves gurus. Learn all the methods in the 20 tutorials below and you'll be well on your way to joining this elite. Rather than focus on tuts for beginners , intermediates or advanced users , we've simply chosen ones which produce jaw-dropping effects. All of them are easy to follow, although most do require at least some prior knowledge and experience. 1.
Here is a new tutorial for all the drawing lovers. In this tutorial, we will make a quick sketch, scan the sketch, and convert it into Photoshop. Then the fun will begin. Drawing a portrait is not very simple, but with some knowledge you can achieve a lot. The end result may not look exactly like the person you are trying to draw, but the important thing is to do the best you can and make the eyes, mouth, or nose look similar to your subject. The end result in this tutorial looks more like me, but to tell you the truth this is just a coincidence.
How to Draw a Portrait in Photoshop