Learning Technologies Management
Home | JISC Elevator
Teacher professional development, lesson observations & Initial Teacher Training | IRIS Connect
IRIS Connect is a web-based CPD and ITT community that delivers: News Blog Research Testimonials IRIS enables our college to continue to develop the craft of teaching and the science of learning - good teachers still need graft and flair but I fully expect to see this ...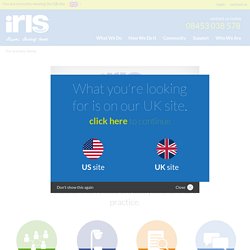 Generator
Posted by Carole Kirk. Comments Off Our participants bravely took part in an online workshop this Wednesday. We used Adobe Connect with the enthusiastic support of Dragos Ciobanu who helped me to design and run the workshop. I learned a huge amount from attempting this, and in the end I think it worked well for the participants.
Digitalis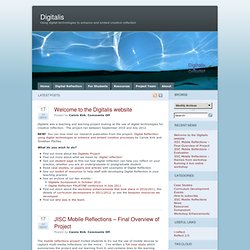 Next meeting May 2014 (Image Public Domain CC0 1.0 Universal) The Learning Technologists @ Leeds network is coordinated by SDDU to enable an opportunity for colleagues to share ideas, practice and support around the area of educational uses of technology.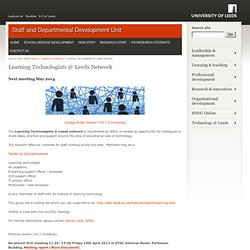 SDDU | Learning Technologists @ Leeds Network
Emerging Practice in a Digital Age explores how colleges and universities are embracing innovation and using emerging technologies to enhance learning in a climate of economic pressure, changing social circumstances and rapid technological change. Aimed at those in further and higher education who design and support learning, the guide draws on recent JISC reports and case studies to investigate how the emergence of new and more powerful technologies together with an increase in personal ownership of these technologies are changing the way we connect, communicate and collaborate, and how these changes can benefit learning. The focus of this guide is on emerging practice rather than emerging technology. The case studies describe a series of exploratory journeys through the themes of: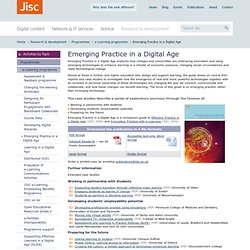 Emerging Practice in a Digital Age
little-guide-to-digital-media
Case study: Making better videos: shooting your video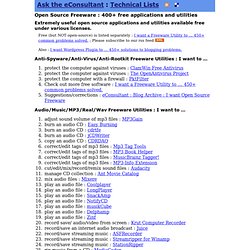 Open Source Freeware : 400+ free applications and utilities Extremely useful open source applications and utilities available free under various licenses. Free (but NOT open-source) is listed separately : I want a Freeware Utility to ... 450+ common problems solved. ; Please subscribe to our rss feed Also : I want Wordpress Plugin to ... 450+ solutions to blogging problems. Anti-Spyware/Anti-Virus/Anti-Rootkit Freeware Utilities : I want to ... protect the computer against viruses : ClamWin Free Antivirusprotect the computer against viruses : The OpenAntivirus Projectprotect the computer with a firewall : PktFilterCheck out more free software : I want a Freeware Utility to ... 450+ common problems solved.Suggestions/corrections : eConsultant : Blog Archive : I want Open Source Freeware
Nonprofits have an enormous influence on bringing education, quality, preservation, change, and caring into others lives. And we know you need the tools to manage your organization's needs and contacts. ebase® can help you improve your efforts to attain your organizations goals. Created by nonprofits, for nonprofits – ebase® supports nonprofits by providing the tools to manage your relationships the people that support and sustain your organization. You can use ebase® to manage your contact information, membership and financial data, volunteer data, event information, and outreach campaigns. Most nonprofits are better off spending their hard-earned money on customization and training than on software itself which is why we make ebase® available free of charge through online download.
Community relationship management software for nonprofit organizations | ebase.org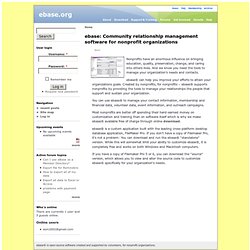 Request publications, CDs, DVDs, booklets - ICO
The ICO publishes a wide range of leaflets, briefing notes, guides and training materials for both individuals and organisations. We also produce a selection of CDs and DVDs. All our publications are available free of charge. To receive copies by post, please select the items you would like from the list below and complete the online order form.
7 Things You Should Know About Web Syndication April 4, 2014 For print and broadcast media, syndication is the process by which content from a single source is distributed in multiple other venues. Web syndication applies the principles of discovery and … 7 Things You Should Know About Games and Learning March 11, 2014
ELI 7 Things You Should Know - 69 Resources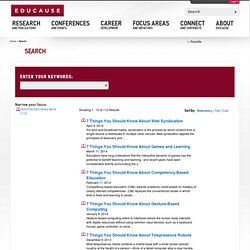 white_papers_summary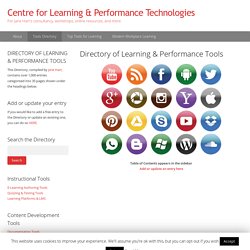 EmailShare 785EmailShare Here are over 2,000 tools for learning and working in education and the workplace. If you would like to submit a tool for this Directory, please use this form. Instructional Tools Tools for creating, delivering, managing and/or tracking learning and/or providing a formal social learning environment. Twitter appsThese tools include a range of useful Twitter applications Twitter Apps 100+
Judges Consulting ILT Reports
JISC CETIS - Centre for Educational Technology and Interoperability Standards
Event Eye
You do not have permission to view this directory or page using the credentials that you supplied because your Web browser is sending a WWW-Authenticate header field that the Web server is not configured to accept. Please try the following: Contact the Web site administrator if you believe you should be able to view this directory or page. Click the Refresh button to try again with different credentials.
this link is hidden Wilbury Primary School Towards 21st Century Learning: Our journey of implementing technology effectively into the school's curriculum through a shared vision.
Generator
Advanced Search : Projectors | TVs | Cameras Search Basket: 0 items £0.00
Roche AV
The Learning Web - Home Page
learning technologies 2014 summer forum June 17 2014, Olympia London The Learning Technologies 2014 Summer Forum is the unique follow-up event to Learning Technologies 2014 and will take place at Olympia on Tuesday 17th June 2014. Running alongside the established Learning and Skills Group Conference, the event is designed to further develop the key learning themes from January's exhibition.
Take part in these leagues now: Important Inventions League Discuss and debate what might be the most important invention in the world - ever New School League
College Majors That Work
Mobile Study | Mobile Quiz module for Moodle
LJ ClassCampus - On-Line Learning System
Learning Technologies - Learning and Skills Network
Guidance Documents
Embedded Learning Portal
ELESIG - Evaluation of Learners' Experiences of e-learning Special Interest Group
Provider Gateway
LSN: Consulting | Outsourcing | Research | Technology | Training
Home | RSC
Learning and skills
Bringing Educational Creativity to All
yhiltmanagers [licensed for non-commercial use only] / FrontPage
CMS
IfL - The Institute for Learning - Home
Education and Skills - skills for a connected region | Digital 20/20
EffectiveICT.co.uk - the effective use of ICT in education - Discussion, Case Studies, Flash, Programming, VLE, Moodle
IT Training Magazine | Training | Qualifications, Training, Careers | BCS - The Chartered Institute for IT
inspirED
Cross media: Open Source and Free Software Directory
JISC Regional Support Centre for Yorkshire & Humber
‪Chaîne de LEBPartnership‬‏
elearningcasestudies