Common Core
Extension Menus - PFLEX Online. DE Common Core Resources. LearnZillion. Videos, Common Core Resources And Lesson Plans For Teachers: Teaching Channel. Scope and Sequence. Why We Need Common Core: "I choose C.". ELA Professional Learning Webcasts - Grade 2.
Close_reading_article. Common Core Connections: Unpacking Academic Vocabulary. Are you wondering where to begin to adopt the Common Core Vocabulary Standards?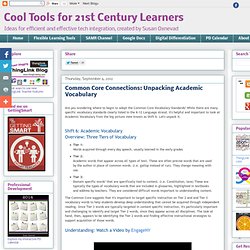 While there are many specific vocabulary standards clearly listed in the K-12 Language strand, it's helpful and important to look at Academic Vocabulary from the big picture view known as Shift 6. Let's unpack it. Shift 6: Academic Vocabulary. Quick Guide to the Common Core: Key Expectations Explained - Vander Ark on Innovation. How the Common Core Will Change the Way Teachers Teach and Students Learn Guest Post By Adam Berkin, vice president of product development at Curriculum Associates Since the Common Core State Standards were introduced, there has been much discussion about what they mean for educators and students and how they will impact teaching and learning.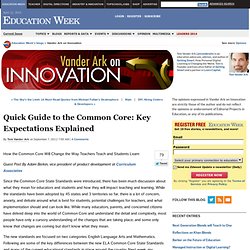 While the standards have been adopted by 45 states and 3 territories so far, there is a lot of concern, anxiety, and debate around what is best for students, potential challenges for teachers, and what implementation should and can look like. DOGO News - Kids news articles! Kids current events; plus kids news on science, sports, and more! OER Commons. The First Digital Teaching Platform - TimeToKnow. Bloom's Taxonomy – A Parent's Guide. "Bloom's Taxonomy" is one of those terms that a parent may not necessarily be familiar with, however, it is very important.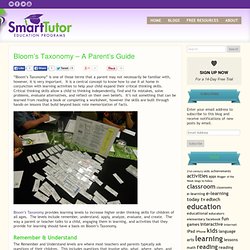 It is a central concept to know how to use it at home in conjunction with learning activities to help your child expand their critical thinking skills. Critical thinking skills allow a child to thinking independently, find and fix mistakes, solve problems, evaluate alternatives, and reflect on their own beliefs. It's not something that can be learned from reading a book or completing a worksheet, however the skills are built through hands-on lessons that build beyond basic rote memorization of facts. Bloom's Taxonomy provides learning levels to increase higher order thinking skills for children of all ages. The levels include remember, understand, apply, analyze, evaluate, and create. Harvard Education Letter. Volume 27, Number 5September/October 2011 One small change can yield big results By Dan Rothstein and Luz Santana.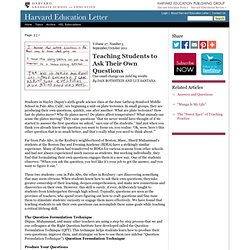 How to Mind Map. 80 Online Tools, References, and Resources. 11/10/11 Update: We have an additional 30 plus tools, references, and resources submitted by community members.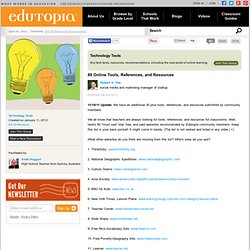 We all know that teachers are always looking for tools, references, and resources for classrooms. Well, here's 80 "must see" trial, free, and paid websites recommended by Edutopia community members. The Most Useful Websites on the Internet. I have compiled a list of the most useful websites, across a wide variety of topics.. that you may find helpful,
Parents Guide- 21st Century Learning. IdeasLAB - exploring new possibilities.
Writing. Social studies. Science. Math. Search 4 Kids. 10 Common Core Resources. 1.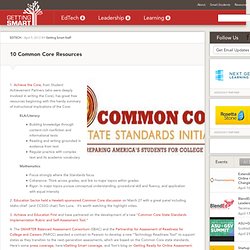 Achieve the Core, from Student Achievement Partners (who were deeply involved in writing the Core), has great free resources beginning with this handy summary of instructional implications of the Core: ELA/LiteracyBuilding knowledge through content-rich nonfiction and informational textsReading and writing grounded in evidence from textRegular practice with complex text and its academic vocabularyMathematicsFocus strongly where the Standards focusCoherence: Think across grades, and link to major topics within gradesRigor: In major topics pursue conceptual understanding, procedural skill and fluency, and application with equal intensity 2.
Education Sector held a Hewlett-sponsored Common Core discussion on March 27 with a great panel including Idaho chief (and CCSSO chair) Tom Luna. Common Core State Standards.
Common Core Standards and PBL. The first question about Common Core State Standards, What will they look like?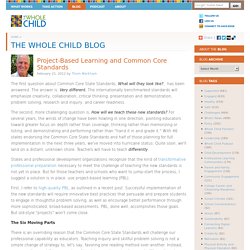 , has been answered. The answer is: Very different. The internationally benchmarked standards will emphasize creativity, collaboration, critical thinking, presentation and demonstration, problem solving, research and inquiry, and career readiness. The second, more challenging question is, How will we teach these new standards? MasteryConnect. ELA College and Career Readiness--What It Means, How to Get There. Posted by: Jared Heath, content manager "College and career readiness" is an excellent idea, but what does it mean?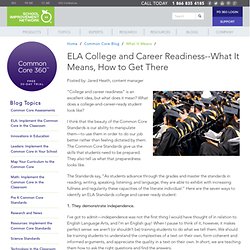 What does a college-and-career-ready student look like? I think that the beauty of the Common Core Standards is our ability to manipulate them—to use them in order to do our job better rather than feeling dictated by them. The Common Core Standards give us the skills that students need to be prepared. They also tell us what that preparedness looks like.
---