Travel
43 Places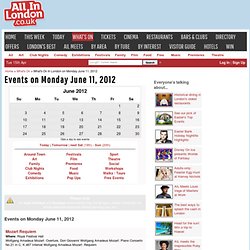 Click a day to see events Please noteOn bank holidays and Sundays some events may not be open, please check with the official websites/organisers before planning your trip. Events on Monday June 11, 2012
Events on Monday June 11, 2012 - What's On In London
The 46 Places to Go in 2013 - Interactive Feature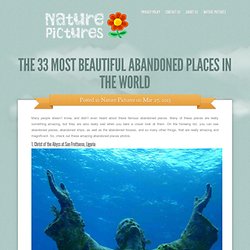 The 33 Most Beautiful Abandoned Places In The World | Nature Pictures
Many people doesn't know, and didn't even heard about these famous abandoned places. Many of these places are really something amazing, but they are also really sad when you take a closer look at them. On the folowing list, you can see abandoned planes, abandoned ships, as well as the abandoned houses, and so many other things, that are really amazing and magnificent. So, check out these amazing abandoned places photos. 1. Christ of the Abyss at San Fruttuoso, Liguria
20 Must-See Places Before The World Ends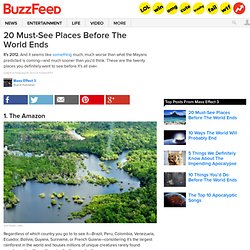 1. The Amazon Regardless of which country you go to to see it—Brazil, Peru, Colombia, Venezuela, Ecuador, Bolivia, Guyana, Suriname, or French Guiana—considering it's the largest rainforest in the world and houses millions of unique creatures rarely found anywhere else, it's worth seeing for thousands of reasons. 2. Antelope Canyon
10 Places Begging To Be Investigated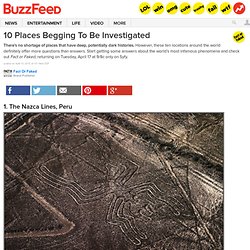 1. The Nazca Lines, Peru Created thousands of years ago, the "Nazca lines" are a series of gigantic figures sketched across the desert sands in Peru. They were made by scraping red pebbles against the ground, revealing a lighter-colored sand beneath.
25 Places That Look Not Normal, But Are Actually Real
36 Jaw-Dropping Nature Photos
33 Unbelievable Places To Visit Before You Die – Earth Is So Amazing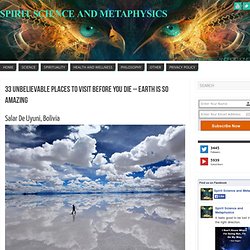 Salar De Uyuni, Bolivia Source: earthporm.comDuring the rainy season, the world's largest salt flat becomes the world's largest mirror. The Salar was born when several prehistoric lakes joined into one.
Secret Escapes | Save up to 70% on luxury travel | Current Sales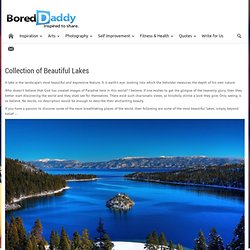 Collection of Beautiful Lakes
A lake is the landscape's most beautiful and expressive feature. It is earth's eye; looking into which the beholder measures the depth of his own nature. Who doesn't believe that God has created images of Paradise here in this world?
21 Of the Most Extraordinary Places To Visit
Nerdy Day Trips
If you could go any where in the world, no matter what the budget, where would you go? A swim in the lagoon at the Iceland Airwaves Festival. Photo: Getty Images From Australia to Nepal, team MyDaily has picked the places they most want to visit to create the travel guide below. If you're stuck for your next holiday idea, take a look through our round-up of dream destinations for holiday inspiration. MyDaily's dream holiday destinations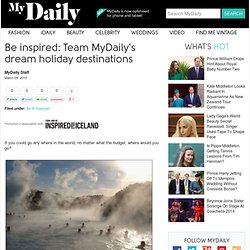 Dream holiday destinations and inspiration : MYDaily UK
Dream holiday destinations and inspiration : MYDaily UK
10 Most Famous Trees in the World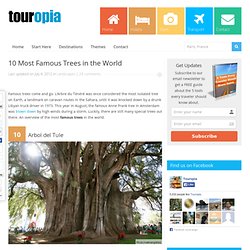 Famous trees come and go. L'Arbre du Ténéré was once considered the most isolated tree on Earth, a landmark on caravan routes in the Sahara, until it was knocked down by a drunk Libyan truck driver in 1973. This year in August, the famous Anne Frank tree in Amsterdam was blown down by high winds during a storm. Luckily, there are still many special trees out there. An overview of the most famous trees in the world. 10Arbol del Tule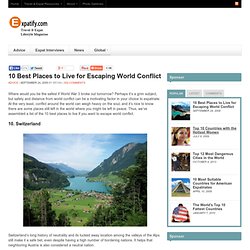 Where would you be the safest if World War 3 broke out tomorrow? Perhaps it's a grim subject, but safety and distance from world conflict can be a motivating factor in your choice to expatriate. At the very least, conflict around the world can weigh heavy on the soul, and it's nice to know there are some places still left in the world where you might be left in peace. Thus, we've assembled a list of the 10 best places to live if you want to escape world conflict. 10. Switzerland
10 Best Places to Live for Escaping World Conflict
Travel Guides - World Travel Guide
Top twenty places to emigrate for young people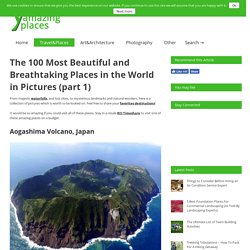 The 100 Most Beautiful and Breathtaking Places in the World in Pictures (part 1) - YourAmazingPlaces.com
From majestic waterfalls, and lost cities, to mysterious landmarks and natural wonders, here is a collection of pictures which is worth to be looked on. Feel free to share your favorites destinations! Aogashima Volcano, Japan Petra, Jordan
15 Amazing Castles from Around the Globe
Although designed and built for the prominent purpose of defense, today the castles seem like somewhat unrealistic constructions straight from the fairytale world. From solid strongholds to oriental fortresses and highly decorative palaces, the castles are our connection to the past, where legends mix with history and reality blends with a fairyland. This fairytale castle is the historical seat of the Prussian Kings and German Emperors.
- Written by Victoria Philpott Salivating. That's the only way to describe me after looking at all this food porn. I love to eat breakfast, it's the best meal of the day as far as I'm concerned. Pancakes, cereal, brunch, eggs, healthy breakfasts, greasy breakfasts, I'm not fussy. My only trouble is what to choose…
50 of the World's Best Breakfasts from Around the World
50 of the Most Important Landmarks of the World (Part 1)
22 Incredible Photos of Faraway Places
FlexiJourney Travel - Athens, Chichen Itza, Disneyland Resort Paris, Glacier National Park, Huashan National Park, Lijiang and more
Hidden Travel Place — The Beauty of Hidden Place in the World find and explore here on Hidden Travel Place blog .
Amazing Places To Experience Around The Globe (Part 1)
Tipping Etiquette Around the World
JadeMountain28.jpg (JPEG Image, 1800x900 pixels) - Scaled (56%)
Time Out Worldwide - Your Guide to the Best Things to do in the World's Greatest Cities including London and New York
10 places to move abroad and extend your life
The Big To-Do SF: 100 Things To Do Before You Die
Dinner in the Sky :: Home