Self Improvement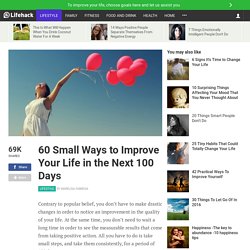 Contrary to popular belief, you don't have to make drastic changes in order to notice an improvement in the quality of your life. At the same time, you don't need to wait a long time in order to see the measurable results that come from taking positive action. All you have to do is take small steps, and take them consistently, for a period of 100 days. Below you'll find 60 small ways to improve all areas of your life in the next 100 days. Home
Yes, I Can! by Robin Nixon | You can do it if you put your mind to it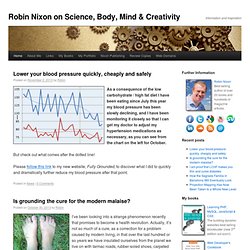 I've always been fascinated by advertising and marketing, and frequently ask myself just what is it that sells a product and makes me want to buy it? In fact I even used to buy books and magazines on the subject for leisure reading (although that sounds a bit weird now). And so it's not really surprising that even though my ambition was always to be a writer, not long after I began my first magazine publishing job, my interest in marketing was uncovered and I ended up being transferred from editorial to the marketing department, and quickly became responsible for all the in-house advertisements for back issues, subscriptions and merchandising for a large portfolio of computer magazines. And I loved it. Although I later returned to regular writing, I have always maintained a keen interest in marketing, and try to be as hands-on with the publicizing of my books, whether published by other companies, or by my own Nixon Publishing brand.
If you've never experienced it then you may find it hard to understand what lucid dreaming is all about. In fact you may be thoroughly sceptical and dismiss the whole thing as silly nonsense. But I can tell you from personal experience that lucid dreams are very real and something that many millions of people regularly enjoy.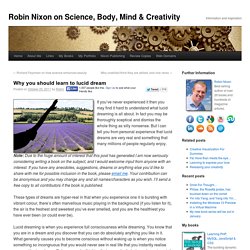 I've been striving to simplify my life for many years now, and have recently (through my writing) been advising others how to do the same. In the process, I've learned that making little changes in our attitudes, habits, and environment can have a big impact. So today, I thought I'd compile a list of 100 ways to simplify your life – from the practical to the philosophical, and everything in between. Of course, not every item on the list will work for every person reading it. However, I hope that you'll find at least a little something that speaks to you, helps you save some time, space, and energy — and perhaps even increases your serenity and happiness! AROUND THE HOUSE 1.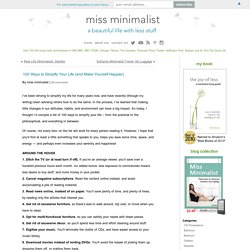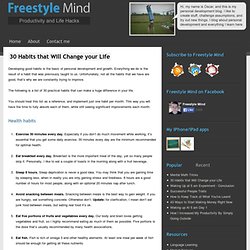 Developing good habits is the basic of personal development and growth. Everything we do is the result of a habit that was previously taught to us. Unfortunately, not all the habits that we have are good, that's why we are constantly trying to improve. The following is a list of 30 practical habits that can make a huge difference in your life.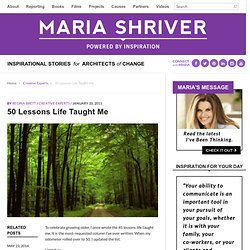 50 Lessons Life Taught Me By Regina Brett To celebrate growing older, I once wrote the 45 lessons life taught me. It is the most-requested column I've ever written. When my odometer rolled over to 50, I updated the list.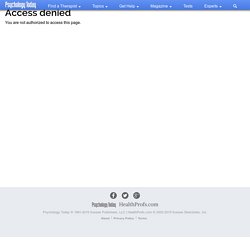 By It usually takes us much longer to change our moods than we'd like it to take. Here are ten things you can do in ten minutes or less that will have a positive emotional effect on you and those you love. . See it online at Oprah.com . This is a deeply moving segment that may be the best ten minutes you've ever invested in front of a computer.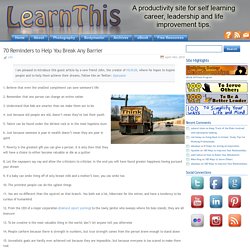 I am pleased to introduce this guest article by a new friend John, the creator of HiLife2B , where he hopes to inspire people and to help them achieve their dreams. Follow him on Twitter: @janyasor 1. Believe that even the smallest compliment can save someone's life 2. Remember that one person can change an entire nation