food
Get flash to fully experience Pearltrees
This time I decided to make it with those mini fruit flavored marshmallows. I had to sort them by colour first. I figured they would add a little bit of flavor to the fondant so I wouldn't have to add much flavoring oil. I use gel colours to dye my fondant but regular food colouring will work too.
Do y'all remember the scene in Runaway Bride (that's an Oscar contender if I've ever seen one…) where Julia Roberts realizes that she doesn't know how she likes her eggs? You know, because she's always turning herself into the girl that the guy she's marrying wants to be with? Yeah. That's not me.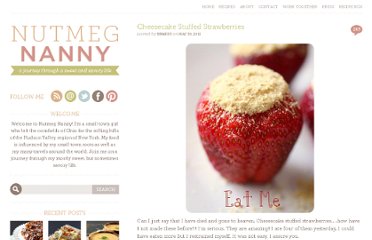 Cheesecake Stuffed Strawberries Can I just say that I have died and gone to heaven. Cheesecake stuffed strawberries….how have I not made these before?! I'm serious. They are amazing!
The USDA released its new food pyramid the other day (which is actually a plate now instead of a pyramid), and I am sorely disappointed to report that cinnamon rolls did not appear anywhere on that plate. I think by now most of us know what should be on our dinner plate in terms of healthy, well-rounded nutrient-laden meals, but it is my considered opinion that our breakfast plate should include cinnamon rolls now and then. And not just any cinnamon roll, mind you, but how 'bout a homemade cinnamon roll hybrid that is a cross between a cinnamon roll and cinnamon toast, is super easy to make and gosh darn delicious. In honor of their ancestry, I call these little gems cinnamon toast rolls, and here's all you need to make them…
Oct 21st, 2009 Roasting peppers is one of those intimidating techniques that becomes amazingly simple once you try it a few times. And it's not only easy, but kind of fun as well. I learned how to roast a sweet pepper from that culinary masterpiece, "The World According to Garp" by John Irving.
(2 servings) Tofu noodles, OMG! They are absolutely delightful! I've read complaints on the Internet about them smelling "fishy" and having an odd texture.
Happy halloween! I hope you all had lots of fun stuffing your faces with Almond Joys and Reese's Cups. All. Day. But I do hope that your incessant gorging was interspersed with a few bites of something substantial and nutritious. You know, like caramel apples and stuff.
I've always had a penchant for sunshine in a jar. Doesn't the very phrase itself, "sunshine in a jar," roll off your tongue and fill your mouth with magic? While I've never yet found myself a sunshine in a jar, I think we may have just concocted it in our kitchen tonight. In this simple recipe, a basic white cake is turned into a slew of bright colors, baked to perfection, then topped with a creamy white frosting.
Ingredients Dried tumeric Lemon juice Soy sauce Garlic (dried ok) Onion (dried ok) Honey Crystalised ginger juice (the ginger you buy in a jar that has the juice in with it, just take a teaspoon and add that in) Small bit of oil! Steak Method Now first of all please remember to tenderise your meat before hand!