Data Tools
Get flash to fully experience Pearltrees
FastStats Discoverer can be used standalone or as part of the FastStats.NET architecture. Stand alone use maximises speed and flexibility for individual analysts. Discoverer Enterprise connects to the FastStats.NET WebService and provides browser based accessibility, scalability and resilience for marketing workgroups. You also have the option of working with other parts of FastStats such as our customer modelling software . <p style="text-align:right;color:#A8A8A8"></p>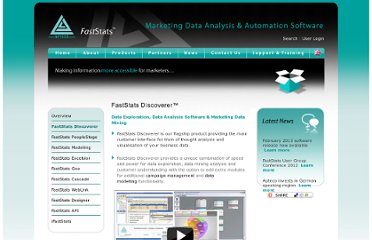 ProgrammableWeb gets you the latest on what's new and interesting with mashups, Web 2.0 APIs, and the Web as Platform. It's a directory, a news source, a reference guide, a community. Find: APIs, Mashups, Code, and Coders Our database of over 2000 open web APIs and thousands of applications people have built with them is the most comprehensive resource of its kind. Indexed, cross-referenced, and up-to-date.
Protovis composes custom views of data with simple marks such as bars and dots . Unlike low-level graphics libraries that quickly become tedious for visualization, Protovis defines marks through dynamic properties that encode data, allowing inheritance , scales and layouts to simplify construction.
Photo by Dan Nguyen/ProPublica Our Dollars for Docs news application [1] lets readers search pharmaceutical company payments to doctors. We've written a series of how-to guides explaining how we collected the data. Most of the techniques are within the ability of the moderately experienced programmer.