Photography
Paris Carnival 2012 by Jacques Bravo. Mountains of Books Become Mountains. I thought I'd seen every type of book carving imaginable, until I ran across these jaw dropping creations by Guy Laramee.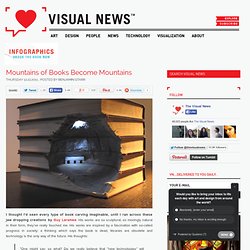 His works are so sculptural, so movingly natural in their form, they've really touched me. His works are inspired by a fascination with so-called progress in society: a thinking which says the book is dead, libraries are obsolete and technology is the only way of the future. 2011: The Year in Photos, Part 3 of 3 - Alan Taylor - In Focus.
2011 was a year of global tumult, marked by widespread social and political uprisings, economic crises, and a great deal more.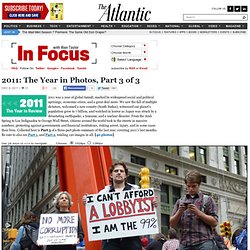 We saw the fall of multiple dictators, welcomed a new country (South Sudan), witnessed our planet's population grow to 7 billion, and watched in horror as Japan was struck by a devastating earthquake, a tsunami, and a nuclear disaster. From the Arab Spring to Los Indignados to Occupy Wall Street, citizens around the world took to the streets in massive numbers, protesting against governments and financial institutions, risking arrest, injury, and in some cases their lives. Collected here is Part 3 of a three-part photo summary of the last year, covering 2011's last months.
Be sure to also see Part 1, and Part 2, totaling 120 images in all. [40 photos] Use j/k keys or ←/→ to navigate Choose: Stunning Images of Paint Being Dropped in Water. The images that you see before you appear to be different things to different people.
Because of my obsession with the National Geographic and the Discovery Channel, to me, the images below appear to be some newly discovered creatures from the deep sea or images released by NASA of newly discovered galaxies. These stunning images are taken by British photographer, Mark Mawson, who has been taking pictures for over 22 years and specializing in shooting under water scenes. For his Aqueous Series, he takes several drops of colored paint and drops it into a tank of water.
As gravity goes to work, so does Mark Mawson. He uses a strobe light to light up the scene and captures the scene as the paint disperses. 70 Photos That Will Take Your Breath Away. We here at DPShots believe that the easiest way to learn photography is to learn it by example.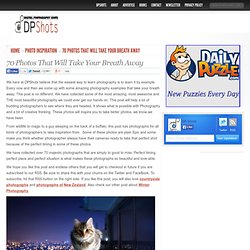 Every now and then we come up with some amazing photography examples that take your breath away. This post is no different. We have collected some of the most amazing, most awesome and THE most beautiful photography we could ever get our hands on. Best Photos of the Year 2011. Posted Dec 15, 2011 Share This Gallery inShare29 The best photos of 2011 from around the globe.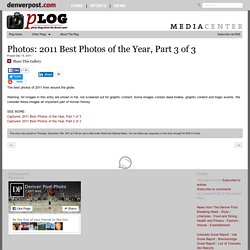 Warning: All images in this entry are shown in full, not screened out for graphic content. Some images contain dead bodies, graphic content and tragic events. 40 Amazing Airplane Wallpapers. These 50 Photos Will Blow you Away. Great news today: we will start a series of showcases that are meant to make the jaws drop!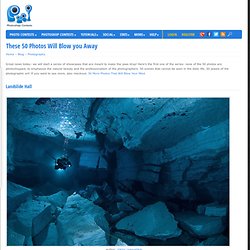 Here's the first one of the series: none of the 50 photos are photoshopped, to emphasize the natural beauty and the professionalism of the photographers. 50 scenes that cannot be seen in the daily life, 50 jewels of the photographic art! If you want to see more, also checkout: 50 More Photos That Will Blow Your Mind Landslide Hall Clouds on Fire. Michael Muller. Gallery: "the evening dreams" Tree Mirror" by Teus Renes. National Geographic Photo Contest 2011 - In Focus. National Geographic is currently holding its annual photo contest, with the deadline for submissions coming up on November 30.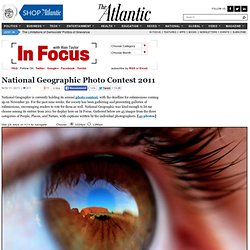 For the past nine weeks, the society has been gathering and presenting galleries of submissions, encouraging readers to vote for them as well. National Geographic was kind enough to let me choose among its entries from 2011 for display here on In Focus. Gathered below are 45 images from the three categories of People, Places, and Nature, with captions written by the individual photographers. [45 photos] Use j/k keys or ←/→ to navigate Choose: 36 Jaw-Dropping Nature Photos. World Press Photo Of The Year 2010. The World Press Photo Of The Year Contest is one of the most prestigious annual events for press photographers.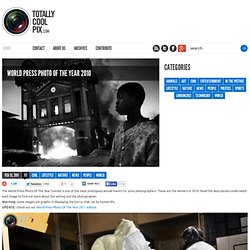 These are the winners in 2010. Read the descriptions underneath each image to find out more about the setting and the photographer.Warning: Some images are graphic in displaying the horror that can be human life.UPDATE: Check out our World Press Photo Of The Year 2011 edition. 101. Daniele Tamagni, a freelance photographer based in Italy, has won the 2nd Prize in the Arts and Entertainment Stories category with the series The Flying Cholitas in Bolivia: Lucha libre (Bolivian wrestling).
Early 1900s in Colour - All around the world. All around the world - Franny Wentzel - Thursday, May 6th, 2010 : goo [previous] :: [next] In the early part of the 20th century French-Jewish capitalist Albert Kahn set about to collect a photographic record of the world, the images were held in an 'Archive of the Planet'.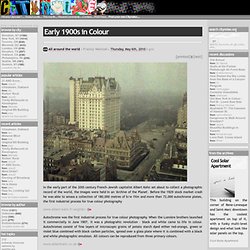 Before the 1929 stock market crash he was able to amass a collection of 180,000 metres of b/w film and more than 72,000 autochrome plates, the first industrial process for true colour photography www.albert-kahn.fr/english/ Autochrome was the first industrial process for true colour photography. 25 Most Beautiful Animals Photography on StumbleUpon. Vadim Mahorov. Unrealistic Scenes on Photography Served. Unrealistic Scenes some things you'll never see This is an ongoing project of composite photographs.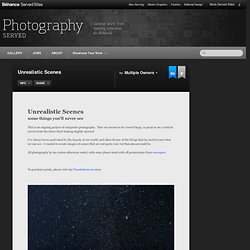 They are meant to be viewed large, in print or on a vertical screen from the lower third looking slightly upward. I've always been captivated by the beauty of our world, and often dream of the things that lay just beyond what we can see. Retronaut. Best Russian Photographs 2011 » Creative Photography. 50 Most Strange and Unusual Buildings arround the World. The world is full of beautiful strange and fantastic buildings that are the examples of amazing architecture. Architecture Photography brings this beauty to the world, and for this reason, architectural photography is as thrilling as it is heartwarming.
In this roundup, we have compiled an amazing collection of some bizarre yet interesting buildings that are reflected through architectural photography. Enjoy! The UFO house in Sanjhih The Device to Root Out Evil. The Luxury Carlton Hotel, St. Moritz, Switzerland. The Luxury Carlton Hotel, St. Moritz, Switzerland Recently awarded with the Commitment to Quality Award by Leading Hotels of the World for Best in Europe, the 5* Carlton Hotel, St. Moritz offers dining, skiing and wellness in absolute style. Photos.
---