Websites to remember
Homepage. ThisIsWhyImBroke.com :: The Internet's Mall. TransPerfect | Solutions for global business, including translations, language services, and globalization management technology. Chartboost. Google Ventures. Skeleton: Beautiful Boilerplate for Responsive, Mobile-Friendly Development. Web design, web development, mobile & content strategy by Happy Cog. Alma Mater Store - Personalized College Gifts - T-shirts, tees, hoodies, Mugs and more | Bulk Order customized merchandise for all college and School, India. Learning to Love the Boring Bits of CSS.
The future of CSS gives us much to be excited about: On the one hand, there's a whole range of new methods that are going to revolutionize the way we lay out pages on the web; on the other, there's a new set of graphical effects that will allow on-the-fly filters and shaders.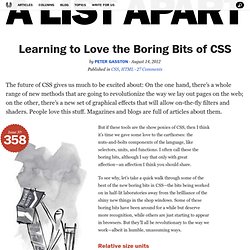 People love this stuff. Magazines and blogs are full of articles about them. RainyMood.com: Rain makes everything better. Main Page. Task & Errand Service By Awesome, Trustworthy People | TaskRabbit. 46 Fabulous iOS Icon Designs. Get the FlatPix UI Kit for only $7 - Learn More or Buy Now In this post we have collected 46 fabulous ios icon designs.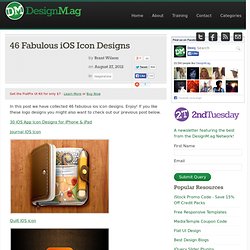 Enjoy! If you like these logo designs you might also want to check out our previous post below. The 99 Percent - It's not about ideas. It's about making ideas happen. DesignCharts // Weekly Top 40 Website Design Charts // Because Web Designers Are The New Rockstars // Best Website Designs Updated Weekly. The Art & Business of Making Games. This is Your Brain on CSS. First things first: the CSS 3D renderer used to power this the previous site is now available on GitHub.com.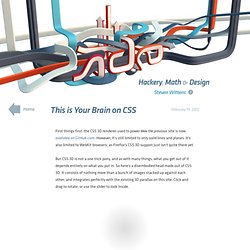 However, it's still limited to only solid lines and planes. It's also limited to WebKit browsers, as Firefox's CSS 3D support just isn't quite there yet. But CSS 3D is not a one trick pony, and as with many things, what you get out of it depends entirely on what you put in. So here's a disembodied head made out of CSS 3D. How to Create an Video Player in jQuery, HTML5 & CSS3 [Tutorial] Topic: jQuery / CSS3Difficulty: Intermediate / AdvancedEstimated Completion Time: 45 mins In this tutorial we will code an Video Player from Impressionist UI by Vladimir Kudinov.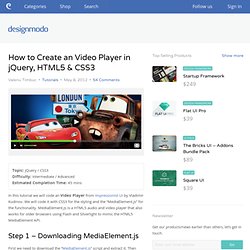 We will code it with CSS3 for the styling and the "MediaElement.js" for the functionality. MediaElement.js is a HTML5 audio and video player that also works for older browsers using Flash and Silverlight to mimic the HTML5 MediaElement API. Step 1 – Downloading MediaElement.js First we need to download the "MediaElement.js" script and extract it. Hello, we're IMPERO - a clever little agency in London, Sydney & Auckland. It's important to be both good looking clever.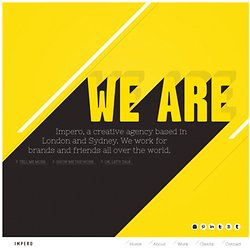 Let us explain. Everything we make looks good. That's why you engage an agency like ours; you want your communications to look good. TechCrunch. Happiness Islands | Coca-Cola Happy Sitelets. Celebrating 10 Years of Small Business Success | biz. Bands and DJs can leave computer programming to the experts when it comes to developing their own mobile app.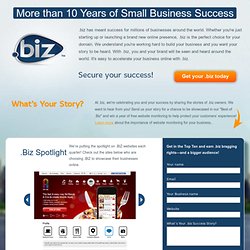 Now with App.biz, they can spend more time focusing on their music and quickly create a personalized mobile application to connect with their fans. App.biz makes it possible for artists to easily sell their songs via iTunes, stream videos, podcasts and music, and promote their upcoming performance schedules. The company offers a free product version to startup musicians as well as customized services for famous clients such as LinkinPark, Metallica, Lady Gaga and Eminem. App.biz is routinely featured in leading media publications such as Business Insider, The New York Times, TechCrunch, VentureBeat, The Wall Street Journal, Mashable and more.
Facebook's IPO: Trading opens at $42 per share - May. 18. Facebook CEO and founder Mark Zuckerberg rang the opening bell remotely, from company headquarters in California.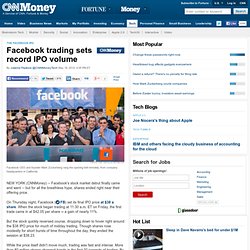 NEW YORK (CNNMoney) -- Facebook's stock market debut finally came and went -- but for all the breathless hype, shares ended right near their offering price. On Thursday night, Facebook (FB) set its final IPO price at $38 a share. When the stock began trading at 11:30 a.m. ET on Friday, the first trade came in at $42.05 per share -- a gain of nearly 11%. But the stock quickly reversed course, dropping down to hover right around the $38 IPO price for much of midday trading.
How to Create a CSS3 Dropdown Menu [Tutorial] Topic: CSS3Difficulty: BeginnerEstimated Completion Time: 20 mins In this tutorial we will code in pure CSS3 the Navigation Menu that you can find in Impressionist UI by Vladimir Kudinov.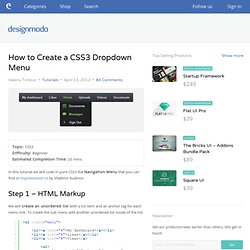 Step 1 – HTML Markup. Create a Cartoon-Style Graffiti Text Effect in Photoshop | Text Effects. Create a Cartoon-Style Graffiti Text Effect in PhotoshopReviewed by Ashlee Harrell on Mar 5Rating: Preview of Final Results Download the PSD Graffiti Text.zip | 16.32 MB Download from Website.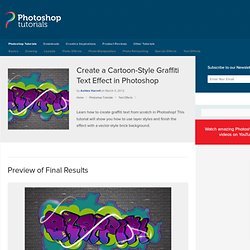 Fonts. Web Design & Development News: Collective #11. ThePENTHOUSEPROJECT. 20 Facebook Tips/Tricks You Might Not Know. Hi-Tech wallpapers - page 5. PHOTOSHOP | Tech Tips for Webmasters , Designers and Bloggers. 25 Best Text Effects Tutorials in Photoshop If you want to add a few 3D effects on text in images, then you could use some help from this article which lists 25 best text effects tutorials.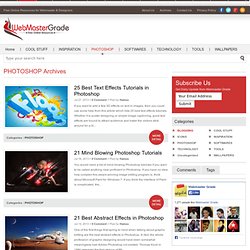 Whether it is poster designing or simple image captioning, good text effects are bound to attract audience and make the visitors stick around for a lit... 21 Mind Blowing Photoshop Tutorials. Work We Award. What Type of Work Does FWA award? Here's a selection of the type of work we award and welcome submissions from*: *NOTE: in a fast changing world, FWA is open to, and welcomes, any submission that is not listed below, as long as the submission demonstrates cutting edge creativity.
>> Submit project now >> Submit mobile project now. Gumroad - Sell anything you can share. Stuff for Smart Masses. Best Web Gallery. Make Your Mockup in Markup. We aren't designing copies of web pages, we're designing web pages.
Andy Clarke, via Quotes on Design The old way I used to think the best place to design a website was in an image editor. I'd create a pixel-perfect PSD filled with generic content, send it off to the client, go through several rounds of revisions, and eventually create the markup. Does this process sound familiar? Highlights for Children - Magazines, Puzzle Book Clubs, Games, Gifts & Toys. A world of music. Cybersecurity Stocks: The Names To Consider Now | Technology. Earlier this month, Americans were alarmed to learn that hackers had stolen nearly 1.5 million credit card numbers from Global Payments ( GPN ), an Atlanta, Georgia-based payment processor and former Visa ( V ) partner.
Such stories have appeared in the news with increasing frequency, and it's not just large corporations being targeted by cyber criminals. In fact, small organizations , such as physicians' offices, saw the greatest number of data breaches last year. In a separate investigation, Verizon's ( VZ ) annual Data Break Investigations Report examined 855 account breaches from around the globe and found that criminals compromised 174 million records in 2011. VentureBeat | Tech. People. Money. Sports and Pop Culture from Bill Simmons and our rotating cast of writers.
---