Drinks
Best AnswerVoter's Choice I tried it once. Get those little disposable coffee cups that people use for espresso. You will need to buy 2 packets of gelatin with no flavor.
How do you make jager bomb jello shots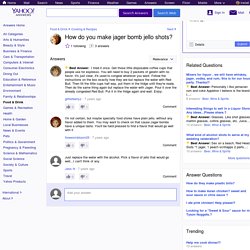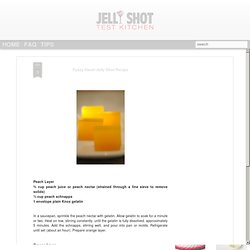 Peach Layer¾ cup peach juice or peach nectar (strained through a fine sieve to remove solids) ¼ cup peach schnapps 1 envelope plain Knox gelatin In a saucepan, sprinkle the peach nectar with gelatin. Allow gelatin to soak for a minute or two. Heat on low, stirring constantly, until the gelatin is fully dissolved, approximately 5 minutes.
Fuzzy Navel Jelly Shot Recipe
10 Jello Shots Worth the Hangover | Yummly
I made these for our New Years Eve Party (with left over oranges and cherry jello we had in the pantry) and they were a huge hit. Who doesn't love jello shots? Brings me right back to college.
Fancy Watermelon Jello Shooters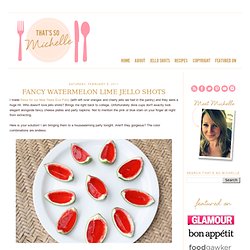 Or Jell-O shots. Whichever way you call it, Edible Cocktails are quirky. From seeing them wiggle on the platter, tilting your head back and throwing one down, to licking the stickiness from your fingers, you will agree that these gel cocktails will bring smiles to your guests' faces. But don't let these childhood-like treats fool you, they have a bite and will sneak up on you if you have a few too many. I first saw these on Brilynn's site Jumbo Empanadas and knew that these would be what I would bring to Himself's office party the other night. It would be a warm evening by the pool and some silly food would be fun.
Big Red Kitchen: How to Make Edible Cocktails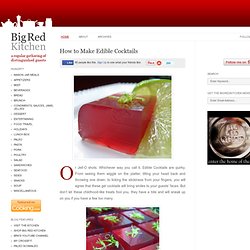 Unfettered F-U-N . . . Rainbow Jelly Shooter!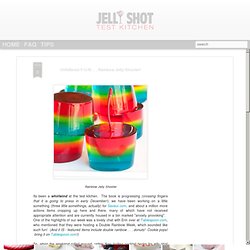 Rainbow Jelly Shooter Its been a whirlwind at the test kitchen. The book is progressing (crossing fingers that it is going to press in early December!), we have been working on a little something (three little somethings, actually) for Saveur.com, and about a million more actions items cropping up here and there, many of which have not received appropriate attention and are currently housed in a bin marked "anxiety provoking". One of the highlights of our week was a lovely chat with Erin over at Tablespoon.com, who mentioned that they were hosting a Double Rainbow Week, which sounded like such fun! (And it IS - featured items include double rainbow . . . donuts!
A row of Bramble Jelly Shots, a la Toby Cecchini, beckons . . . I have been dying to have a go at the Bramble Jelly Shot recipe since it first appeared on the NYT blogs in March of this year! A Bramble cocktail is quite divine - a lemon sour base, gin, and a float of blackberry liqueur. The Bramble's translation to gelatin was conducted by noted cocktail expert/bartender/author Toby Cecchini, who also wrote the NYT piece. Take a minute to read the article if you can - its a tremendously fun read, not only because JSTK is mentioned in the article - Toby's trials and tribulations in Jelly Shot Land are very entertaining! Well, Bramble Jelly Shot was certainly worth the wait.
The Bramble
Blueberry Martini Jello Shots – NYC | Bionic Bites
Blueberry Martini Jello Shots My friend Chris invited me to a barbecue last weekend, and wanting to be a good BBQ guest like Deb at Smitten Kitchen, I offered to bake a pie. It turns out, though, no one who was attending the BBQ was very excited at the prospect of pie.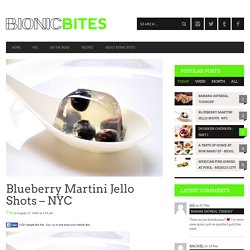 Someone Left The Cake Out In The Rain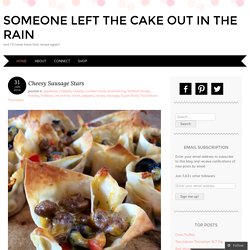 Goodbye. Adieu. Adios. Ciao. Arrivederci.
Frozen Coconut Limeade | She Wears Many Hats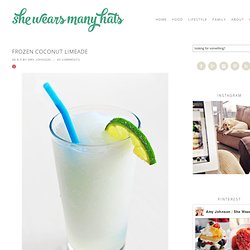 Frozen Coconut Limeade gets me singing. Put the lime in the coconut and mix it all up? Or put the coconut in the lime and stir it all together? Nope, put the lime and the coconut in the blender and blend it all up. And that's all she wrote. Frozen Coconut Limeade only take two ingredients, some ice, a splash of water and you're done.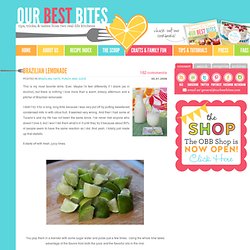 Brazilian Lemonade | Our Best Bites
This is my most favorite drink. Ever. Maybe I'd feel differently if I drank (as in alcohol), but there is nothing I love more than a warm, breezy afternoon and a pitcher of Brazilian lemonade. I didn't try it for a long, long time because I was very put off by putting sweetened condensed milk in with citrus fruit.
drunken watermelon on tap
I know what you're thinking: "What if I attached a faucet to a watermelon and filled it with spiked watermelon juice so party guests could serve themselves right from the melon?" Well, my husband finally turned that dream into a reality. After testing three different types of faucets and spending the entire afternoon of our housewarming party creating his masterpiece — only to have it clog just hours before guests arrived, resulting in a mad dash to Home Depot and the supermarket so he could do it all over again — he's now perfected the model so all you have to do is build it. Want to impress guests with a DIY watermelon keg of your own? Read on to find out how...
Drink Recipes, Drinking Games and More at Bar None Drinks
Store - Check out our Bar Store for all of your Bartending needs. Drinks by Category - If you know the name of the cocktail, shooter, punch, hot drink or non-alcoholic recipe you need, use the index to surf via category and name. All of our recipes are listed here. Games - Here are all of our drinking games from the latest creations to the old classics. Browse by category, search by name or allow us to suggest a random game to try.
Gastronomers Guide: Watermelon and Mint Ice Cubes
For an interesting twist to serving iced tea, add these watermelon and mint ice cubes. I've adapted a recipe from Relish magazine, an excellent new food magazine that can be found as a supplement in your Sunday paper. The ice cubes go well with any drink you want to liven up, not just tea: add it to punch, lemonade, mixed drinks, and so on. This recipe also works well for making freezer pops and granita.Watermelon and Mint Ice Cubes
It's no secret… I'm a big fan of the Chocolate-Hazelnut flavor combination. So far I've used this flavor profile to make these cookies… as well as these… I've also used it to frost a cake… to add a little "PZAZZ!" to a cheesecake…
Nutella embodied in a Shot
fresh orange smoothie ("orange julius") | gimme some oven
Apparently I've had tacos on the brain lately. After making a batch of this Skinny Slow Cooker Taco Soup last weekend, I decided to use the leftover ingredients to make this Skinny Taco Salad. Then on Monday, I had tacos for lunch from my favorite neighborhood burrito bar and made taco popcorn for a neighbor girls' night at my place. Then yesterday, I couldn't resist and made round two of this salad just because it was that awesome.
Watermelon Limeade - Martha Stewart Recipes
Lavender Lemonade & Shindig 411
Roy G. Biv Smoothies | Macheesmo
Pink Gin Fizz - Martha Stewart Recipes
Tequila-Soaked Watermelon Wedges - Martha Stewart Recipes
Strawberry Margarita Jell-O Shooters | Bakers Royale
Strawberry Lemonade Recipe | The Family Kitchen
Frozen Butterbeer for the Deathly Hallows Premiere - Cook Like a Champion
Skittles vodka