Drinks
Best AnswerVoter's Choice
How do you make jager bomb jello shots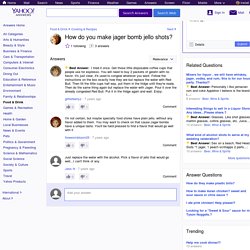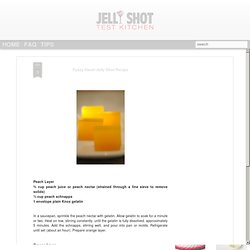 Peach Layer¾ cup peach juice or peach nectar (strained through a fine sieve to remove solids) ¼ cup peach schnapps 1 envelope plain Knox gelatin
Fuzzy Navel Jelly Shot Recipe
10 Jello Shots Worth the Hangover | Yummly
I made these for our New Years Eve Party (with left over oranges and cherry jello we had in the pantry) and they were a huge hit. Who doesn't love jello shots? Brings me right back to college.
Fancy Watermelon Jello Shooters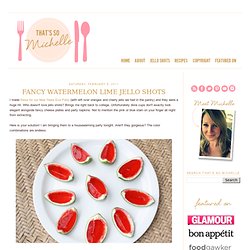 Or Jell-O shots. Whichever way you call it, Edible Cocktails are quirky.
Big Red Kitchen: How to Make Edible Cocktails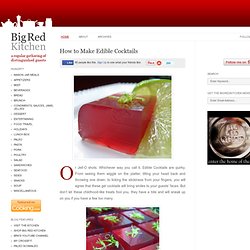 Unfettered F-U-N . . . Rainbow Jelly Shooter!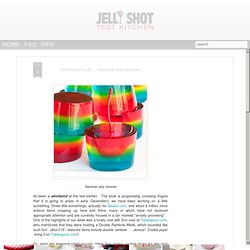 Rainbow Jelly Shooter Its been a whirlwind at the test kitchen.
A row of Bramble Jelly Shots, a la Toby Cecchini, beckons . . . I have been dying to have a go at the Bramble Jelly Shot recipe since it first appeared on the NYT blogs in March of this year!
The Bramble
Blueberry Martini Jello Shots – NYC | Bionic Bites
Blueberry Martini Jello Shots My friend Chris invited me to a barbecue last weekend, and wanting to be a good BBQ guest like Deb at Smitten Kitchen, I offered to bake a pie. It turns out, though, no one who was attending the BBQ was very excited at the prospect of pie.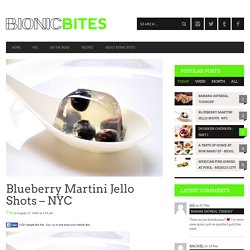 Someone Left The Cake Out In The Rain
Frozen Coconut Limeade | She Wears Many Hats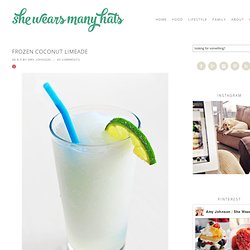 Frozen Coconut Limeade gets me singing. Put the lime in the coconut and mix it all up?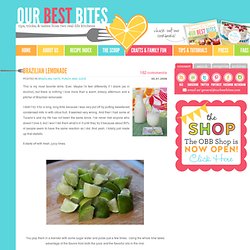 Brazilian Lemonade | Our Best Bites
This is my most favorite drink.
drunken watermelon on tap
I know what you're thinking: "What if I attached a faucet to a watermelon and filled it with spiked watermelon juice so party guests could serve themselves right from the melon?" Well, my husband finally turned that dream into a reality.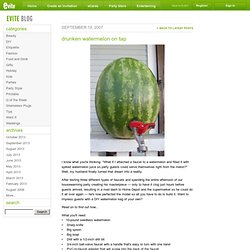 Drink Recipes, Drinking Games and More at Bar None Drinks
Gastronomers Guide: Watermelon and Mint Ice Cubes
For an interesting twist to serving iced tea, add these watermelon and mint ice cubes.
It's no secret… I'm a big fan of the Chocolate-Hazelnut flavor combination. So far I've used this flavor profile to make these cookies…
Nutella embodied in a Shot
fresh orange smoothie ("orange julius") | gimme some oven
Apparently I've had tacos on the brain lately.
Watermelon Limeade - Martha Stewart Recipes
Lavender Lemonade & Shindig 411
I've had a few requests over the last few weeks for some smoothie recipes because I let it slip that Betsy and I generally just have a big smoothie for breakfast everyday. Turns out our daily smoothie recipe is a mix between yellow, red, and indigo, but that'll make more sense to you later.
Roy G. Biv Smoothies | Macheesmo
Pink Gin Fizz - Martha Stewart Recipes
Tequila-Soaked Watermelon Wedges - Martha Stewart Recipes
Strawberry Margarita Jell-O Shooters Margarita Jell-O Shooters ~ A fun farewell to summer and a festive edition to your Sunday football tailgate party or gatherings. For another Jello shooter variation like this one, check out my Lemon Drop Jello Shooters cut into the shape of lemon wedges and my Rocky Candy Shooters shaped just like the rock candy you loved as a kid.
Strawberry Margarita Jell-O Shooters | Bakers Royale
Strawberry Lemonade Recipe | The Family Kitchen
Frozen Butterbeer for the Deathly Hallows Premiere - Cook Like a Champion
Skittles vodka