Food
What Should I Eat For Lunch? (Quiz)
Amazing
Budget Bytes - My stomach is full, and my wallet is too. Cook Once, Eat for the Week. By Karen Ansel, R.D. 1 of 6 Roast Chicken with Creamy Polenta and Mushroom Ragout.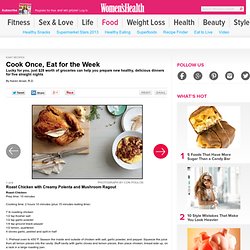 Ramen Hacks: 30+ Easy Ways to Upgrade Your Instant Noodles. SLIDESHOW: Ramen Hacks: 30+ Easy Ways to Upgrade Your Instant Noodles [Photographs: J.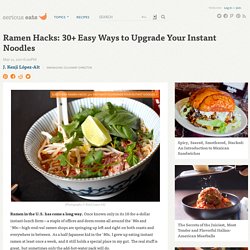 Kenji Lopez-Alt] Ramen in the U.S. has come a long way. 25 Easy Breakfast Hacks To Make Your Morning Brighter. 50 Vegan Sandwiches. Every so often the Times has a huge food section article with like, 101 ideas for salads or 101 ideas for grilling.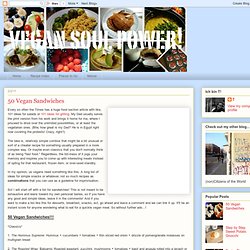 My Dad usually saves the print version from his work and brings it home for me, where I proceed to drool over the unlimited possibilities, or at least the vegetarian ones. (Btw, how great is my Dad? He is in Egypt right now covering the protests! Crazy, right?) The idea is, relatively simple combos that might be a bit unusual or sort of a cheater recipe for something usually prepared in a more complex way.
Tea
Tequila Recipes at Epicurious. Fluff sandwich. What The Fuck Should I Make For Dinner? What should you eat right now? Breakfast. Healthy eating diet. Better information. Better health. Dinner under 10 - iVillage. Crusty Bread. I must begin by saying where the recipe originated, if in fact it originated anywhere...really.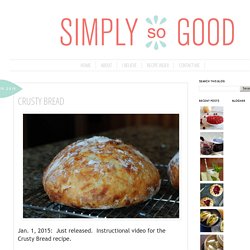 I think bread has been baked for centuries using flour, salt, water, and yeast or other form of leavening. As far as I know the recipe for "No-Knead" bread dough was printed in the New York times. I don't know what month, day, or year. The originator is Jim Lahey of Sullivan Street Bakery. That's all I know. - StumbleUpon.
Holidays
Punchfork - The best new recipes from top food sites - StumbleUpon. Recipes from Kevin & Amanda - StumbleUpon. So excited to share this super easy, ultra creamy pesto alfredo sauce, poured over dreamy, fluffy gnocchi and topped with crisp bacon and shaved parmesan.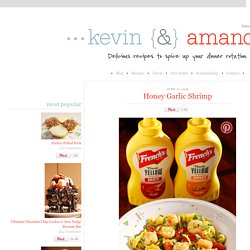 It's warm, hearty, delicious, and perfect for busy weeknights. The combo of bacon, creamy basil pesto, and parmesan send this decadent sauce over the top!! It's seriously too good to eat in public. Gnocchi are basically potato dumplings, so serve this to your meat-and-potatoes loving family for a sure-fire winner! Warm Toasted Marshmallow S'more Bars. Hi ZestyCook readers!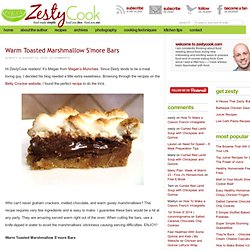 It's Megan from Megan's Munchies. Since Zesty tends to be a meat loving guy, I decided his blog needed a little extra sweetness. - StumbleUpon. Kitchen Helpers - StumbleUpon. I found these helpful charts last week and just had to share!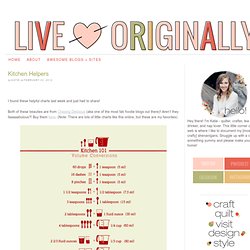 Both of these beauties are from Chasing Delicious (aka one of the most fab foodie blogs out there)! Aren't they faaaaabulous?! Buy them here. (Note: There are lots of little charts like this online, but these are my favorites). Tomato and Bread Bowl 'Soupetizers' | PETA.org - StumbleUpon. The following article was written by Keegan Baur.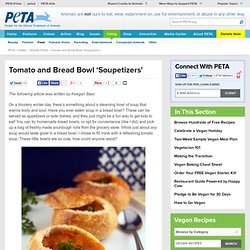 On a blustery winter day, there's something about a steaming bowl of soup that warms body and soul. Have you ever eaten soup in a bread bowl? These can be served as appetizers or side dishes, and they just might be a fun way to get kids to eat! You can try homemade bread bowls, or opt for convenience (like I did) and pick up a bag of freshly made sourdough rolls from the grocery store. 12 healthy homemade candy recipes | MNN - Mother Nature Network - StumbleUpon. Robin shared some wonderful choices for healthier organic candy for Halloween last week.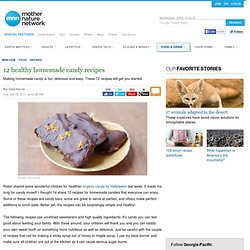 It made me long for candy myself! I thought I'd share 12 recipes for homemade candies that everyone can enjoy. Some of these recipes are candy bars, some are great to serve at parties, and others make perfect additions to lunch pails. Better yet, the recipes can be surprisingly simple and healthy! Watermelonade Recipe at Epicurious.com - StumbleUpon. Photo by Roland Bello yield Makes 1 gallon (serves 16) active time 30 min total time 30 min You would be hard-pressed to find something more refreshing than watermelon.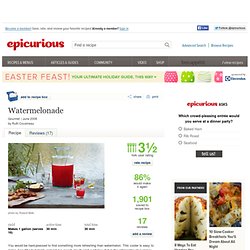 Almost-Famous Bloomin' Onion Recipe : Food Network Kitchens. Directions For the Dip:For the Onion: See how to slice a Bloomin' Onion. Best Places To Eat in El Paso (West, China: restaurants, buffet)
---