Crafting
DIY Apothecary Bottle - DIY Bridesmaid Gift. This do-it-yourself apothecary jar would make a thoughtful guest favor or bridesmaid gift!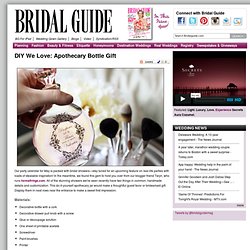 Our party calendar for May is packed with bridal showers—stay tuned for an upcoming feature on real-life parties with loads of stealable inspiration! In the meantime, we found this gem to hold you over from our blogger friend Taryn, who runs formalfringe.com. All of the stunning showers we've seen recently have two things in common: handmade details and customization.
This do-it-yourself apothecary jar would make a thoughtful guest favor or bridesmaid gift. Display them in neat rows near the entrance to make a sweet first impression. Stuff to Make in my Old Age. V and Co how to: jersey knit bracelet. I don't know what it is about this time of year that makes me just want to have my bare feet in the sand, be watching the sun setting into the ocean, and breathing in the warm salty air of the beach...as i get older, more and more i find myself missing that place i used to go to almost every.single.day. as a teen.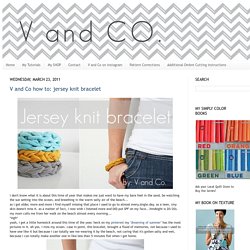 (my skin doesn't miss it. as a matter of fact, i now wish i listened more and DID put SPF on my face...hindsight is 20/20). my mom calls me from her walk on the beach almost every morning... *sigh*yeah, i get a little homesick around this time of the year. heck on my pinterest my "dreaming of summer" has the most pictures in it. ah yes. i miss my ocean. case in point. this bracelet, brought a flood of memories, not because i used to have one like it but because i can totally see me wearing it by the beach, not caring that it's gotten salty and wet, because i can totally make another one in like less than 5 minutes flat when i get home. Envelope Book. A Basic Envelope Book Materials Needed: To create a basic envelope book you will need: 4 envelopes all the same size2 pieces of plain cardstock cut to the same size as the envelopesPatterned scrapbook papers to cover the cardA piece of cardstock as wide as the envelopes and 12" longA length of ribbon.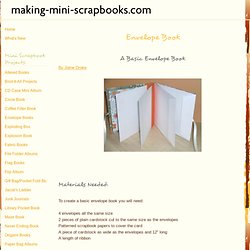 Steampunk fashion - Book purse. Book purses were mentioned on here a little while back.
I thought you might like to see the one I made. It's a nice accessory for the librarian side of steampunk! I had my eye on some attractively bound Reader's Digest Condensed Books (I have no pity for them) that were in the local library book sale, but wanted a little more space than one book could give me. So I made a box-type purse out of three. Recommended Reading: 65 Craft Blogs We Love. It's April, which means it's officially stashbusting month!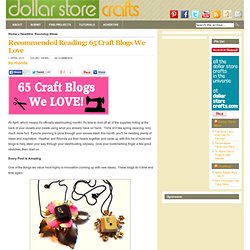 It's time to dust off all of the supplies hiding at the back of your closets and create using what you already have on hand. Think of it like spring cleaning, only much more fun! If you're planning to plow through your excess stash this month, you'll be needing plenty of ideas and inspiration. Heather and Rhonda put their heads together and came up with this list of must-visit blogs to help steer your way through your stashbusting odyssey. Give your bookmarking finger a few good stretches, then read on. More Design Please - MoreDesignPlease. Craft Test Dummies - The Craft Blog for High Impact Crafting. Thelongthread.com. Craft Ideas, Kids Crafts, Recipes and More.
Your Guide to Entertaining Inspiration. How to Make a Sailor's Knot Bracelet. Gracious Rain: Making The Most of What We've Got. Cheap Easy Craft Ideas, Tutorials, Free Crafts - Dollar Store Crafts. ScrapNgal. Under The Table and Dreaming. How About Orange. MADE. Illustration, Art for Children, Custom Design Services - Calobee Doodles. Super Obvious Secrets That I Wish They'd Teach In Art School at Marvelous Mustache Factory. I get a lot of emails from illustration students and young cartoonists.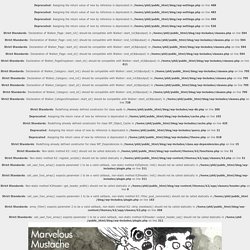 Sometimes they ask to interview me for a class assignment, sometimes they're recent graduates looking for advice on how to transition from art student to professional illustrator/cartoonist. I get emails asking about how I promote my work, how to "break into" illustration or comics, how to find clients, how to gain a following on the internet, etc. I usually laugh a little as I read all these emails because I myself am still really struggling to make ends meet as a full time illustrator and cartoonist. Studio Quality Product Photography With a $12 Set Up.
Handmadeology's resident product photography pro Mariano, has put together a $12 product photography set up that will help you acheive studio quality product photography .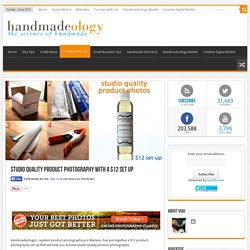 I took this picture in my kitchen. It looks like a photograph I could have done in the studio, using complicated lighting equipment. I did not. Lil' Luna - All Things Good. Sew Mama Sew! | Tutorials. 9 Cool Things to Do With Old Books » Written Word. Bibliophiles and bookworms, English majors and lovers of literature: is it possible to have too many books?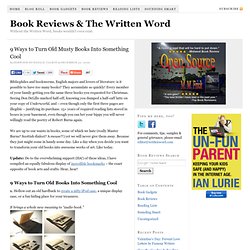 They accumulate so quickly! Every member of your family getting you the same three books you requested for Christmas. Do stuff! I started this project back in October of 2012, worked on it a little bit then, a little bit last spring, and then picked it back up and finished it over the last couple of weeks, finally!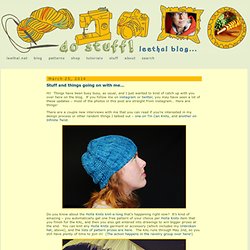 Hooray! I'm so excited to show it to you now! I got this ill-fitting but beautiful hand knit cardigan at a thrift store (4 years ago - wow time flies!) , knowing I'd someday fix it up and make it wearable: NoBiggie. Mini eco. Instructables - Make, How To, and DIY. Inchmark - inchmark journal. The Hybrid Chick. Skip to my Lou. Home - Wednesday Custom Design. Craftgawker | look to inspire. DIY | Handmade | Craft | Ideas - CraftGossip.com. Cut Out + Keep | Make and share step-by-step craft tutorials. Craftster.org - A Community for Crafts and DIY Projects with Free Craft Ideas, Inspiration, Advice and More. Wall-E Art.
---