Fun and thoughtful things
Heartwarming Thai Commercial - Thai Good Stories By Linaloved.
Interesting to know
Taille et complexité de l'univers. Humour. Spurious Correlations. Spurious Correlations By Tyler Vigen. Une plume, un équilibre, une vie. Une plume, un équilibre, une vie... Pedro Ivan - ¡Que manera de entregar a su hija! Dare-Change. Optical Illusion: Keep Your Eyes on the Cross. Project management. The Battle We Didn't Choose.
Blog d'un condamné. J'ai demandé à une infirmière pour rencontrer D….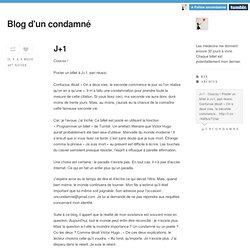 Une requête qui lui a semblé particulièrement étonnante. Il y a peu de contact entre les malades. Mais D… n'avait pas de visite à ce moment-là et il a accepté. J'ai été amené dans sa chambre et nous avons pris le temps de discuter. En écrivant ces lignes, je pleure. Petite histoire du ticket de métro parisien. Mini dictionnaire un brin pédant pour parler fleuri. Par David , mardi 18 septembre 2012.
Lien permanent ce lexique, hélas, n'est pas de moi, mais il se trouvait sur un site défunt, Titan keikomi. je le remets en ligne en hommage à leur travail. qu'ils en soient remerciés à jamais! Je suis prêt à mettre tous les crédits d'auteur pour ces lignes! A bacule n. m. Railroad Gauges, Roman Chariots and the Space Shuttle. Claim: The U.S. standard railroad gauge derives directly from the width of Imperial Roman war chariots.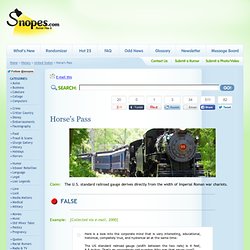 Example:[Collected via e-mail, 2000] Here is a look into the corporate mind that is very interesting, educational, historical, completely true, and hysterical all at the same time: The US standard railroad gauge (width between the two rails) is That's an exceedingly odd number. Why was that gauge used? Because that's the way they built them in England, and the US railroads were built by English expatriates.
Space Exploration History: The Space Shuttle and the Horse's Rear End. Space Exploration –> History Say friend, did you know that the US Standard railroad gauge (distance between the rails) is 4 feet, 8 1/2 inches.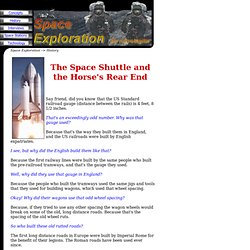 That's an exceedingly odd number. How the Romans Built the Space Shuttle. Sometimes you come across some facts that are hard to believe and yet are true.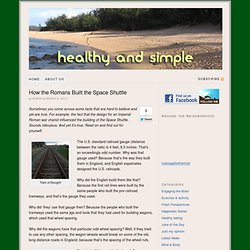 For example, the fact that the design for an Imperial Roman war chariot influenced the building of the Space Shuttle. Sounds ridiculous. Splitscreen: A Love Story. Something Every Teacher Should Watch. And Student. And Person. Google Body - Google Labs. Les 33 plus beaux lieux abandonnés dans le monde.
27 April 2013 Bien des endroits à travers la Terre ont, autrefois connu la civilisation.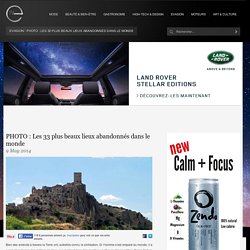 Si l'homme s'est emparé du monde, il a aussi abandonné des milliers de lieux qui recèlent bien des mystères à l'heure d'aujourd'hui.
---