Art
Information | Yayoi Kusama
New York by Subway
Artworks of Johnson Tsang | A blog about sculptures by Johnson Tsang
.alejandro.sordi.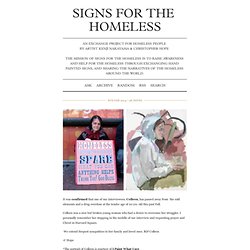 : Susan J. I was born and raised in East Boston, MA, and I have lived with my family in Cambridge for the last 20 years. My husband is from Cambridge so we decided to raise our three sons here. My family is myself, my husband, and our three sons (two of which are under 18 years old).
Signs for the Homeless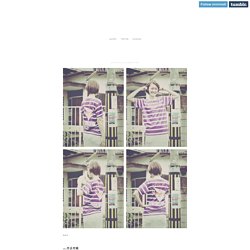 13th Dec 2013 | 543 notes rrrrrrrroll×Gucci http://on.gucci.com/bamboowebexclusive4 12th Dec 2013 | 747 notes rrrrrrrroll-for-ropepicnic:
RRRRRRRROLL_gif
Information | Yayoi Kusama
PRTLND
f5fb2a
Color Trends + Palettes
color generator. variety of palletes and fine search engine by keywords. inspiration and trends for graphic design, illustration and documents. btw the patterns are not as good by anonia Oct 28
Si sos diseñador,...
Google Image Result for http://3.bp.blogspot.com/--prVbP4e3-A/UD3fLTRspAI/AAAAAAAACvg/lbFZNc4IWAE/s1600/rene_magritte_508_the_raw_nerve_1960
Google Image Result for http://www.fineart-china.com/upload1/file-admin/images/new23/magritte-634568
VOGUE UKRAINE 2013 THERAPY // ZINK MAGAZINE NEXT DIMENSION// QUALITY MAGAZINE MALEFICENT // STILISTEN WINTER 2013 DIVE // REVS Magazine 2013 So schön wie gemalt // German GALA 47 HOWLING YOUTH // PUPmagazine 01 /2013 DARKLING // REVS MAGAZINE SIRENE // ILLI Magazine HURRICANES // personal project EBV advertisement 2013 LARISSA HOFMANN FAIRYTALES // German Madame 2013 YOUNG HANNIBAL // SCHÖN!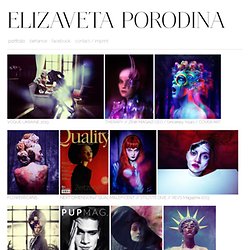 ELIZAVETA PORODINA | portfolio
Loretta Lux
DOZE — perpetually pushing forward
Graffuturism | ...decades of progression and regression...
jullien valle
:Embroidery: - Emily Sewell
Kristin Farr
Hi-Fructose Magazine | New Contemporary Art Magazine
The Nights of Our Lyves : Jason Dunne
Cultura Inquieta - Adele Enersen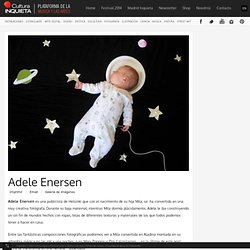 Adele Enersen es una publicista de Helsinki que con el nacimiento de su hija Mila, se ha convertido en una muy creativa fotógrafa. Durante su baja maternal, mientras Mila dormía plácidamente, Adele le iba construyendo un sin fin de mundos hechos con ropas, telas de diferentes texturas y materiales de los que todos podemos tener o hacer en casa. Entre las fantásticas composiciones fotográficas podremos ver a Mila convertida en Aladina montada en su alfombra mágica en las mil y una noches, o en Mary Poppins o Pipi Calzaslargas… en la última de este post hasta se transforma en una heroína: "Superbaby". Adele nos dice que su mayor hobby es intentar capturar con su cámara los sueños de su hija cuando esta duerme. "Un día se durmió sobre la alfombra en una postura divertida, como si fuera una pequeña espadachina y su padre y yo nos reímos pensando que podría estar soñando con ello.
Floral Tattoos
Ryan McGinness
Ryan McGinness | Quint Contemporary Art
Andy Gilmore personal cargo
Andy Gilmore's favorites Recently commented on Andy Gilmore's project Polytopia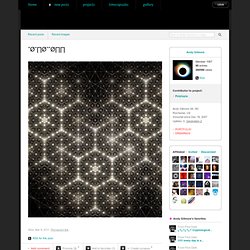 Artists | Quint Contemporary Art
Drawing (a)live Mexico 2012 | Current
Drawing (a)live México 2012 Primer Festival de Arte Contemporáneo acerca del dibujo en vivo como un acto de performance. El festival presenta algunas de las herramientas vivas disponibles para los artistas visuales ya sea análogas y/o digitales. Del texto de Erika Gabbani, curadora de la edición Drawing Italia y creadora del festival: Siempre hay algo mágico y fascinante de ver a un artista dibujar en vivo. En ese momento, quien dibuja se convierte en alguien más grande, amplio, las sensaciones son amplificadas comparado con lo que se esta viendo, el flujo creativo se convierte en el centro y un trazo en la verdad [...] Drawing (a)live es una serie de shows en vivo, performance, intervenciones urbanas, talleres, conferencias, proyecciones de videos y animaciones de diversos artistas nacionales e internacionales.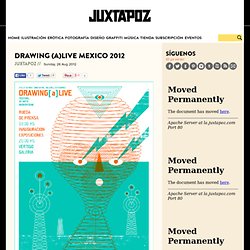 Matthew Cusick : Paintings & Collage
Egene koo
- pronomade(s) 10 : HELMO
Flowers & Geometrics art print « LouLou & Tummie
Yulia Brodskaya : Yulia Brodskaya
LA SOGA AL CIELO
Happy New Year Art Nouveau 2012
Mademoiselle Maurice
Entre el angel y el fantasma emergen coquetas nubes que quedan suspendidas al interior de espacios vacíos dentro de una galería. De acuerdo al sitio web Pijamasurf, se trata de la obra del artista holandés Berndaut Smilde, quien logra reproducir nubes "reales" en interiores. A diferencia de proyectos "similares" en los que artistas recurren a ilusiones ópticas, tecnologías digitales, o extrañas combinaciones de polímeros para recrear elementos que remitan a entidades nubosas, y cuyas obras distan de consumar la ligereza estética que se alcanza en este caso, Smilde utiliza una combinación entre humo, humedad, y precisión lumínica, que le permiten crear estos seres tan deleitables como efímeros. Fue en 2010 cuando el holandés obtuvo el primero de los resultados de su larga experimentación con estos cuerpos. En ese entonces su proyecto Nimbus, se realizó por encargo de la galería digital Project Probe.
Artista recrea nubes en el interior de una galería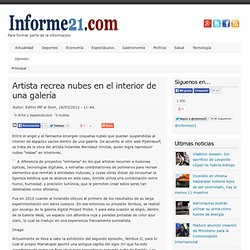 Jeremy Geddes
Jean-Baptiste Monge - Illustrateur
Virtual gallery Alexander Grigoriev
Henrik Aarrestad Uldalen
Jonas Löfgren
Principal: Sachin Teng
Aaron Kinnane - ARCHIVE
Shane McAdams - Home
BEAVORY
Tim Biskup
Luke Ramsey
| when kevin wins, the planet loses! |
MotionPhone released for iPad and iPhone « Snibbe App Store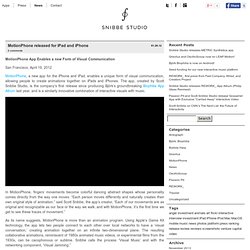 MotionPhone App Enables a new Form of Visual Communication San Francisco, April 19, 2012 MotionPhone, a new app for the iPhone and iPad, enables a unique form of visual communication, allowing people to create animations together on iPads and iPhones. The app, created by Scott Snibbe Studio, is the company's first release since producing Björk's groundbreaking Biophilia App Album last year, and is a similarly innovative combination of interactive visuals with music. In MotionPhone, fingers' movements become colorful dancing abstract shapes whose personality comes directly from the way one moves.
Janet Echelman: Taking imagination seriously
Janet Echelman Sculpture
Google Image Result for http://spacecollective.org/userdata/6MOg9Vvb/1216215168/2672279652_a89ba4764a.jpg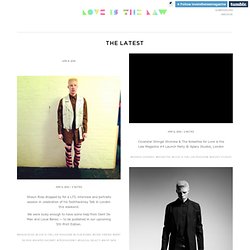 Chalie Railings is a Fashion Illustrator who keeps a rolling blog called DareToBeLondon which reacts to the trends and editorials in the City, "I have a magazine obsession and I love watching behind the scenes films of photo-shoots. My artworks vary in style because I am often drawn to new ways of working such as collage, but I always keep the theme youthful. I constantly adapt my way of drawing and experiment with line, my favourite model is Abbey Lee Kershaw and my favourite designer is Sorapol.
loveisthelawmagazine.tumblr.com
Le Bureau des Monstres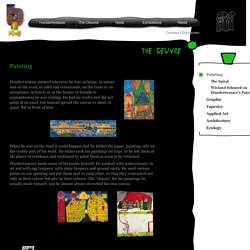 Hundertwasser painted wherever he was, at home, in nature and on the road, in cafés and restaurants, on the train or on aeroplanes, in hotels or at the homes of friends or acquaintances he was visiting. He had no studio and did not paint at an easel, but instead spread the canvas or sheet of paper flat in front of him. When he was on the road it could happen that he folded the paper, painting only on the visible part of his work. He either took his paintings on trips, or he left them at his places of residence and continued to paint them as soon as he returned. Hundertwasser made many of his paints himself.
Painting · Hundertwasser
yago's web
Portfolio Ashkan Honarvar | Kodachrome
Large Scale : Contemporary Mythology by Caitlin Hackett
banc poissons
JasonHackenwerth - home
((( Ben&Julia )))