Cafe Delhi Rock
Bread colored creations
Marshmallows recipe - Allrecipes India
Pour the sugar and 175ml (6fl oz) cold water into a heavy-based saucepan, place on a medium–high heat and bring to a rolling boil, stirring all the time until the sugar dissolves. Reduce the heat to low and allow to simmer for about 15–20 minutes without stirring, until a sugar thermometer dipped into the mixture reads 113°C. Alternatively, check that the soft-ball stage has been reached.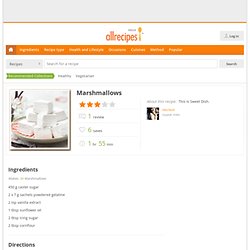 Banana Chocolate Chip Bread and Mini Loaves
Green Lemonade
The healthiest drink in the world? Lemonade stands will never be the same. I don't think I ever sold lemonade as a kid. I ran a cookie stand and a hot chocolate stand, and my friend and I once sold flowers we picked from her mom's garden.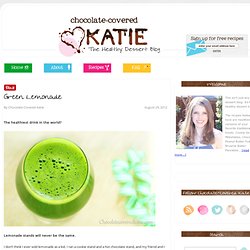 Laura Vitale - Cooking Videos, Recipes, Web Show and much more!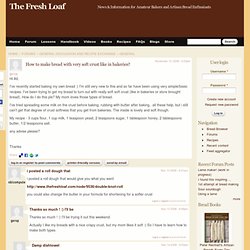 Hi All, I've recently started baking my own bread :) I'm still very new to this and so far have been using very simple/basic recipes. I've been trying to get my bread to turn out with really soft soft crust (like in bakeries or store brought bread). How do I do this pls?
How to make bread with very soft crust like in bakeries?
Tortilla Wraps: Great Recipes and Construction Plans
Fruit "Caviar" – Adventures in Molecular Cooking [3] | my last bite…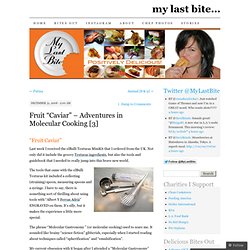 "Fruit Caviar" Last week I received the elBulli Texturas MiniKit that I ordered from the UK. Not only did it include the groovy Texturas ingredients , but also the tools and guidebook that I needed to really jump into this brave new world. The tools that came with the elBulli Texturas kit included a collecting (straining) spoon, measuring spoons and a syringe. I have to say, there is something sort of thrilling about using tools with "Albert Y Ferran Adrià " ENGRAVED on them. It's silly, but it makes the experience a little more special.
It all started when a tiny canine with a circle around one eye started appearing in Patrick McDonnell's illustrations for publications such as Sports Illustrated , Time , and Forbes . Next came the look-alike Jack Russell terrier named Earl that McDonnell adopted; in 1994 Earl inspired McDonnell's comic strip MUTTS . Appearing in more than 700 newspapers, the strip and its characters are also featured in more than 20 book collections, as well as in Guardians of Being , a collaboration with author Eckhart Tolle. McDonnell, 54, shares his New Jersey home with wife Karen O'Connell, a fellow veg, and with a Jack Russell terrier, Amelie, and a cat, MeeMow. Q What were you aiming for when you created MUTTS ?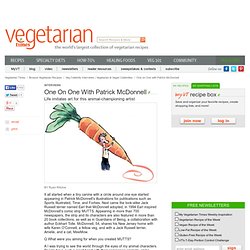 One on One with Patrick McDonnell
Vegan Dessert Recipes
Our Veggie Kitchen: Seitan Parmesan
I used to make chicken Parmesan whenever I wanted a good old-fashioned indulgence, but I'd abandoned thoughts of veganizing it long ago. After my fist bite of Daiya vegan cheese, though, I thought "I've gotta make Seitan Parmesan." I added some lemon zest and salt to the breading and it made for a tasty crust and, with the cheese and sauce, I was back in good-old-fashioned heaven again. Seitan Parmesan 1/2 Recipe Marinara Sauce (about 2 cups) 4 Chicken-y seitan cutlets 1 cup vegan mozzarella cheese oil for frying Breading: 1 cup bread crumbs (I used whole wheat) 1/4 cup flour 1/2 tsp lemon zest 1/4 tsp salt Batter: 1/2 cup unsweetened soy milk 1 tbs Vegenaise Prepare the marinara ahead of time or have your favorite jarred sauce ready.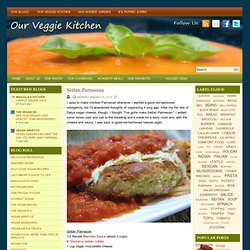 Treat yourself to a delightfully easy family dessert - ready in just five minutes Difficulty and servings Serves 4 Preparation and cooking times
Lemon curd & yogurt fool recipe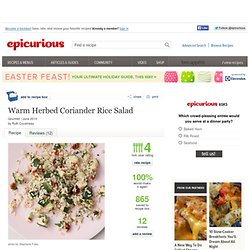 Bring rice and water to a boil with 1 tablespoon oil and 1/2 teaspoon salt in a 2-quart heavy saucepan. Cover and cook over low heat until water is absorbed and rice is tender, about 50 minutes. Let stand, covered, 10 minutes, then transfer to a shallow baking pan and cool to warm. While rice is standing, cook coriander and cumin seeds in remaining 2 tablespoons oil in 12-inch heavy skillet over medium heat, stirring constantly, until fragrant and a shade darker, 1 to 2 minutes. Add garlic, zucchini, 1/2 teaspoon salt, and 1/4 teaspoon pepper and cook, stirring frequently, until zucchini is crisp-tender, 5 to 7 minutes. Toss zucchini mixture with rice, herbs, lemon juice, pecans, and salt and pepper to taste.
Warm Herbed Coriander Rice Salad Recipe at Epicurious
Lentil Salad with Tomato and Dill Recipe at Epicurious
Cover quinoa with water using at least twice the amount of water to quinoa. Soak quinoa in a bowl for 12 hours. Using running water, place the grains in a jar with a screen or cheesecloth lid; or use some other sprouting apparatus. Rinse seeds twice a day. Lay the jar sideways to give them room to grow. Cover the jar with a dark cloth loosely so that air can move through the lid.
Redirecting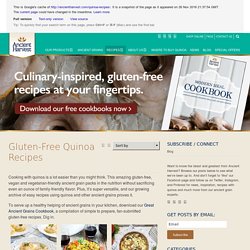 Roasted Root Vegetable and Apple Soup Recipe - Root Vegetable Soup Recipe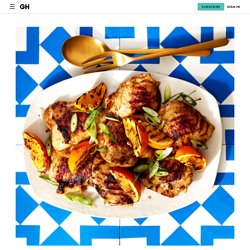 Photo: Lori Lee Miller / Istock Pureeing winter root vegetables together and enjoying them in soup is a great way to extend their flavors. INGREDIENTS 2 sweet potatoes, large, peeled and diced 8 parsnips, peeled and diced 2 small onions, peeled and diced 2 apples, peeled and diced 1/4 cup oil 1/4 cup honey 2 tablespoons chopped fresh rosemary 1 teaspoon five spice powder 2 teaspoons salt 1 teaspoon freshly ground pepper 4 cups vegetable broth 1/2 cup Marsala (optional) 2 ounces dried apples 3/4 cup creme fraiche PREPARATION 1. Preheat oven to 375 degrees F.
How To Make Chocolate Tart
You can make it up to two days ahead. Any leftovers will make a welcome treat with a cup of coffee the next day Difficulty and servings
No-cook chocolate tart recipe
How to make perfect chocolate mousse | Life and style
Crepes suzettes and rhum baba may have come and gone, and profiteroles long outstayed their welcome, but chocolate mousse is one sixties favourite that's immune to the vagaries of fashion. Richly flavoured, yet light as air, there are few more perfect ways to end a meal. But, as with so many of its contemporaries time has not been kind to this once proud dessert – people have added olive oil , basil , and even – dear God – avocado, soy sauce and balsamic vinegar , all in the name of clever modern twists. Frankly, chocolate mousse needs bringing up to date like Rubber Soul needs a remix from Lady Gaga. The classic recipe When it comes to continental classics, I'm duty bound to consult Elizabeth David.
mustard, apple, swiss cheese, hand, honey, cooked bacon and whole wheat bread fennel, oil, salt, pepper, mustard, lemon juice and honey capers, lemon juice, ricotta salata, olive oil, golden raisins, celery and 2 MORE seeds, mustard, vinegar, olive oil, broccoli, Fuji Apple, salt and 3 MORE
Accompaniments Apple Recipes
.:: SPICES BOARD INDIA, Ministry of Commerce, Govt. of India. ::.
International Cake Exploration Societé, ICES
How To Make Granola Bars (Photos)
During the week, breakfast is a tough meal to get a handle on. We know that it's the most important meal, yet it competes with other equally important tasks, like morning showers. There's also the lack of time due to a clock that runs too fast and just a general state of hurry.
Easycooking: Baking supplies in Ernakulam(Kerala)-Staines&Co
One of the most searched keywords I find for this blog is 'staines'.I have mentioned about the store a couple of times in here on my baking posts,so it was only fair that I did a detailed post for anyone who wants to know more details regarding the same. Staines&Co is a small shop tucked away on Jews Street,off M.G.Road,adjacent to Padma Theatre.They deal in wholesale Bakery supplies and Bakeware. We've been buying stuff from this shop ever since I can remember.Only after I started baking did I notice the vast array of baking supplies these people stocked.One thing to keep in mind when you are in the shop is to ASK.You may be surprised by what you get in return.The shop is quite well stocked and it is tough to locate stuff on your own.The staff is very friendly and will guide you through. Items to look out for Baking tins and trays-in all shapes and sizes-Cake pans,Cupcake trays,Sheet pans,Ring molds,Tart pans/molds,Shaped pans etc.
How to Make Bread in a Microwave
Homemade Sausages
Olive Oil Wheat Crackers
How to Use Herbs and Spices for Food Preservation - On Wonjoy.Com
www.passionateaboutbaking.com
www.passionateaboutbaking.com/2010/12/feature-baking-in-delhi-the-vitalstatistics.html
Baking & sweets techniques
How To Make Muffins Recipe (Muffins)
Soup recipes
Chemical Solvents - Industrial Solvents, Liquid Glycerine and Liquid Gluocse Manufacturer & Exporter
Planning your cafe layout : News, Business Blogs : BusinessWings.co.uk
The Chicago Diner veggiediner.com » Menu
Quinoa Upma | 365 Days of Pure Vegetarian ©
www.fitnesscafemenu.com/menu.html
World Gym Barbell Cafe
cafe layout plan workers & projects | Freelancer.in
Design & Layout, Opening a Cafe or Coffee Shop
Pomegranate and Mulberry Salad with Mango Caviar Recipe - NDTVCooks.com
How to make pickles - made easy, and illustrated!
Salt - Kitchen Dictionary - Food.com
How to Make Tacos
Eat St. - OnTv - Shows - Food Network Canada
Asha Ram & Sons Pvt. Ltd. - One Stop Shop for All Bakery Ingredients
Tarladalal.com | Indian Recipes | Indian Food Recipes | India's Largest Food Community| Free Recipes | Healthy Recipes
THE CHOCOLATE HEAVEN
TheBakingPan.com
Restaurants in Mumbai, Beauty parlours, Salons, Spas, Gyms, Shopping, Local events, Movies timings - burrp.com
ChefTalk.com - Cooking forums and reviews for chefs and food lovers
MY MEXICAN TACOS, CHEAP & EASY TO MAKE & EAT
Blueberry Cheesecake ( Cheesecakes Recipe) recipe | by Tarla Dalal | Tarladalal.com | #35881
No Meat Dairy Free Garlickee Tacos Recipe :
Easy Vegan Waffles Recipe