Design
- StumbleUpon. Lackadaisy Construction - StumbleUpon. Some notes about construction drawing that may or may not be helpful.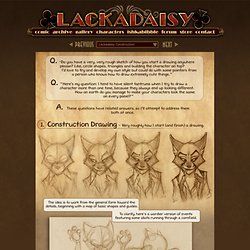 This is in response to some questions from my tumblr blog. There are notes about Expressions here, and an old sort of drawing tutorial here that cover some of the same material. I'd also recommend to anyone trying to learn how to draw this way (or any way) to check out Andrew Loomis books. Over 100 Incredible Infographic Tools and Resources (Categorized) | DailyTekk - StumbleUpon. This post is #6 in DailyTekk's famous Top 100 series which explores the best startups, gadgets, apps, websites and services in a given category.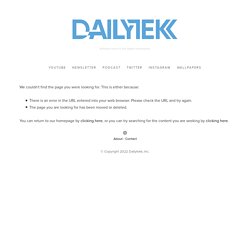 Total items listed: 112. Time to compile: 8+ hours. Follow @DailyTekk on Twitter to make sure you don't miss a week! Update: Be sure to check out our latest post on infographics: Infographics Are Everywhere – Here's How to Make Yours Go Viral. I love a good infographic! Brand Nu - Art direction, Illustration, Typography &Graphic Design | Available for Hire - StumbleUpon.
CSSWARP - CSS Text to Path Generator - StumbleUpon. Learn the Basics of Photoshop: The Complete Guide - StumbleUpon. Custom Wallpaper Tutorial | Thoughtlab Blog - StumbleUpon. Photoshop Crash Course | Jeremy Shuback . com. The 50 Best Street Art Work Selected in 2011 - StumbleUpon. Looking for street arts?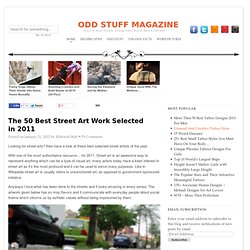 Then have a look at these best selected street artists of the year. With one of the most authoritative resource… for 2011. Street art is an awesome way to represent anything which can be a type of visual art, many artists today have a keen interest in street art as it's the most profound and it can be used to serve many purposes. Like in Wikipedia street art is usually refers to unsanctioned art, as opposed to government sponsored initiative. Anyways I love what has been done to the streets and it looks amazing in every sense. All-in-One Modular Fold Out Living Room Furniture Set | Designs &Ideas on Dornob - StumbleUpon. This incredible all-in-one furniture set from Matroshka is still looking for funding – so if you want to have one you might need to become an investor.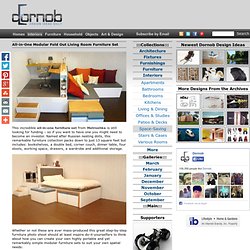 Named after Russian nesting dolls, this remarkable furniture collection packs down to just 13 square feet but includes: bookshelves, a double bed, corner couch, dinner table, four stools, working space, drawers, a wardrobe and additional storage. Whether or not these are ever mass-produced this great step-by-step furniture photo shoot should at least inspire do-it-yourselfers to think about how you can create your own highly portable and yet remarkably simple modular furniture sets to suit your own spatial needs: Photoshop Tutorials. 45 Epic Blender Tutorials - StumbleUpon.
Ben has over a decade of experience in the computer graphics field and although he's primarily a hard surface modeler, he's also experienced in the fields of UVMapping, Texturing, Lighting and Rendering.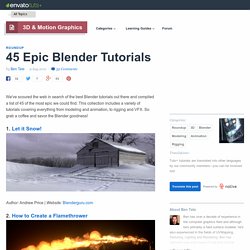 Ben currently co-edits Cgtuts+ along with his brother Chris, and has authored over sixty hours of real-time tutorial content for the site, focusing mainly on 3d Studio Max and hard surface modeling. Along side 3D Studio Max, Ben's has experience with VRay, FumeFX, ZBrush, Mudbox, Mari, PTex, Photoshop, xNormal, UVLayout, Forest Pack Pro and After Effects. You can check out Ben's website to see more of his work. 30 Photo Effect Photoshop Tutorials Every Designer Will Love. Few days ago I created this article 105 People Photo Manipulation Works You Will Really Marvel with amazing photo manipulation works.
This time I went step further and actually tried to find tutorials teaching you how to achieve such effects! Of course, I didn't find the same effects there, but if you look closer and really study these tutorials I showcased here, you will understand you'll have all the skills to create such artworks! More or less techniques are the same and with little creativity you can create your own masterpiece even today! Best Collection of Adobe Photoshop Tutorials - StumbleUpon. Tutorial Magazine / photoshop / effects. Resources - Stencil Revolution.
Mladen penev. - StumbleUpon. Everyone Likes Freebies, and when those freebies saves you a lot of time they surely become priceless and worth a mention, and we are here with a neat and useful roundup of all the web UI Elements every designer/web developer must download.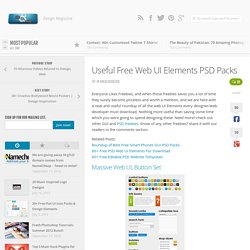 Nothing more useful than saving some time which you were going to spend designing these. Need more? Check out other GUI and PSD freebies. Know of any other freebies? 30 Supercharged Free Photoshop PSD Files for Web Designers and Developers. Free PSD files are the friend of all designers, as they can save time for seasoned designers who need a lightbox, pagination, social media icons or other elements to use in their designs, and they are useful learning resources for beginning designers who want to see how to design such elements for themselves.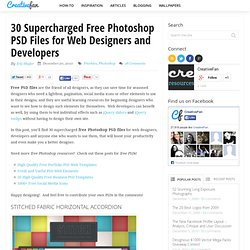 Web developers can benefit as well, by using them to test individual effects such as jQuery sliders and jQuery toolips without having to design their own site. In this post, you'll find 30 supercharged free Photoshop PSD files for web designers, developers and anyone else who wants to use them, that will boost your productivity and even make you a better designer. Need more free Photoshop resources? Check out these posts for free PSDs! ALT/1977: WE ARE NOT TIME TRAVELERS on the Behance Network - StumbleUpon. Color your Food with Food Finish by The Deli Garage | Trendland: Fashion Blog & Trend Magazine - StumbleUpon. Celebrating the Art of the Doodle: 20 Awesome Doodles & Escape Into Life - StumbleUpon. Piepmatzel.de. Mr Shabba! - Illustrator and Designer - StumbleUpon. You will never leave the house drunk again. - StumbleUpon. § Wallpaper Made of Tiny Stickers. Web Design Trends in 2011. There is a thin line between design and development, and as we move into a new decade, this line is becoming extremely blurry.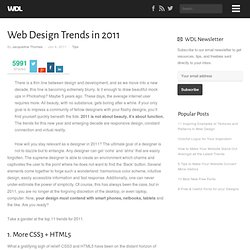 Is it enough to draw beautiful mock ups in Photoshop? Maybe 5 years ago. These days, the average internet user requires more. Ayaka Ito. 20 Fantastic Photoshop Manipulation Tutorials -2010. The Photoshop Etiquette Manifesto for Web Designers. 25 Mind Blowing Text Effects Photoshop Tutorials. The Ultimate Photoshop Toolbox. Sep 07 2010 For years now, whenever designers have been asked about their go-to program for image editing and creation, one of the top answers that comes back, is Adobe Photoshop.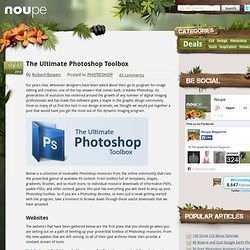 Its generations of evolution has centered around the growth of any number of digital imaging professionals and has made this software giant a staple in the graphic design community. Since so many of us find this tool in our design arsenals, we thought we would put together a post that would have you get the most out of this dynamic imaging program. Below is a collection of invaluable Photoshop resources from the online community that runs the proverbial gamut of available PS content. From toolkits full of templates, shapes, gradients, brushes, and so much more, to individual resource downloads of informative PDFs, usable PSDs, and other content galore, this post has everything you will need to amp up your Photoshop toolbox.
---