Roi
Social Media Analytics: Twitter: Quantitative & Qualitative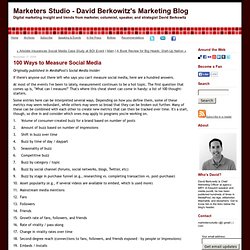 Inside the Marketers Studio - David Berkowitz's Marketing B
Originally published in MediaPost's Social Media Insider If there's anyone out there left who says you can't measure social media, here are a hundred answers. At most of the events I've been to lately, measurement continues to be a hot topic. The first question that comes up is, "What can I measure?"
Are you eager to track your social media influence? Desperate to boil down the complex intricacies of human interaction into a single number? Of course you are! But you're also probably sick of getting results that suggest you could be doing better if only you had more followers... retweeted more often... wrote more interesting blog posts... or, y'know, really worked at it. Well, my friend, do I have the social media measurement instrument for you.
Measure your social media influence with Influ-a-rama-matic Pro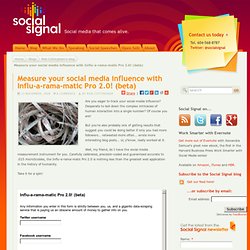 Measuring Social Media
Web Analytics You Should Know
Good morning, happy people! It's SMX East time and I'm already giddy on my apple juice. I also just realized I'm sitting so close to the speakers that it's literally awkward to look at them. Front row seating fail. Hopefully you're as sugarcoated as I am because we're ready to go.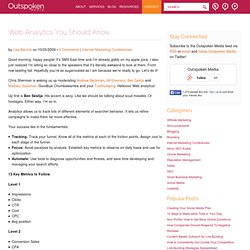 Corporate Brand Monitoring in Social Media
The Hunt For Social Media ROI
Social Media ROI Measurement
There's so much talk about social media that it is easy for people to become cynical, perhaps losing track of the fact that it can have a positive impact on your business. So how can you determine whether a social media strategy is proving beneficial to your business? How do you know that it is working out for you? And is now really the best time to find out? Rather than focusing on individual social media campaigns, I'd like to look at social media measurement from the perspective of a business that a) buys into social media, b) commits to it over a period of time, and as such c) has an integrated social media strategy.
10 ways to measure social media success | Blog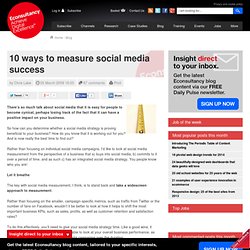 Standard Metrics Revisited: #3: Bounce Rate | Occam's Razor
Metrics you can see. | vistrac
The Difference Between Value and ROI « MetricsMan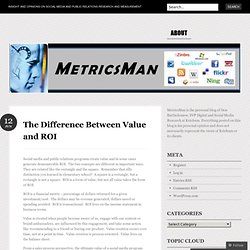 Social media and public relations programs create value and in some cases generate demonstrable ROI. The two concepts are different in important ways. They are related like the rectangle and the square.
The Twitalyzer for Tracking Influence and Measuring Success in T
Tracx » Social Interactions Analyzer
7 steps to measurable success in social media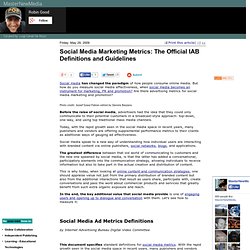 Social media has changed the paradigm of how people consume online media. But how do you measure social media effectiveness, when social media becomes an instrument for marketing, PR and promotion? Are there advertising metrics for social media marketing and promotion?
Social Media Marketing Metrics: The Official IAB Definitions and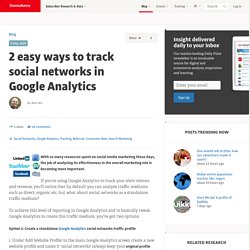 2 easy ways to track social networks in Google Analytics | Blog
With so many resources spent on social media marketing these days, the job of analyzing its effectiveness in the overall marketing mix is becoming more important. If you're using Google Analytics to track your site's visitors and revenue, you'll notice that by default you can analyze traffic mediums such as direct, organic etc, but what about social networks as a standalone traffic medium? To achieve this level of reporting in Google Analytics and to basically tweak Google Analytics to create this traffic medium, you've got two options. Option 1: Create a standalone Google Analytics social networks traffic profile 1. Under 'Add Website Profile' in the main Google Analytics screen create a new website profile and name it 'social networks' (always keep your original profile intact)
Social Media Metrics Plugin for Google Anayltics for Greasemonke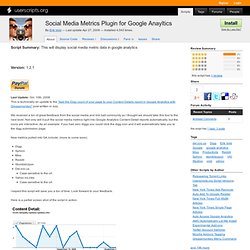 Script Summary: This will display social media metric data in google analytics Last Update: Oct. 10th, 2008 This is technically an update to the "Add the Digg count of your page to your Content Details report in Google Analytics with Greasemonkey" post written in July. We received a ton of great feedback from the social media and link bait community so I thought we should take this tool to the next level.
Site Popularity
How Do You Measure Social Media Marketing? - Metrics And Analysi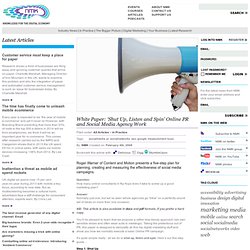 White Paper: 'Shut Up, Listen and Spin' On
Roger Warner of Content and Motion presents a five-step plan for planning, creating and measuring the effectiveness of social media campaigns. Question: How many online consultants in flip flops does it take to screw up a good marketing plan? Answer: Normally just one, but we've seen whole agencies go 'tribal' on a perfectly sound set of ideas on more than one occasion. NB: This article is also available in docx and pdf formats, if you prefer a hard copy. You'll be pleased to learn that we propose a rather less trendy approach (we own sensible shoes and often wear suits to meetings). Taking the pretentious out of PR, this paper is designed to demystify all this hip digital marketing stuff and show you how we normally execute a basic Online PR campaign.
Much has changed in the world of social media since we first published our Superlist of Social Media Case Studies in 2008. A plethora of new social media services have come and (some) gone. More and more organizations are using social media tools in unique and creative ways. It's a rare organization that isn't using some form of social media these days.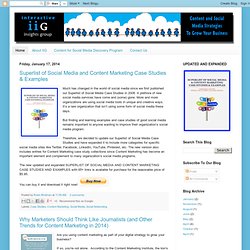 Web Site and Social Media Metrics You Should Monitor
Tracking Influence in Twitter | Web Analytics Demystified | Audi
Related posts:Part 1: Why It's So Hard to Justify the Cost of a Social Network.More in category: Longhorn Project Diary In Part 1 I mentioned an evaluation model, referred to in the training industry as Kirkpatrick's Four Levels of Evaluation. I suggested it might have some application as a framework in understanding social network ROI, and why it's so tough to give "warm fuzzies" to managers who want to know "its value." Kirkpatrick's Four-Level Evaluation. The model is a workhorse of sorts in the training industry. It's attributed to learning guru Donald Kirkpatrick.
Part 2: A four-level framework for evaluating social network ROI
Gmail tips, tricks and hacks from the lab and beyond Caveats first: other email providers are available. There I think that covers everything. As of August 2013 there were 425m Gmail users, but this won't be the place where we discuss the dominance of Gmail over the providers that it quickly overtook, such as Hotmail or Yahoo.
The ROI of Measuring Social Media ROI
Why Social Media is More Measurable Than Traditional Media
The Blog Council | Measuring ROI for Twitter
ROI of Social Media is not a One-Time Deal
Social Media Marketing ROI- Metrics and Analysis
Launching the Web 2.0 Framework - Trends in the Living Networks
The Triad of Measurement: What Is Measurable in PR and Social Me
How to Measure Social Media ROI for Business
Social Media Measurement