Andrespereyra22
Andrés Pereyra
Toda descripción, por naturaleza, define y a la vez limita.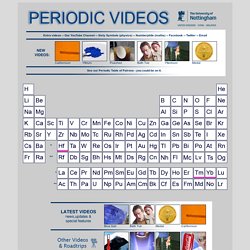 Tables charting the chemical elements have been around since the 19th century - but this modern version has a short video about each one. We've done all 118 - but our job's not finished. Now we're updating all the videos with new stories, better samples and bigger experiments.
Home > Introduction > Nanotechnology Basics Nanotechnology Basics Last Updated: Friday, 14-Jun-2013 09:28:04 PDT
Nanotechnology Basics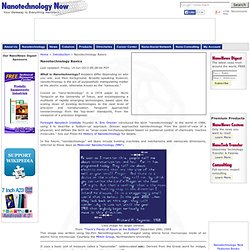 Description 3D simulation of the Solar System and night sky in real time - the Sun, planets, dwarf planets, comets, stars and constellations. - Heliocentric view with real-time positions of planets and planetary orbits - Schematic and realistic sizes of the planets and distances between them - Movement of the planets in time to see how they move in relation to each other - Virtual Orrery - Planetary exploration with info texts and additional views such as structure - Dwarf planets (Pluto, Ceres, Haumea, Makemake. Eris) and their orbits - Comets (Siding Spring, Lovejoy 2013, Lovejoy 2011, Panstarrs, ISON, Halley) - positions and trajectories - Stars and constellation of the night sky as viewed from a given location - Changes in the night sky during night, month and year - Searching of the stars and constellation, ecliptic line, grid lines and more
Orion Nebula | Alien Worlds: Shedding light on our unearthly universe
We've been enraptured by this most eye-catching of constellations since ancient times. It's a beautiful sight that dominates our winter skies in northern latitudes. The constellation was named after Orion the Hunter, a character in Greek mythology.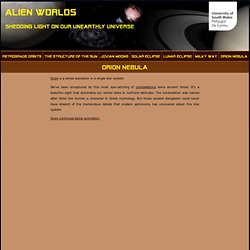 ModAddict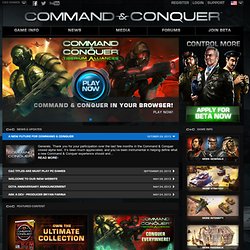 Command & Conquer in your Browser!Command & Conquer in your Browser!Command & Conquer in your Browser!Command & Conquer in your Browser!
GenTool Interview 15:27 PST | | Print News | Category: PCNC Site News - Generals/Zero HourWith Generals 2's release date ever drawing closer it's expected that more people might start to play EA's Warcraft III-killer, C&C Generals - however time hasn't taken too well to the old game, so it makes sense to boost your battlefield prowess with tools like GenTool. To that end, I conducted a short and quick interview with Xezon, the developer of GenTool. You can read it here, and download GenTool here.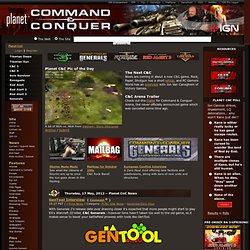 Planet Command & Conquer
XP Themes
Flickr Written by netwolf56 on 5.June.13 @ 01:41:40, 41458 times read, 2 comment(s) Flickr.com is giving a terabyte of space for free for online photo storage to every user. Basehead v4.00
Wallpapers, Skins, Winamp, ICQ, WindowBlinds ... .: SKINBASE.org :.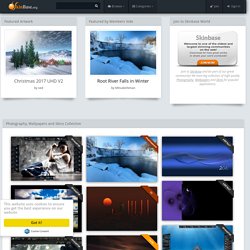 Cool Windows Apps & Tricks | MakeUseOf.com
The Truth is Here by DJ Vadim
Laid Back - RHil Keeps Digging
DJ Dimsa - Deep Lips - Lounge
DJ Dimsa - Evolve - Jazzy House Mix
Laid Back - Mister Critical - Feed Me My Pill
Paul Oakenfold - Planet Perfecto Radio Show 15
This show features a lot of nice but moody vibes. I started with the almighty Serge Gainsbourg and a track he made for the soundtrack of the film "Anna". Then a bit of Archie Bells and the new beatmaking sensations Tall Black Guy from the US and Jazzneversleeps from Belgium. I could not make this show without including a bit of 4hero's wizardry. I added a little gem from Change and the nice treatment it received from Zamali, another belgian talent. Then some French hip hop with a club vibe: Digestif by Set & Match.
Laid Back - Introducing Alex Corbi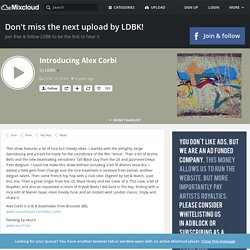 Paul Oakenfold - Planet Perfecto Radio 2
Laid Back - Julius - November Rain
Igor marijuan
Retry× Mixcloud Don't miss the next upload!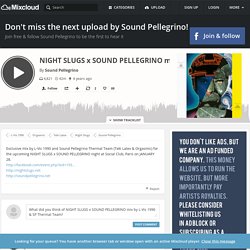 Sound Pellegrino - NIGHT SLUGS x SOUND PELLEGRINO mix
Translate
Google News
It is funny that 95% of the people who use Google actually do not know how to use Google. You will say "Just type and press enter, what is there to know?" and you will be as wrong as possible. Google is a very sophisticated search engine and can give you information you never expected to get out of a search engine.
Hacking Google – Or how to make a decent search | AwardSpace Blog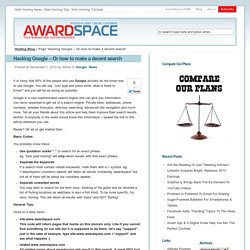 Screen reader users: click here for plain HTML +You Search Images Maps