Miscellanious
Boot Camp Week 4: Firm all over with 10 simple moves. ... 404 Error: Now what??? ... Replay (Glow Series) on Fashion Served. On the Cheap: Scrapbook Paper iPhone Covers. I found this clever trick on Pinterest the other week from Oops I Craft My Pants and had to try it for myself: iPhone covers using scrapbook paper!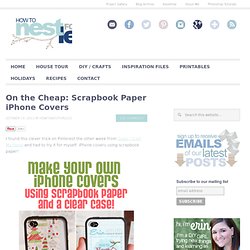 Now when I had my first cell phone in high school (the old Nokia), I probably had about 15 different cell phone covers that I would switch out to match my clothes everyday! I figure this scrapbook paper iPhone phone cover is an easy way to update my phone without spending all the cash! First thing I did was purchase a couple sheets of scrapbook paper from Michael's. I also purchased a clear iPhone 4 cover from Best Buy. Kuler. ✿ Our favorite set — CopyPasteCharacter.com. Google URL Shortener.
Bounce – A fun and easy way to share ideas on a website. Screenr | Instant screencasts: Just click record. Say 'Yes' to Pesto. The following article was written by Keegan Baur.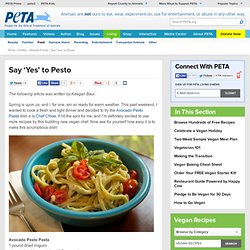 Spring is upon us, and I, for one, am so ready for warm weather. This past weekend, I wanted to cook a fresh and light dinner and decided to try the Avocado Pesto Pasta dish à la Chef Chloe. It hit the spot for me, and I'm definitely excited to use more recipes by this budding new vegan chef. 20 PSD Tuts That Will Turn You Into A Photoshop Guru. Many people can use Photoshop, but only a select few can call themselves gurus.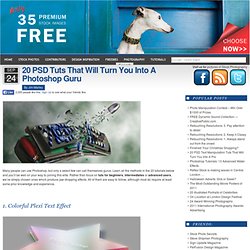 Learn all the methods in the 20 tutorials below and you'll be well on your way to joining this elite. Rather than focus on tuts for beginners, intermediates or advanced users, we've simply chosen ones which produce jaw-dropping effects. Deanimator. Play Super Mario World Flash | Mario Games Flash.
A Two Bite Breakfast: Bacon & Eggs in Toast Cups. * Updated post from archive: Originally posted March 29, 2009 If you where to ask me what is my favorite meal of the day without a thought my response would be breakfast!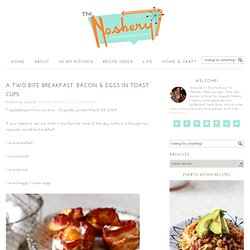 I love breakfast! I love brunch! I love bacon! I love breggs! Espresso chocolate chip shortbread cookie recipe. Recipe: espresso chocolate chip shortbread What new views through the lens?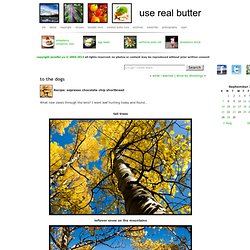 I went leaf hunting today and found… tall trees. Two Minute Chocolate Peanut Butter Cake. This, friends, is where procrastination gets me.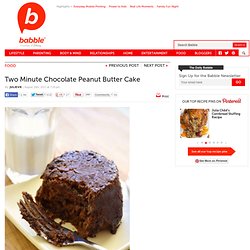 I was staring at the computer, mired in writers' block. I clicked on that Stumble button I installed in my toolbar but never use. Speed painted 25 min random character doodle... Triple Max Tons: EASY HOLIDAY HAIR. Side Chignon 1.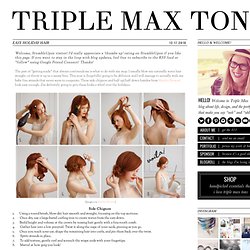 Using a round brush, blow-dry hair smooth and straight, focusing on the top sections. 2. Once dry, use a large-barrel curling iron to create waves from the ears down. 3. 26 Eye Twinkling Graphic Design Examples | You the Designer. Inspiration September 5, 2008 Each month on the UCreative blog we will be featuring the best design examples from our gallery.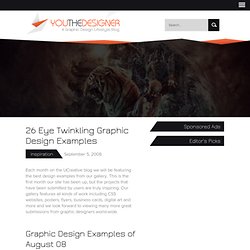 This is the first month our site has been up, but the projects that have been submitted by users are truly inspiring. Our gallery features all kinds of work including CSS websites, posters, flyers, business cards, digital art and more and we look forward to viewing many more great submissions from graphic designers world-wide. Forked from: [Stardust] KiraKira Waypoints. Most favorited last 7 days. Bags & Purses. Embroidery Designs at Urban Threads - Projects. Ulous. MAXAZRIA - SHOP BY PRICE: Under $50 : ARIES TEE.
Get Yo' Nails Did. Okay, so we're only three weeks in to this whole thing and I'm already showing you a tame look after I totally promised some of you that I'd do a newsprint nail tutorial this week.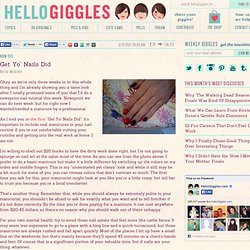 Newsprint we can do next week, but for right now I wanted/needed a manicure by a professional. As I told you in the first "Get Yo' Nails Did", it's important to include real manicures in your nail routine if you're not comfortable cutting your cuticles and getting into the real work at home. The Interchangeable Laptop - Concept on Industrial Design Served. Case design on Industrial Design Served. Thru –Lucent Mobile Phone Concept on Industrial Design Served.
The Chair on Industrial Design Served. Creative Homemaking. Fashion Show Lace-back Hipster Gift Set - Victoria's Secret Pink. Swiss Dot Plunge Push-up Bra - Sexy Little Things. Sequin Zip Hoodie - Victoria's Secret Pink. Bling Athletic Tee - Victoria's Secret Pink.
---