Pending_reading
Trademark Registration in Indonesia, Trademarks search
Indonesia: IP Laws and Treaties
Marketing - View: Video E-mail Template
COUNTERINTUITIVE: Facebook Engagement Goes Up When Brands Are On Twitter And Pinterest
products
Couchbase | Simple, Fast, Elastic NoSQL Database
Blue Jeans | Interoperable Video Conferencing in the Cloud - H.323, Skype, Lync, Google Video Chat
numecent
Google Drive seems nice, if a bit convoluted in a typical Googley way. It's great that Google is now giving everyone 5 free gigabytes of online storage, with up to 16 terabytes offered, assuming you can afford an $800 monthly bill. (If you need 16TB, we're guessing that your music collection is formatted to Neil Young's liking.) There are likely many fun uses for this new cloud storage program, but if you think that now is the time to start using cloud storage services to house the majority of your private data, you may want to think again.
Why should we trust Google Drive, or any cloud storage service?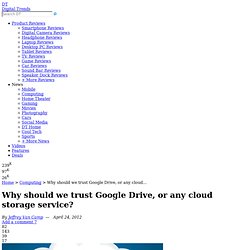 Home page | AppNexus
Now Anyone Can Hack A Website Thanks To Clever, Free Programs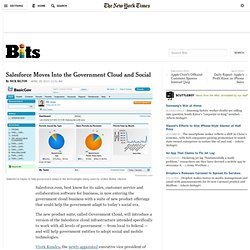 Salesforce Moves into the Government Cloud and Social
Salesforce.comSalesforce hopes to help government adapt to the technologies being used by United States citizens. Salesforce.com, best know for its sales, customer service and collaboration software for business, is now entering the government cloud business with a suite of new product offerings that could help the government adapt to today's social era. The new product suite, called Government Cloud, will introduce a version of the Salesforce cloud infrastructure intended specifically to work with all levels of government — from local to federal — and will help government entities to adopt social and mobile technologies. Vivek Kundra, the newly appointed executive vice president of emerging markets at Salesforce, plans to announce the new products Wednesday at the company's Cloudforce conference in Washington. In a phone interview Mr.
Learn to program AI, or face the consequences, says expert
Understand, Manage and Grow Your Business Swipely helps businesses grow sales by connecting product, staff and customer insights. Swipely is the total package I've been looking for.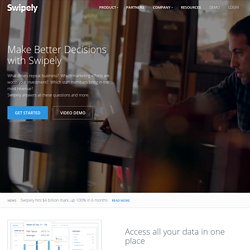 Swipely
Understand, Manage and Grow Your Business Swipely helps businesses grow sales by connecting product, staff and customer insights. Swipely is the total package I've been looking for.
Swipely: Bring Customers Back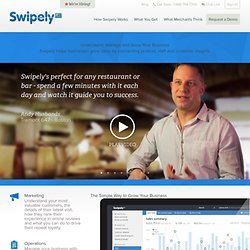 GDocsDrive: a Google Docs desktop app that makes a Google Drive(GDrive).
GDocsDrive is a Google Docs client app, which allows you to manage Google Docs files with ease, all from the comfort of your desktop. With GDocsDrive, you can conveniently use your local applications to modify online Google Docs files, and drag and drop files directly between Google cloud and your local computer. Nearly all the functions of Google Docs are seamlessly available in this one tool, which makes Google Docs like a Google Drive on your desktop.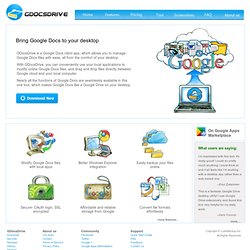 The Billion Dollar Travel Trend You've Never Heard Of
Color Forecast ⋅ Paris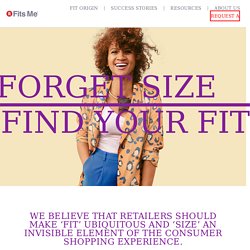 FOR RETAILERS AND BRANDS Boost sales by improving online conversionsImagine what a conversion uplift of 62% would mean for your ecommerce performance. Online conversion rates average around 2%.Reduce returns not profitabilityClothing returns average 25%, costing you ridiculous sums however they are accounted. Fits.me reduces returns to boost profitability.Improve your customers' experienceHaving to return anything means your customer didn't get the brand experience you want them to have. Avoid disappointing your customers.
Fits.me | Virtual Fitting Room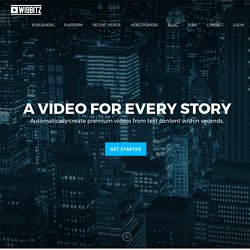 Automatically creating beautiful video summaries out of text articlesAutomatically creating beautiful video summaries out of text articles Our technology brings stories to life by automatically transforming text-based articles into short videos optimized for a mobile screen. Using advanced text analysis and smart algorithms Wibbitz creates beautiful and short audio-visual experiences out of pure text to save you a lot of energy and time. Wibbitz visualizes the story by taking full advantage of the iPhone's beautiful screen.
Wibbitz - Text to Video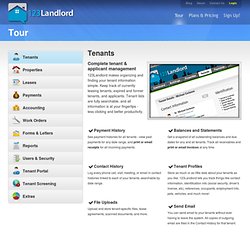 Tenants Complete tenant & applicant management 123Landlord makes organizing and finding your tenant information simple.
Web-based rental property and tenant management software | 123Landlord.com
Klik-Baju|Baju Branded
Kaggle, we're making data science a sport
The Guide to the App Galaxy by Google
Based in Sao Paulo, Brazil, Best, Cool & Fun Games is one of the leading mobile gaming companies in Latin America, with a portfolio of more than 30 casual games played by 15 million users around the world. Follow the journey of Guilherme Schvartsman as he goes from his day job as an investment banker to developer extraordinaire with his top-grossing app, Ant Smasher. "In the end, launching an app is just like building a business. Focus on building a great product and really think about the marketing and branding of your app because it's key to standing out from the very competitive app market place."

Small businesses use social media to grow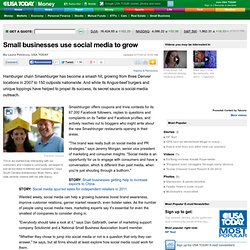 Hamburger chain Smashburger has become a smash hit, growing from three Denver locations in 2007 to 150 outposts nationwide. And while its Angus-beef burgers and unique toppings have helped to propel its success, its secret sauce is social-media outreach. Smashburger offers coupons and trivia contests for its 67,000 Facebook followers, replies to questions and complaints on its Twitter and Facebook profiles, and actively reaches out to bloggers who might write about the new Smashburger restaurants opening in their areas. "The brand was really built on social media and PR strategies," says Jeremy Morgan, senior vice president of marketing and consumer insights. "Social media is an opportunity for us to engage with consumers and have a conversation, which is different than paid media, when you're just shouting through a bullhorn." Wielded wisely, social media can help a growing business boost brand awareness, improve customer relations, garner market research, even bolster sales.
Top 10 Tips when Negotiating | Barrett Sales Blog
Everybody needs to negotiate from time to time; at work, at home, as a leader, as sales person, and as a consumer. For some it seems easy, but others view the process of negotiation as a source of conflict to be resisted and avoided if possible. Negotiation is a process and a skill that can be developed. Negotiation can be described as a process that involves two or more people dealing with each other with the intention of forming an agreement and a commitment to a course of action where compromise needs to be reached in order to move forward. In a sales environment, not every sales situation needs negotiation however when a compromise needs to be reached negotiation often involves a series of communications between two parties to form an agreement about the details of a sales solution. In many cases, it is possible for a proposal to be generated that satisfies the needs of both parties this is called a Win:Win.
www.juwitamoon.com Site Stats Info
Similar site for www.juwitamoon.com Below are sites like www.juwitamoon.com accourding to their keywords. 143kidsgames.com Free kids games - play online at 143kidsgames.com
ScrapeBox – Harvest, Check, Ping, Post
I will get to the point, Time is Money. We can't create more hours in a day, BUT we can Automate Tasks so they take minutes rather than hours so we can get more done. For a limited time i'm offering you the chance to grab My Personal Tool called ScrapeBox. How would you like to… The Complete Harvesting Solution! No more manually looking up URL's when doing competitor or product research
scraping pictures ?
Data Extraction Tutorials, Learn Web Screen Scraping using Mozenda
YouTube co-founders silently introduce magazine publishing app, Zeen
Why YOUR Company Must Become a Tech Company - Apple, Amazon, Facebook, Instagram Lessons
iWowWe- Video Email and Video Conference
The Best-Kept Management Secret On The Planet: Agile
Will new a royalty deal mean more money for labels and musicians?
Online Collaboration Tool | Planbox features
Pivotal Tracker - Simple, Agile Project Management Software & Team Collaboration
Is Direct Selling The Next Driver Of Startup Commerce Companies?
Is Direct Selling The Next Driver Of Startup Commerce Companies?
Cloud Communications And The Future of Marketing In The Post-PC World