Education
Updated 01/2014 If I had thirty iPads in my class, what would I do with them? How would I use them to help my students learn better and help me teach better? Perhaps a better question is what would I do with them that I could not do with other tools that are available and cheaper?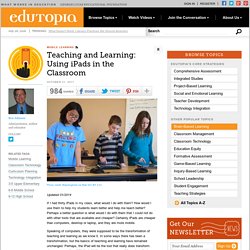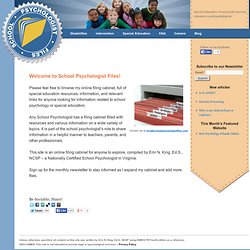 Welcome to School Psychologist Files! Please feel free to browse my online filing cabinet, full of special education resources, information, and relevant links for anyone looking for information related to school psychology or special education. Any School Psychologist has a filing cabinet filled with resources and various information on a wide variety of topics. It is part of the school psychologist's role to share information in a helpful manner to teachers, parents, and other professionals.
School Psychologist Files: Home
Speech therapy moves online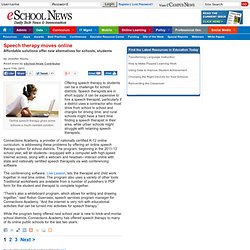 Affordable solutions offer new alternatives for schools, students by Jennifer Nastu Read more by eSchool News Contributor April 11th, 2011 Online speech therapy gives some schools a much-needed solution. Offering speech therapy to students can be a challenge for school districts: Speech therapists are in short supply; it can be expensive to hire a speech therapist, particularly if a district uses a contractor who must drive from school to school and charges for driving time; and rural schools might have a hard time finding a speech therapist in their area, while urban schools might struggle with retaining speech therapists. Connections Academy, a provider of nationally certified K-12 online curriculum, is addressing these problems by offering an online speech therapy option for school districts.
Autism Science Foundation
Sensory Processing Disorder Foundation | Research, Education and Advocacy
ADHD Woman Thinks Experts are Wrong You know what really gets my goat with all these ADHD experts? Even the psychiatrists specializing in ADHD make me want to scream? Most of them are WRONG! Most mean well . . . but wrong! You'll find out why in my story.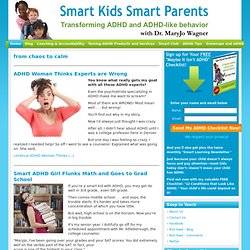 Smart Kids Smart Parents | Transforming ADHD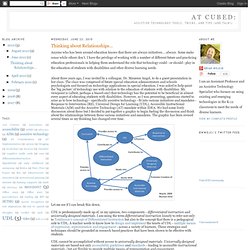 AT Cubed:: Thinking about Relationships...
Anyone who has been around education knows that there are always initiatives....always. Some make sense while others don't. I have the privilege of working with a number of different future and practicing education professionals in helping them understand the role that technology could - or should - play in the education of students with disabilities and other diverse learning needs. About three years ago, I was invited by a colleague, Dr. Maureen Angel, to do a guest presentation in her class. The class was comprised of future special education administrators and schools psychologists and focused on technology applications in special education.
EBD Blog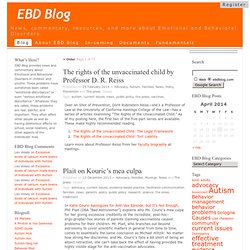 Over on Shot of Prevention, Dorit Rubinstein Reiss—she's a Professor of Law at the University of California Hastings College of the Law—has a series of articles examining "The Rights of the Unvaccinated Child." As of my posting here, the first two of the five-part series are available. These make highly recommended reading.
Teachers' Bag of Tricks
Matthew, I felt there were things that I wanted to say to you and the letter format worked best for me. So I did what good teachers do, borrowed an idea.(from you!)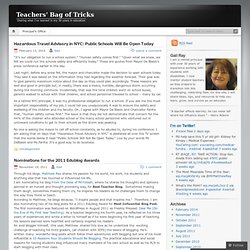 "If there were only 10 problems on a page, I could do them all. But when there are 40 on a page, I can't do any of them." - 10 year old student Visual overload and visual crowding are common problems in every school classroom or company work group, but the mistakes and errors that result from them are rarely recognized or traced back to their true source. It is a paradox - the more you see, the less you see, but it all makes sense if one recognizes that a child or an adult's visual working memory deskspace can become easily overloaded. For visual scientists, visual crowding is a specific term that refers to a greater difficulty in seeing when other visual objects are present. When we look at a complex scene, for instance the picture above, it is impossible to take in all the other visual details.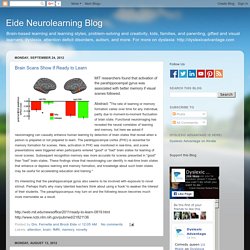 Teach Gen Now |
Wow! Where has 2012 gone? Over the year we provided 16 different Tech Tools for Teachers, including a special for the 2012 Olympic Games held in London. This week we revisit the Tech Tools, giving you a catch up list, if you have a chance  to have a play in your holiday break. Click on the headings to see the posts directly.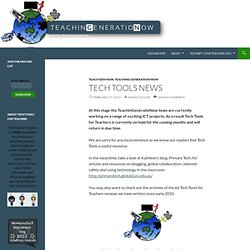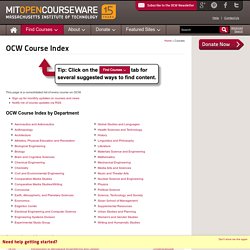 Aeronautics and Astronautics Back to Top Anthropology
RoPot - Comunitate, dezvoltare, incubator
Hai la The HUB Bucharest! Invitația noastră este deschisă pentru a cunoaște spațiul și a afla toate detaliile despre The HUB Bucharest Află mai mult Gazda ta astăzi Florin Ghindă
Oradea, Bihor Oameni cu desăvârșire sâmbătă, 5 noiembrie Realizarile persoanei cu dizabilități în domeniul academic / educațional Ioana Elena Ciobanu este o tanara cu Sindrom Down, in varsta de 30 de ani, absolventa a Liceului Greco-Catolic din Oradea.
IOANA ELENA CIOBANU - Gala Persoanelor cu Dizabilități