Music Sites
Album Reviews: Beirut: The Rip Tide. Zach Condon's been wonderfully stuck in the past since 2006, when he first arrived on the scene armed with a ukulele and dreams of old Europe-- in 2011, though, he and his art suddenly seem especially out of place.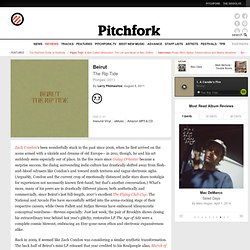 In the five years since Gulag Orkestar became a surprise success, the dialog surrounding indie culture has drastically shifted away from flesh-and-blood odysseys like Condon's and toward synth textures and vague electronic sighs. (Arguably, Condon and the current crop of emotionally distanced indie stars share nostalgia for experiences not necessarily known first-hand, but that's another conversation.)
What's more, many of his peers are in drastically different places, both aesthetically and commercially, since Beirut's last full-length, 2007's excellent The Flying Club Cup. Album Reviews: Aphex Twin: Drukqs. Drukqs.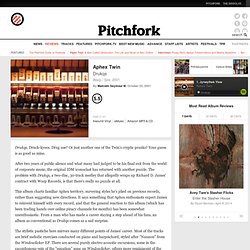 Druck-kyoos. Drug use? Or just another one of the Twin's cryptic pranks? 8tracks | Handcrafted internet radio. Free Music, Listen to Music Free. Explore: Shoegaze. Shoegaze is a genre of late '80s and early '90s British indie rock, named after the bands' motionless performing style, where they stood on stage and stared at the floor while they played.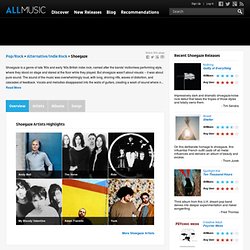 But shoegaze wasn't about visuals -- it was about pure sound. The sound of the music was overwhelmingly loud, with long, droning riffs, waves of distortion, and cascades of feedback. Vocals and melodies disappeared into the walls of guitars, creating a wash of sound where n... We Listen For You. Play Music Quest. Check your security settings Connection issues are typically caused by security settings on your network or computer.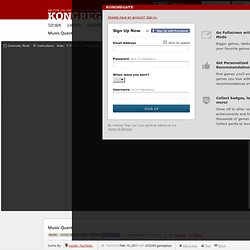 Check that your firewall or router has port 5222 open and allowing traffic. If you are on a school or office network, you may need to contact your network administrator to make the necessary changes. Is your version of Flash current? Some old versions of Flash don't work well with our new chat application. Welcome to eMusic - Discover, own and know more about the music. Metacritic - Movie Reviews, TV Reviews, Game Reviews, and Music Reviews. Travistan), the effects of dahlen's review. The Dismemberment Plan. Mog. Project Pitchfork Free MP3, Song Download, Lyrics, Music Videos. Yo La Tengo. Album Reviews: Pavement: Slanted & Enchanted: Luxe & Reduxe. Fluxblog. Wired 14.09: Entertainment: Music: Beck interview on Guero. Release a traditional 13-track cd?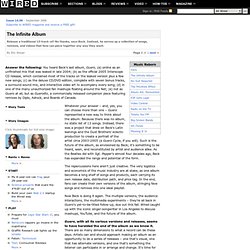 No thanks, says Beck. Instead, he serves up a collection of songs, remixes, and videos that fans can piece together any way they want. By Eric SteuerPage 1 of 2 next » Answer the following: You heard Beck's last album, Guero, (a) online as an unfinished mix that was leaked in late 2004; (b) as the official 2005 Interscope CD release, which contained most of the tracks on the leaked version plus a few new songs; (c) as the deluxe CD/DVD edition, complete with seven bonus tracks, a surround sound mix, and interactive video art to accompany every song; (d) in one of the many unauthorized fan mashups floating around the Net; (e) not as Guero at all, but as Guerolito, a commercially released companion piece featuring remixes by Diplo, Adrock, and Boards of Canada.
Wired 14.09: Culture: PLAY. LEGO Star Wars II. Graffiti Goes LED. PLAY|music Story Tools Story Images Click thumbnails for full-size image: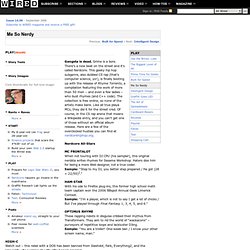 Tiny Mix Tapes. Music news, Listings, Reviews, Reaction, Interviews and Community. Dusted Magazine. Prefix Magazine: Daily music news, reviews, interviews. | Prefixmag. DOA. Music News and Reviews, Concert Tickets, Videos, Pictures and Free MP3s - NME.COM. Indie Music News, MP3 Downloads, Music Videos, Reviews. Music News, Album Reviews, Concert Photos, MP3s, Videos and More.
The Quietus. Paste Magazine :: The Best New Music, Movies, TV, Games, and Books :: Music and Movie News, Reviews, Features, Videos, MP3s and More. Blender Magazine | The Ultimate Guide to Music and More. The 25 Best Music Websites. This song is sick. Posted in Bangin, Video by nick | Tags: 2014, Chance the Rapper, Hip-Hop, LIVE, Lollapalooza Chance the Rapper made a legendary return to his home city of Chicago after gaining a monstrous global following as he played a huge set at the trend setting Lollapalooza music festival.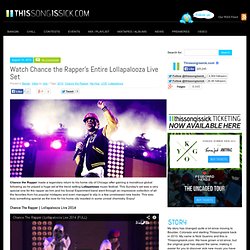 This Sunday's set was a very special one for the rapper as him and his Social Experiment band went through an impressive collection of all the favorites from his popular mixtapes and even managed to slip in a few unreleased new tracks. News. Sleater-Kinney. Aesop Rock: Labor Days: Pitchfork Review. Aesop RockLabor Days [Def Jux; 2001] Rating: 8.7 Your humble reviewer is not hugely invested in the state or the fate of hip-hop.
A lot of folks are, though, sometimes to an unfortunate extent-- hip-hop spends almost as much time drawing lines and fighting over its own image as the punk and hardcore zines do, albeit more entertainingly. Album Reviews: The Flaming Lips: Embryonic. Over its seven-year gestation, Christmas on Mars had come to represent everything wonderful and frustrating about the Flaming Lips.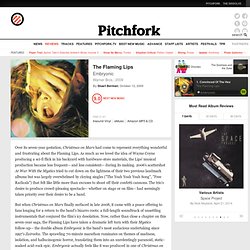 As much as we loved the idea of Wayne Coyne producing a sci-fi flick in his backyard with hardware-store materials, the Lips' musical production became less frequent-- and less consistent-- during its making. 2006's scattershot At War With the Mystics tried to cut down on the lightness of their two previous landmark albums but was largely overwhelmed by cloying singles ("The Yeah Yeah Yeah Song", "Free Radicals") that felt like little more than excuses to shoot off their confetti cannons. The trio's desire to produce crowd-pleasing spectacle-- whether on stage or on film-- had seemingly taken priority over their desire to be a band.
Pitchfork Perfect 10.0's and 0.0's. | Salad Days Music. Updated on 9/24/2013 to include: Nirvana's In Utero (20th Anniversary Edition).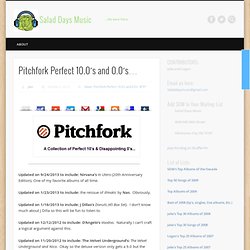 One of my favorite albums of all time. Updated on 1/23/2013 to Include: the reissue of Illmatic by Nas. Obviously. Updated on 1/16/2013 to include: J Dillas's Donuts (45 Box Set).
---