Music Sites
Album Reviews: Beirut: The Rip Tide
Zach Condon's been wonderfully stuck in the past since 2006, when he first arrived on the scene armed with a ukulele and dreams of old Europe-- in 2011, though, he and his art suddenly seem especially out of place. In the five years since Gulag Orkestar became a surprise success, the dialog surrounding indie culture has drastically shifted away from flesh-and-blood odysseys like Condon's and toward synth textures and vague electronic sighs. (Arguably, Condon and the current crop of emotionally distanced indie stars share nostalgia for experiences not necessarily known first-hand, but that's another conversation.) What's more, many of his peers are in drastically different places, both aesthetically and commercially, since Beirut's last full-length, 2007's excellent The Flying Club Cup.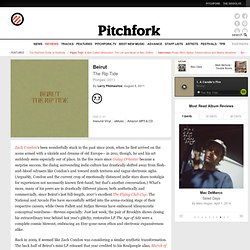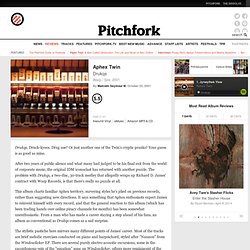 Drukqs. Druck-kyoos. Drug use? Or just another one of the Twin's cryptic pranks?
Album Reviews: Aphex Twin: Drukqs
8tracks | Handcrafted internet radio
Free Music, Listen to Music Free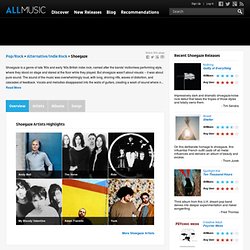 Shoegaze is a genre of late '80s and early '90s British indie rock, named after the bands' motionless performing style, where they stood on stage and stared at the floor while they played. But shoegaze wasn't about visuals -- it was about pure sound. The sound of the music was overwhelmingly loud, with long, droning riffs, waves of distortion, and cascades of feedback. Vocals and melodies disappeared into the walls of guitars, creating a wash of sound where n...
Explore: Shoegaze
We Listen For You
Below you will find my 25 favorite hip hop releases of 2013. I say releases because while I'll always been an album guy, when an EP or mixtape is good enough to be ranked among the albums I'm going to rank it appropriately. I'm not strictly a hip hop head (albums from Jason Isbell, Kurt Vile, and White Denim would rank in my top 10 overall), but I decided to focus on hip hop in order to give less heralded releases...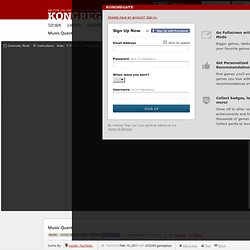 Check your security settings Connection issues are typically caused by security settings on your network or computer. Check that your firewall or router has port 5222 open and allowing traffic. If you are on a school or office network, you may need to contact your network administrator to make the necessary changes. Is your version of Flash current? Some old versions of Flash don't work well with our new chat application.
Play Music Quest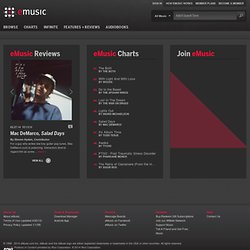 We're sorry, eMusic is not available in your country. We know everyone everywhere loves music and we want to bring the world of music to everyone. But we have to play by the rules and there are many when it comes to the global distribution of music. Unfortunately, due to licensing restrictions we are unable to offer service in your country at this time.
Welcome to eMusic - Discover, own and know more about the music
Metacritic - Movie Reviews, TV Reviews, Game Reviews, and Music Reviews
travistan), the effects of dahlen's review
The Dismemberment Plan
mog
Project Pitchfork Free MP3, Song Download, Lyrics, Music Videos
Yo La Tengo
Album Reviews: Pavement: Slanted & Enchanted: Luxe & Reduxe
This 10-disc, 184-song mix is a survey of some of the best and most notable music from 2013. For an even more broad overview of the year's music across many genres, I encourage you to check out the many lists I made in collaboration with Aylin Zafar, Caitlin White, Maria Sherman, Alex Naidus, and several other writers over at BuzzFeed. Ariana Grande "Honeymoon Avenue" / Miley Cyrus "We Can't Stop" / Haim "The Wire" / Kanye West "Bound 2″ / Vampire Weekend "Don't Lie" / King Krule "Neptune Estate" / Neko Case "Night Still Comes" / Sky Ferreira "I Blame Myself" / Laura Mvula "Make Me Lovely" / Beyoncé "Flawless" / Saint Pepsi "Better" / Disclosure featuring Ed Macfarlane "Defeated No More" / Maria Magdalena "CVMC (Cada Vez Mas Cerca)" / Phoenix "S.O.S.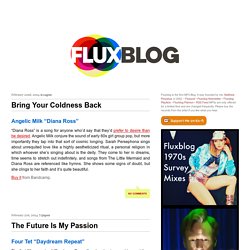 Fluxblog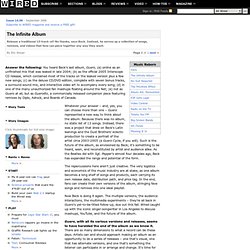 Release a traditional 13-track cd? No thanks, says Beck. Instead, he serves up a collection of songs, remixes, and videos that fans can piece together any way they want. By Eric SteuerPage 1 of 2 next » Answer the following: You heard Beck's last album, Guero, (a) online as an unfinished mix that was leaked in late 2004; (b) as the official 2005 Interscope CD release, which contained most of the tracks on the leaked version plus a few new songs; (c) as the deluxe CD/DVD edition, complete with seven bonus tracks, a surround sound mix, and interactive video art to accompany every song; (d) in one of the many unauthorized fan mashups floating around the Net; (e) not as Guero at all, but as Guerolito, a commercially released companion piece featuring remixes by Diplo, Adrock, and Boards of Canada.
Wired 14.09: Entertainment: Music: Beck interview on Guero
PLAY|music Story Tools Story Images Click thumbnails for full-size image: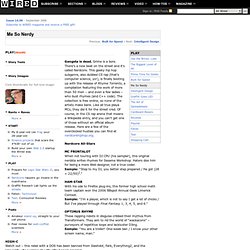 Wired 14.09: Culture: PLAY. LEGO Star Wars II. Graffiti Goes LED.
Tiny Mix Tapes
Music news, Listings, Reviews, Reaction, Interviews and Community
Dusted Magazine
Prefix Magazine: Daily music news, reviews, interviews. | Prefixmag
Hot off the presses 60s folk rock performed with skill and accuracy, and actually sounding as if it were recorded in 1965, perhaps The Love Dimension really were born in the wrong decade Jowls have found a sonic niche which, if crafted carefully, will allow them to become one of the most respected and powerful punk/hardcore bands of this era.
DOA
Music News and Reviews, Concert Tickets, Videos, Pictures and Free MP3s - NME.COM
Indie Music News, MP3 Downloads, Music Videos, Reviews
Music News, Album Reviews, Concert Photos, MP3s, Videos and More
The Quietus
The Quietus Essay Welcome To The New Age: 2014 & The New Utopian Pop Read the choicest cuts from the Quietus archive: reviews, features and opinion A Quietus eBook Our Debut Publication Albums Of The Year The 100 Best Of 2013 Best Of 2013: Reissues, Comps &c
Paste Magazine :: The Best New Music, Movies, TV, Games, and Books :: Music and Movie News, Reviews, Features, Videos, MP3s and More
Blender Magazine | The Ultimate Guide to Music and More
Also, Black Keys, fun., and Mumford and Sons win some stuff too. Photo: Larry Busacca / WireImage | Licensed to Alpha Media Group 2013 Last night at the Grammy's, the Black Keys took home four trophies, fun. won for Best New Artist and Song of the Year, Mumford and Sons won Album of the Year, Frank Ocean wowed the crowd, Justin Timberlake brought sexy (or something) back, and Chris Brown shocked everyone by proving to be an enormous dick (who was that one guy who refused to leave his seat during the standing ovation for Ocean?
May 19th '06 by Scott Lapatine @ 11:08pm2006/05/19113 Comments According to the new Entertainment Weekly… 01. iTunes 02. eMusic 03.
The 25 Best Music Websites
this song is sick
Posted in Bangin, Chill, Premieres by nick | Tags: Drake, Free Download, Freestyle, Hip-Hop, Premiere, Tory Lanez, We Made It Toronto to Texas rapper Tory Lanez has been on the rise since his Conflicts of my Soul mixtape last year, and just recently dropped off a huge Sh!t Freestyle apart of a new series called #SWAVESESSION with Tory going in over tracks.
News
Sleater-Kinney
Aesop Rock: Labor Days: Pitchfork Review
Album Reviews: The Flaming Lips: Embryonic
Pitchfork Perfect 10.0's and 0.0's. | Salad Days Music