Smoking/Alcohol
Cannabis memory effects examined. 2 March 2012Last updated at 09:46 Cannabis floods the brain with a host of chemicals which lead to changes in mood and memory Scientists believe they are closer to understanding how taking cannabis disrupts short-term memory.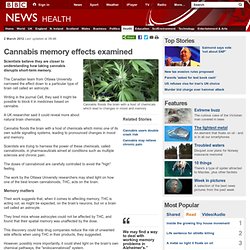 The Canadian team from Ottawa University narrowed the effect down to a particular type of brain cell called an astrocyte. Writing in the journal Cell, they said it might be possible to block it in medicines based on cannabis. Young cannabis smokers run risk of lower IQ, report claims. How could cannabis alter the teenage brain? 28 August 2012Last updated at 08:28 ET By James Gallagher Health and science reporter, BBC News When a teenager smokes cannabis are they permanently damaging their brain and dulling their intellect for a lifetime?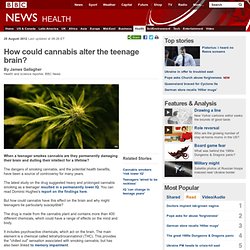 The dangers of smoking cannabis, and the potential health benefits, have been a source of controversy for many years. The latest study on the drug suggested heavy and prolonged cannabis smoking as a teenager resulted in a permanently lower IQ. Avoid alcohol three days a week, doctors warn. 23 October 2011Last updated at 10:53 ET Drinking alcohol daily leads to a higher risk of liver disease, the Royal College of Physicians says Doctors say the government's alcohol guidelines could be improved to ensure they do not sanction daily drinking.
The government recommends no more than 2-3 units for women and 3-4 for men every day or most days, and 48 alcohol-free hours after heavy drinking. The Royal College of Physicians said the liver needed time to recover from more than just a small alcoholic drink. It advises two to three alcohol-free days a week and 0-14 weekly units for women and 0-21 for men. Westerners 'programmed for fatty foods and alcohol' 14 July 2011Last updated at 14:26 Obesity levels have risen sharply in many western countries since the 1970s Westerners could be genetically programmed to consume fatty foods and alcohol more than those from the east, researchers have claimed.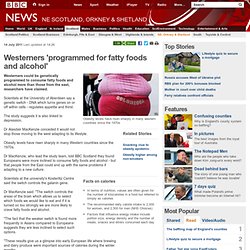 Scientists at the University of Aberdeen say a genetic switch - DNA which turns genes on or off within cells - regulates appetite and thirst. The study suggests it is also linked to depression. Dr Alasdair MacKenzie conceded it would not stop those moving to the west adapting to its lifestyle. Drinking alcohol, even in moderation, 'a dementia risk'
18 July 2012Last updated at 03:24 ET By Michelle Roberts Health editor, BBC News online Glass sizes and alcohol percentage determines how many units a drink contains Drinking even "moderate" amounts of alcohol increases dementia risk, US research suggests.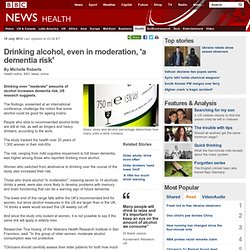 Traffic-light blood test shows hidden alcohol harm. 28 August 2012Last updated at 19:08 ET By Michelle Roberts Health editor, BBC News online Repeated exposure to alcohol can scar the liver A traffic-light colour-coded blood test can reveal hidden liver damage caused by drinking above recommended alcohol limits, say experts.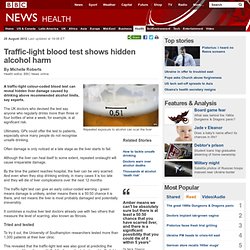 The UK doctors who devised the test say anyone who regularly drinks more than three or four bottles of wine a week, for example, is at significant risk. Ultimately, GPs could offer the test to patients, especially since many people do not recognise unsafe drinking. LSD 'helps alcoholics to give up drinking' 8 March 2012Last updated at 21:44 ET Could LSD be used to treat alcoholism?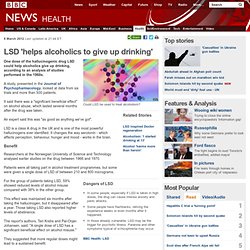 One dose of the hallucinogenic drug LSD could help alcoholics give up drinking, according to an analysis of studies performed in the 1960s. Passive smoking 'doubles hearing loss risk among teens' 19 July 2011Last updated at 03:25 Tobacco smoke contains toxins Passive smoking nearly doubles a teenager's risk of hearing loss, research reveals.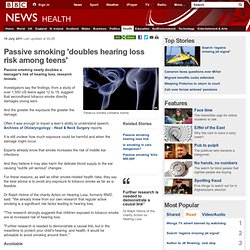 Investigators say the findings, from a study of over 1,500 US teens aged 12 to 19, suggest that secondhand tobacco smoke directly damages young ears. And the greater the exposure the greater the damage. Often it was enough to impair a teen's ability to understand speech, Archives of Otolaryngology - Head & Neck Surgery reports. Fewer premature births after smoking ban in Scotland. 6 March 2012Last updated at 22:01 By Michelle Roberts Health reporter, BBC News Exposure to tobacco smoke has been linked to lower birthweights and early deliveries Since Scotland introduced a ban on smoking in public places in 2006 there has been a 10% drop in the country's premature birth rate, say researchers.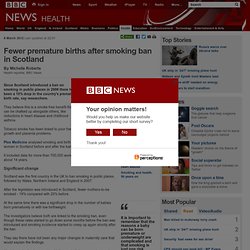 They believe this is a smoke-free benefit that can be chalked up alongside others, like reductions in heart disease and childhood asthma. Tobacco smoke has been linked to poor foetal growth and placenta problems. Plos Medicine analysed smoking and birth rates for all expectant women in Scotland before and after the ban. Female smoking death risk 'has soared' 24 January 2013Last updated at 03:22 GMT By James Gallagher Health and science reporter, BBC News Women smoking nowadays are far more likely to die as a result of their habit than they were in the 1960s, according to a new study.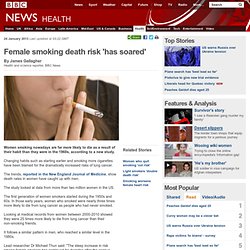 Changing habits such as starting earlier and smoking more cigarettes have been blamed for the dramatically increased risks of lung cancer. Light smoking 'doubles sudden heart death risk in women' 11 December 2012Last updated at 21:53 ET By Michelle Roberts Health editor, BBC News online Women who are light smokers - including those who smoke just one cigarette a day - double their chance of sudden death, a large study suggests. The research tracked the health of 101,000 US nurses over three decades. Smoking in the car 'breaks toxic limit' 15 October 2012Last updated at 21:10 ET By Michelle Roberts Health editor, BBC News online The researchers used monitors strapped to the back seat of the car to measure pollution levels Smoking in the car, even with the windows open or the air conditioning on, creates pollution that exceeds official "safe" limits, scientists say.
Any child sitting in the back of a car when someone in the front is smoking would be exposed to this. A Scottish team who took measurements during 85 car journeys found readings broke World Health Organization limits, Tobacco Control journal reports. The British Medical Association says all smoking in cars should be banned. 'Smoking vaccine' blocks nicotine in mice brains. 27 June 2012Last updated at 14:00 ET By James Gallagher Health and science reporter, BBC News Researchers believe vaccines may one day help people if they choose to quit. Smokers could one day be immunised against nicotine so they gain no pleasure from the habit, according to researchers in the US. They have devised a vaccine that floods the body with an antibody to assault nicotine entering the body.
A study in mice, published in Science Translational Medicine, showed levels of the chemical in the brain were reduced by 85% after vaccination. Years of research are still needed before it could be tested on people.
---