Travail
COLUMBUS , Ohio – While some psychologists still argue that people perform better when they do something because they want to – rather than for some kind of reward, such as money -- Steven Reiss suggests we shouldn't even make that distinction. Reiss, a professor of psychology at Ohio State University , argues that a diverse range of human motivations can't be forced into these categories of intrinsic and extrinsic motivations. Psychologists say intrinsic motivations are those that arise from within – doing something because you want to – while extrinsic motivations mean people are seeking a reward, such as money, a good grade in class, or a trophy at a sporting event. "They are taking many diverse human needs and motivations, putting them into just two categories, and then saying one type of motivation is better than another," said Reiss, who outlines his argument in the current issue of the journal Behavior Analyst. "But there is no real evidence that intrinsic motivation even exists."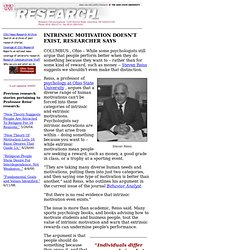 Intrinsic Motivation Doesn't Exist, Researcher Says
OBSéco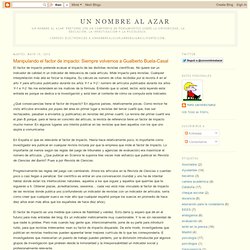 El factor de impacto pretende evaluar el impacto de las distintas revistas científicas. No quiere ser un indicador de calidad ni un indicador de relevancia de cada artículo. Mide impacto para revistas. Cualquier interpretación más allá es forzar la máquina.
Un nombre al azar: Manipulando el factor de impacto: Siempre volvemos a Gualberto Buela-Casal
Instituto Aragonés de Estadística - Departamentos y Organismos Públicos - Gobierno de Aragón
Healthy Weight: Assessing Your Weight: BMI: Child and Teen Calculator | DNPAO | CDC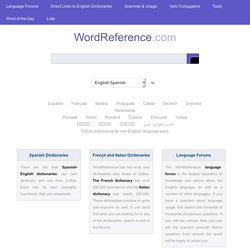 Spanish Dictionaries There are two free Spanish-English dictionaries: our very own dictionary and one from Collins. Each has its own strengths. Combined, they are unbeatable. French and Italian Dictionaries WordReference has two of its own dictionaries plus those of Collins.
Literatura y traducción
En esta página podrá acceder, en forma gráfica y en tabla, a las observaciones horarias de las últimas 24 horas, así como a los valores extremos y acumulados desde las 00 horas del día hasta la hora de actualización indicada, obtenidos en la red de estaciones de AEMET. También podrá acceder a los resúmenes diarios de estas estaciones en los últimos 7 días. En el mapa aparecen estaciones con valor númerico y otras representadas por un punto.
AEMET. Huesca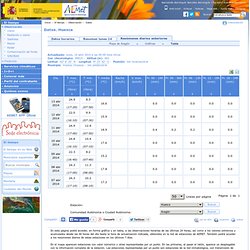 Université de Pau et des Pays de l'Adour