Péril nucléaire
Japon : l'Empereur prie pour Fukushima - CATASTROPHE NATURELLE SECURITE SANITAIRE NUCLEAIRE
Video L'empereur du Japon profondément préoccupé
Paris/New Delhi: Experts say the Fukushima nuclear disaster could be Level 6, just one notch below the Chernobyl disaster.
De l'inde à De l'Asie à l'Europe : le nucléaire remis en question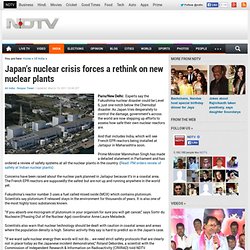 Japan's nuclear crisis spurs Europe to review nuclear safety
Sarkozy convaincu de la « pertinence » du nucléaire pour la France - NUCLEAIRE VIE POLITIQUE
France : qu'en disent les politiques : Nathalie Kosusko Morizet
Toutes les vidéos du Groupe Les Echos Culture Musique
Eric Besson : "Une catastrophe nucléaire est possible au Japon"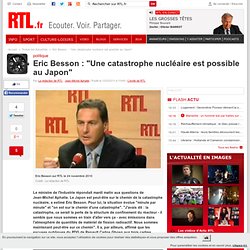 Eric Besson sur RTL le 24 novembre 2010 / La rédaction de RTL Le ministre de l'Industrie répondait mardi matin aux questions de Jean-Michel Aphatie. Le Japon est peut-être sur le chemin de la catastrophe nucléaire, a estimé Eric Besson.
En marge de l'accident nucléaire survenu au Japon , les écologistes ne manquent pas de pousser leurs arguments pour un changement de politique en France.
Hamon (PS) : "On ne peut pas sortir du nucléaire du jour au lendemain"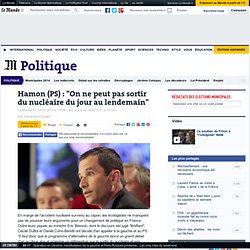 Risque nucléaire au Japon... et inquiétude en France - Chroniques – Retrouvez toutes les chroniques de France Info
L'Europe de l'Est toujours pro-nucléaire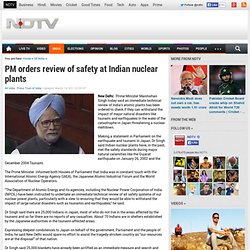 New Delhi : Prime Minister Manmohan Singh today said an immediate technical review of India's atomic plants has been ordered to check if they can withstand the impact of major natural disasters like tsunami and earthquakes in the wake of the catastrophe in Japan threatening a nuclear meltdown. Making a statement in Parliament on the earthquake and tsunami in Japan, Dr Singh said Indian nuclear plants have, in the past, met the safety standards during major natural calamities like the Gujarat earthquake on January 26, 2002 and the December 2004 Tsunami. The Prime Minister informed both Houses of Parliament that India was in constant touch with the International Atomic Energy Agency (IAEA), the Japanese Atomic Industrial Forum and the World Association of Nuclear Operators.
PM orders review of safety at Indian nuclear plants
Japan reactor troubles spark Thai nuclear protest
Solidarité : Sarkozy prêt à se rendre au Japon
Un premier avion français chargé de matériel va partir pour le Japon - NUCLEAIRE CATASTROPHE NATURELLE AREVA EDF
Exode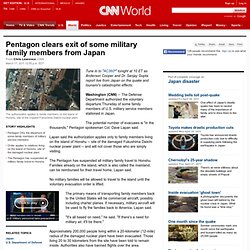 The authorization applies to family members on the island of Honshu, site of the crippled Fukushima Daiichi nuclear plant. Pentagon OKs the departure of some family members of military service members Order applies to relatives living on the island of Honshu, site of the damaged nuclear plant The Pentagon has suspended all military family travel to Honshu
Pentagon clears exit of military families from Japan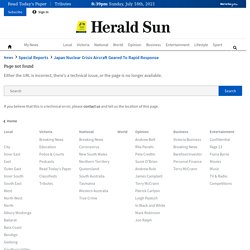 Japan nuclear crisis: Aircraft geared to rapid response
A MASS evacuation plan has been drawn up for Australians in Japan.
Japan abandons nuke plant over radiation
Britons in Tokyo urged to leave
This page does not exist. It might have existed once, or maybe it never existed at all. Maybe it existed in a parallel universe and a crazy set of circumstances has bought you here - the possibilities are endless. To get you back on track why not try using the site search, or browse back to our Headlines page . If you really, really believe that there's meant to be a page here and the hamsters that power our website have fallen off their wheels, please use the 'send your stories' link in the top right to report the fault.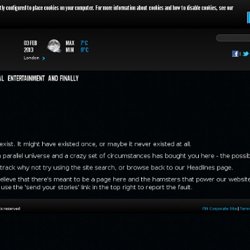 Danger Radioactivité
Quels risques pour la santé ?
21 July 2011 Last updated at 02:47 ET By Richard Warry BBC News
Japanese PM asks people to stay indoors
Risque radioactif : un vent de panique gagne Tokyo - CATASTROPHE NATURELLE NUCLEAIRE
A Tokyo, la tentation du départ
Centrale de Fukushima : le niveau de radioactivité a «considérablement augmenté» - NUCLEAIRE ENVIRONNEMENT SANTE
Video Menace nucléaire : pharmacies prises d'assaut
Paris redoute «le pire des scénarios»
Au fil des jours, et alors que la situation au Japon est de plus en plus inquiétante, le gouvernement français adopte à son tour un ton plus alarmiste.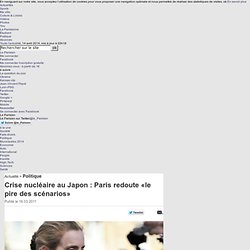 Tokyo : l'ambassade de France distribue des pastilles d'iode - CATASTROPHE NATURELLE SECURITE SANITAIRE SANTE
This page does not exist. It might have existed once, or maybe it never existed at all. Maybe it existed in a parallel universe and a crazy set of circumstances has bought you here - the possibilities are endless.
Scénarios du pire
Le canada s'inquiète d'une contamination des oceans
"We are entirely sold out of salt, and shoppers are now buying salt substitutes such as soy sauce, even though there is no connection," said an exasperated supermarket worker in Shanghai. China's Ministry of Health said an adult would need to swallow 3kg (6.6lbs) of salt at one sitting to prevent radiation poisoning, and the country's largest salt maker, China National Salt Industry Corp., issued a statement saying it had ample reserves and that "panic-buying and hoarding is unnecessary".
La panique gagne
La panique gagne la Chine
Customers flock to buy salt at a supermarket in Lanzhou, Gansu province. Photograph: China Daily/Reuters Worried shoppers stripped stores of salt in Beijing, Shanghai and other parts of China on Thursday in the false belief it can guard against radiation exposure, even though any fallout from a crippled Japanese nuclear power plant is unlikely to reach the country.
Un passé lourd en incidents
The Crippled Japanese Nuclear Reactors - Interactive Feature
Black out et pénurie d'essence
Pénurie de carburant
Press Release | March 17th (Thu): Group 4 (Original Schedule: 18:20 - 22:00)
Avis d'Expert : Bernard Bigot CEA
Japon: de l'accident à la "catastrophe" - Chroniques – Retrouvez toutes les chroniques de France Info
Updates of 2 June 2011
update on Japan Earthquake
Forte réplique près de la centrale d'Onagawa (7.1 Mw) suite au séisme du 11 mars 2011 Jeudi 7 avril 2011 à 23h32 heure locale (14h32 TU), un séisme de magnitude 7,1 s'est produit à quelques kilomètres de la côte Est de l'île d'Honshu au Japon, à environ 20 km de la centrale nucléaire d'Onagawa, et à 70 km à l'est de la ville de Sendaï.
Accueil - IRSN - Institut de Radioprotection et de Sûreté Nucléaire
http://www.criirad.org
Des jours de lutte désespérée (résumé interactif des efforts déployés)
Chronolgie d'une catastrophe
Le cauchemar japonais vu de l'étranger
Fukushima 1 lutte pour refroidir ses réacteurs - NUCLEAIRE CATASTROPHE NATURELLE SCIENCES ET TECHNOLOGIES
Fukushima 1 : la piscine de stockage du réacteur 4 au coeur des préccupations - NUCLEAIRE SCIENCES ET TECHNOLOGIES CATASTROPHE NATURELLE
Fukushima 1 : les conditions d'intervention de plus en plus difficiles - NUCLEAIRE
Un accident de type Tchernobyl exclu à Fukushima, selon l'Agence de sûrete japonaise - NUCLEAIRE CATASTROPHE NATURELLE AREVA
Leçons japonaises - ENERGIE
Accident nucléaire au Japon : que s'est-il passé ? - NUCLEAIRE
Vidéo : dégradation de la situation sur le site nucléaire - Blogs Séisme au Japon : le blog
Video Un hélicoptère déverse de l'eau sur un réacteur
Alerte nucléaire live
Cartographie d'une catastrophe
al_jazeera_english live
CNN live
BBC World News live
Videos
Struggle to stabilise Japan's Fukushima nuclear plant
L'info en vidéo - France Télévisions
La fusion d'un réacteur nucléaire "n'est pas à exclure"
L'actu Live vue du Japon (NHK)
Délibération n° 2011-DL-0020 de l'ASN du 14/03/2011 - situation au Japon - ASN - Autorité de Sûreté Nucléaire